2 Killed, 2 Wounded in Shooting at Benito Juarez Community Academy: report
Three boys and a girl, 15 to 16 years old, were shot around 2:30 p.m. in the 2100 block of South Laflin Street, police said.
By  Tom Schuba, Nader Issa, Sarah Karp, Michael Loria and Sophie Sherry
Chicago police detectives are asking the public's help in identifying the suspect in a double homicide outside a Pilsen neighborhood school on Friday afternoon.
Chicago police work outside Juarez High School where four teens were shot Friday afternoon.
Two boys were killed and two other teens were wounded in a shooting outside Benito Juarez High School on the West Side on Friday afternoon.
The shooting happened around 1:50 p.m. in the 2100 block of South Laflin Street, just as classes were starting to be dismissed for the day, officials said.
The victims were taken to Stroger Hospital, where family members gathered anxiously throughout the evening.
One boy was dead on arrival at Stroger Hospital and another boy died after being brought there in "traumatic arrest," officials said. Two other teens — a boy and a girl — were in less serious condition at the hospital, officials said.
A 14-year-old boy and a 15-year-old were both shot in the head and died, according to police.
The 15-year-old boy who died has been identified as Brandon Perez, according to the Cook County Medical Examiner's Office.
Another 15-year-old boy who was struck in the shoulder and thigh is in good condition.
A 15-year-old girl – who suffered a graze wound to the thigh – is also in good condition.
Police were told a suspect in a black mask, black hoodie and black North Face jacket was seen running west on Cermak Road and north on Ashland Avenue.
Police Supt, David Brown told a news conference Friday evening that investigators have not identified any suspects and had no one in custody.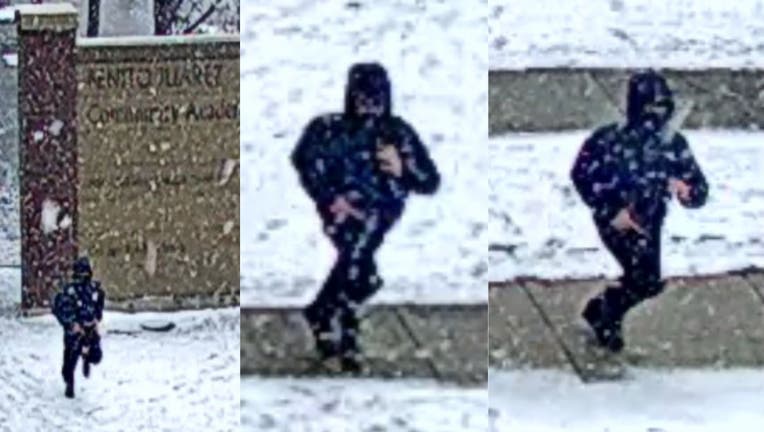 Police seek suspect in Juarez High School shooting
He also could not confirm the ages or genders of the victims, or whether they were Juarez students or whether any of them were targets of the gunfire. He said investigators were looking at video but gave no indication of what it showed.
"We are early in this investigation," Brown said as he repeatedly had no answers for reporters.
Police work outside Juarez High School after four teens were shot outside. Pat Nabong | Sun-Times
Juarez students were starting to be dismissed for the day when the shooting took place. A clerk who answered the school's main office phone said Juarez went on lockdown immediately after the shooting, but police gave an all-clear around 3:30 p.m.
A sophomore who only gave his last name, Nava, said he had been waiting in front of the school for his dad to pick him up when he heard shots down the block toward Ashland.
"It was crazy," Nava said outside the crime scene Friday evening. "I heard two shots and then everyone started running and went inside."
The 15-year-old went back inside and called his dad, who wasn't far away.
His 46-year-old father said he rushed through traffic to reach his son. "I was so nervous, I ran through the lights. I didn't care," he said.
A senior, who only gave his name as Marcel, was joining the crush of students on their way out the door when the shooting started.
"It was packed outside," he said. "I only heard three shots but already there were two people on the ground." He went back inside with the rest of the students.
Guillermo Niño is an anti-violence worker with the group Enlace. He said he has been showing up at scenes of gun violence for 15 years to provide resources for victims, but this time the call came from one of his daughters, who attend Juarez.
One is a sophomore, the other is a senior and she's the one who called him after the shooting started. "Daddy, there's a shooting going on here," she told him, calling from a teacher's car where she was hiding.
He hung up to check on his other daughter and soon arrived with a few of his colleagues.
"Are my kids going to be scared to come to school? This is supposed to be a safe haven," he said. "For them to have to be running to survive a shooting, it's not cool."
As students were allowed to leave, several of the school's social studies teachers waited outside, checking in with them.
"I don't know how they're doing," said one of the teachers, who's been teaching at the school for 8 years. "It sucks. You hear about shootings around the city, but then it comes to where you are."
A junior named Gio said he was in his car in a school parking lot, about to go home, when the shooting started. "I was shook because the shooting happened right there in front of the school," he said. "It was like they were waiting."
The school held a community event earlier Friday with food and performances from the school's dance and drum teams, with free hams handed out ahead of the Christmas holiday.
Chicago Public Schools CEO Pedro Martinez is a Juarez alum. He was the first in his family to graduate high school. Martinez and Mayor Lori Lightfoot hosted his introductory news conference at the school when he was hired in September 2021.
Martinez joined Brown for the late afternoon news conference. "Of course I'm very concerned that this happened on our grounds," Martinez said. "We will fully cooperate with CPD. They are great partners for us."
The district will work with the principal and staff over the weekend to ensure counseling services are in place for students when they return to school Monday. Security will also be stepped up, though school officials gave no details.
Among those who showed up at Juarez to check on students and teachers were Aida Flores and George Gieger, who both grew up in Pilsen and attended Juarez. Flores briefly worked there.
Both now work in education, which they attributed in part to the teachers they had at Juarez. "Some of these teachers used to be my colleagues, I had to come check on them," Flores, 37, said.
The couple are raising a boy in the Pilsen neighborhood and wonder what would've happened if he were just a few years older. "It's devastating," said Gieger, 38. "That's where he potentially could be going one day."