3 killed, 2 injured in University of Virginia shooting, former football player named as suspect
CHARLOTTESVILLE, Va. – Police at the University of Virginia in Charlottesville are searching for a former football player who is accused of killing three and injuring two in a shooting on campus Sunday night.
UPDATES: During the Monday morning press conference, UVA Police Chief Tim Longo confirmed Christopher Darnell Jones is in custody.
Following a brief pause, Longo said," Just need a moment to thank God. What a sigh of relief."
UVA UPDATE: Police have the suspect in custody. This is the final alert message.

— UVA Police Department (@UVAPolice) November 14, 2022
The shooting was initially reported around 10:30 p.m. Sunday when shots were fired in the Culbreth parking garage. Shortly after, a campus-wide alert was issued announcing the suspect was at large and telling all people at UVA to shelter in place.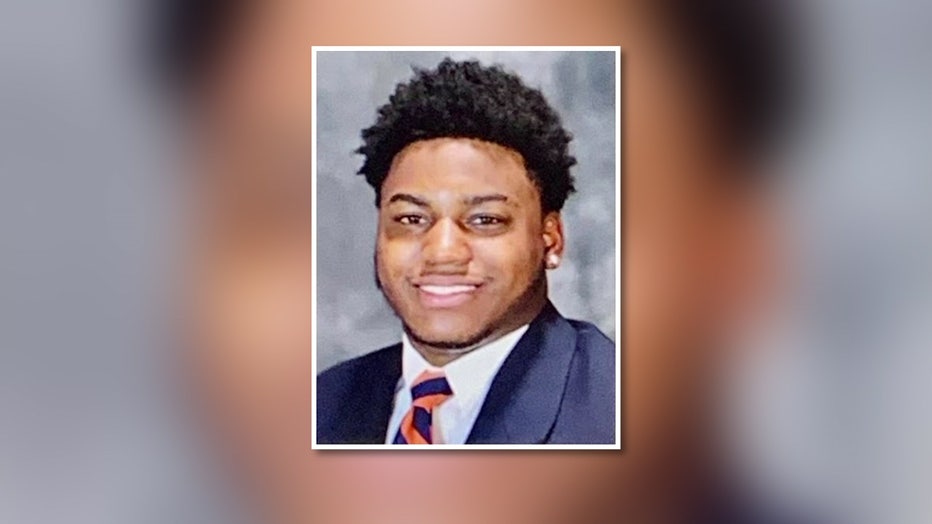 Christopher Darnell Jones (UVA Police Department)
READ MORE: Who is ex-football player shooting suspect Christopher Darnell Jones, Jr?
University police said they are looking for Christopher Darnell Jones Jr. in connection with the shooting. Jones is reportedly a former UVA football player.
He was last seen wearing a burgundy jacket/hoodie, blue jeans and red shoes. Police said he could be driving a black SUV with Virginia tag TWX3580.
Jones is considered to be armed and dangerous. Anyone who sees him is asked to call 911 immediately and not approach him.
An update on the active shooter incident at UVA: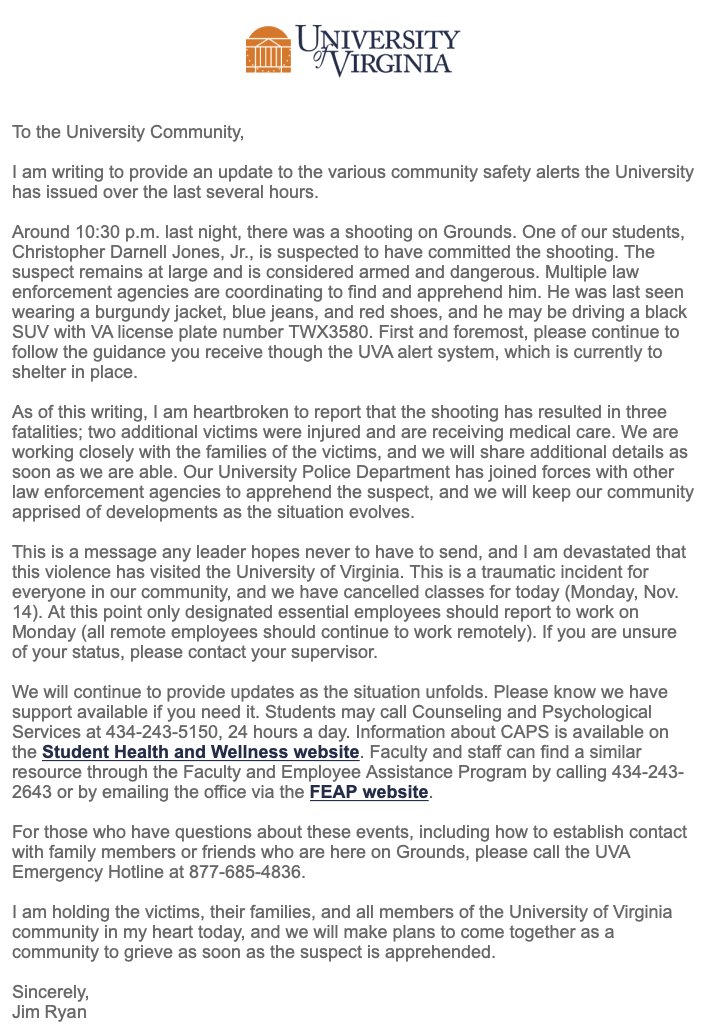 As of 1 a.m., UVA police said to continue sheltering in place and to contact friends and family to let them know "your status."
Early Monday morning, UVA police said three people were killed and two others were injured in the shooting.
UVA President Jim Ryan confirmed that the three people who died were football players. They were:
Devin Chandler, a second-year student from Virginia Beach.
Lavel Davis, a third-year student from Richville, South Carolina.
D'Sean Perry, a fourth-year student from Miami, Florida.
Of the two other victims, one is in critical condition and the other is expected to recover. Ryan also said the shooting happened on a bus full of students returning from a field trip.
UVA footballs players D'Sean Perry (left), Lavel Davis, Jr. (center) and Devin Chandler (right) were killed in a shooting in the university's campus…
Fox News Digital reached out to University of Virginia police, but have not yet heard back.
The UVA Police Department is looking for Christopher Darnell Jones regarding the shooting incident that occurred on the grounds of the University of Virginia. Call 911 if seen, do not approach. pic.twitter.com/mKcxF6ksxw

— UVA Police Department (@UVAPolice) November 14, 2022
This is a developing story.
READ MORE:
1 dead, 2 wounded in shooting outside of Jones High School football playoff game, police say
One dead after shooting in Lynchburg, police searching for suspect
What we know so far about the shooting that killed Migos rapper TakeOff