6-Year-Old Shoots Teacher at Virginia Elementary School: Report
By Livia Albeck-Ripka and Eduardo Medina
A teacher at Richneck Elementary School in Newport News has "life-threatening injuries" after being shot by one of her students, the authorities said.
A shooting in a classroom at Richneck Elementary School in Newport News, Va., happened on Friday after an altercation between a student and a teacher, officials said.Credit…Billy Schuerman/The Virginian-Pilot, via Associated Press
A 6-year-old first-grader at an elementary school in Newport News, Va., shot a teacher on Friday afternoon during an altercation in a classroom, the authorities said, leaving her with "life-threatening" injuries and renewing calls for greater gun restrictions.
The boy, who shot the teacher with a handgun, was in police custody on Friday evening, Steve Drew, the chief of the Newport News Police Department, said at a news conference.
The superintendent of Newport News Public Schools, Dr. George Parker, said at the news conference that "we need to keep guns out of the hands of our young people."
Photos and video taken immediately after the shooting at Richneck Elementary School in Newport News on Friday showed the chaos that had ensued as officers swarmed the school's brick building: children appeared afraid and confused, parents stood beside crime scene tape and dozens of officers patrolled the area.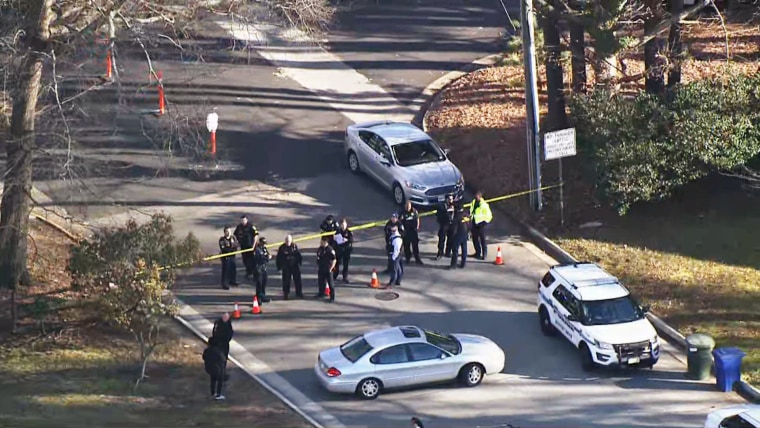 Police at the scene of a shooting at a school in Newport New, Va., on Jan. 6, 2023
Chief Drew said that school officials had worked quickly to bring all of the students and teachers to the school's gymnasium, and that the authorities had been in touch with lawyers to determine how to best proceed.
"I cannot control access to weapons," Dr. Parker said. "My teachers cannot control access to weapons." He added, "Today our students got a lesson in gun violence and what guns can do to disrupt not only an educational environment, but also a family, a community."
Dr. Parker said school would be closed on Monday "as we work on the mental health of our staff and our students."
The shooting in Newport News, a city of more than 180,000 people, about 70 miles southeast of Richmond. Va., stunned officials as they began to investigate what had gone wrong inside the school.
"I'm in shock, and I'm in awe, and I'm disheartened," Dr. Parker said.
The mayor of Newport News, Phillip Jones, said that while the shooting was "still raw" the city was taking steps to ensure that something similar did not happen again.
The violent episode in Newport News underscored the persistent threat of gun violence at schools across the country. In May, a mass shooting at an elementary school in Uvalde, Texas, left 19 children and two teachers dead. In September, another school shooting in Oakland, Calif., left six injured.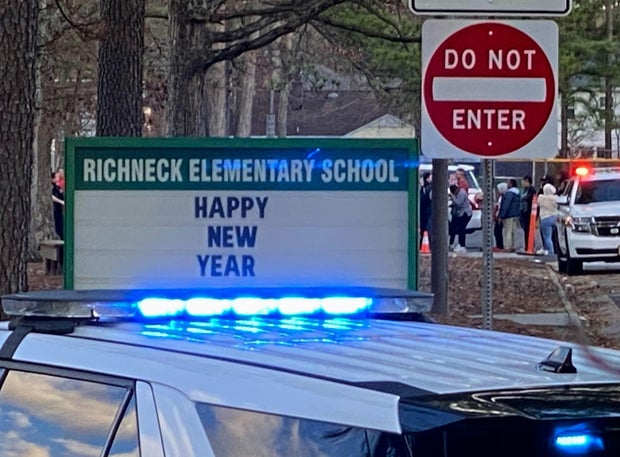 A teacher was injured in a shooting Jan. 6, 2023, at Richneck Elementary School in Newport News, Virginia, according to police and school officials.
The president of the Virginia Education Association, Dr. James J. Fedderman, said in a statement that he was "saddened that we must respond to another school shooting here in Virginia."
Becky Pringle, the president of the National Education Association, said: "We send all of our hopes for a full recovery to the educator injured in yet another horrific act of gun violence in our schools. But today we are again discussing the carnage of another school shooting. This will not stop until elected leaders take consequential action and stand up to the gun lobby to prevent gun violence in our communities and school."
Dr. Parker said that while district schools have "metal detection capability," the schools do not make children walk through a metal detector every day.
"If we have a perceived threat, or an issue, we administer random metal detections on those days," he said.
Still, he emphasized that guns appear on campus because of "access in the community."
"This is not a Newport News problem," he said. "It's a bigger and broader problem than what we're seeing today."
Christopher Mele contributed reporting.
READ MORE:
Masked killer's chilling words, DNA details and new timeline: Key revelations in the Bryan Kohberger affidavit
Family of 8, Including 5 Children, Found Shot to Death in Utah Home, Police Say
1 dead, another injured in shooting outside mall in Indianapolis