A dog lover's pilgrimage to Dog Mountain
BY MARTHA TEICHNER
If Dog Mountain were just a joyful place where dogs can run around, or plop into a nice pond, it would still be pretty special – 150 dog-friendly acres in the scenic hills of northern Vermont. But there is much, much more to this story. It's actually a real tear jerker, sweet but sad.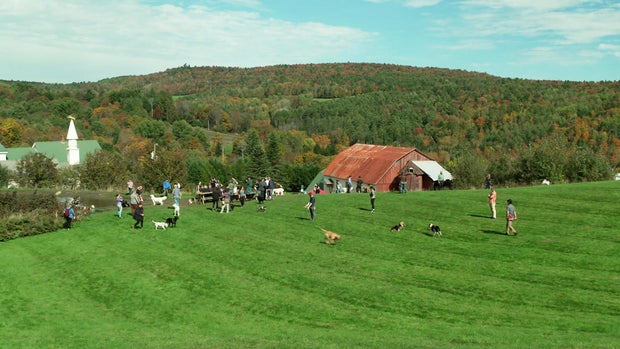 Dog Mountain, in St. Johnsbury, Vt.CBS NEWS
It began in 1994, when artist Stephen Huneck was injured falling down a flight of stairs, his injury causing him to develop a rare, often-fatal lung condition. "I was dead for, like, five minutes, not breathing," he said in 2009, reliving the nightmare. "I was in a coma for over two months. They pretty much wrote me off."
His wife, Gwen, also recalled at the time, "I said to myself I'm going to be positive. I'm going to believe he's going to get better."
And he did. Stephen had to learn how to walk again, and he credited his dogs: "My dogs really took care of me. We would go for short walks in the woods, and they really stayed right with me."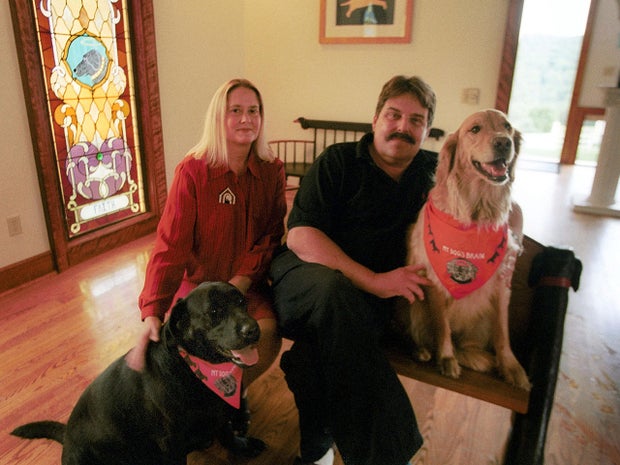 A 2001 photo of Gwen and Stephen Huneck in their Dog Chapel. JORDAN SILVERMAN/GETTY IMAGES
His dogs became the subjects of the now-famous woodcuts he was finally strong enough to make. His black lab, Sally, was featured in a series of bestselling children's books he wrote and illustrated. And then came his vision: "I remember the moment perfectly where I had this idea pop into my mind: build a chapel for dogs, and for people," he said.
He built it himself, with this sign out front: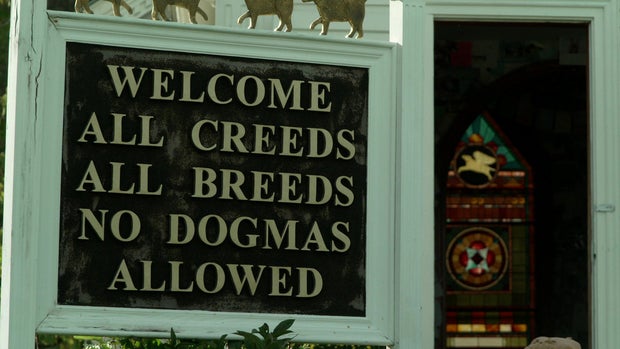 CBS NEWS
There are carved dogs everywhere in the chapel, even a dog angel on top of the steeple. The chapel opened in 2000, and is, more than anything, a roomful of love.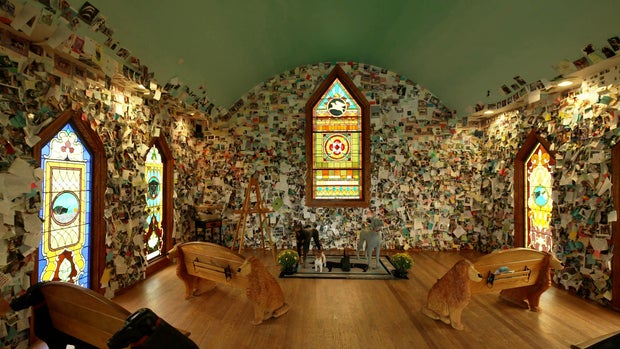 Inside the Dog Chapel.CBS NEWS
Every inch of every wall, floor to ceiling, has been covered with layers and layers of photographs and messages people have left, mourning the dogs they've lost (and the occasional cat).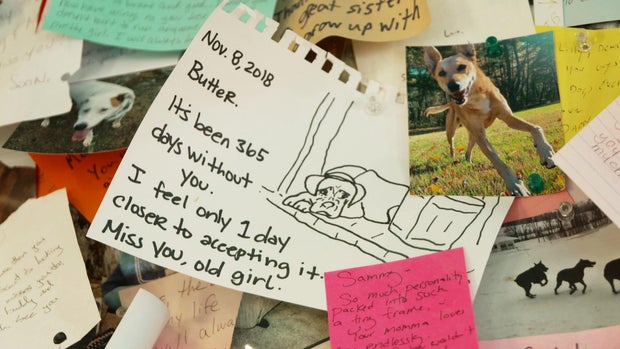 Messages from dog lovers.CBS NEWS
It can be overwhelming. One visitor, Charlotte Diaz, noted, "It makes me happy, despite crying, to come back and see. And I feel like this is a place that they're buried and that we come back and visit every year."
Heather Berkey drove 7½ hours from outside Philadelphia to honor her Viszla, Lexi, who had died a few weeks before from cancer. She brought some of Lexi's ashes to spread on Dog Mountain. "You run free, love you, love you, Lexi."
Teichner asked, "Does it help?"
"To have her up here and free … there's no words," Berkey replied.
How many places are there where society lets you grieve for a dog, with all your heart, the way you would a person? The way I have dogs in my life?
Susan Ohlidal is an Episcopal priest whose ministry includes comforting people at Dog Mountain. She volunteers here, and comes almost every day.
Teichner asked her, "Do you believe that dogs go to heaven?"
"I would like to think yes," said Ohlidal.  "Stephen Huneck has a great, whimsical piece of art that's entitled, A Dog Has a Soul. And the dog is holding a shoelace with a shoe attached."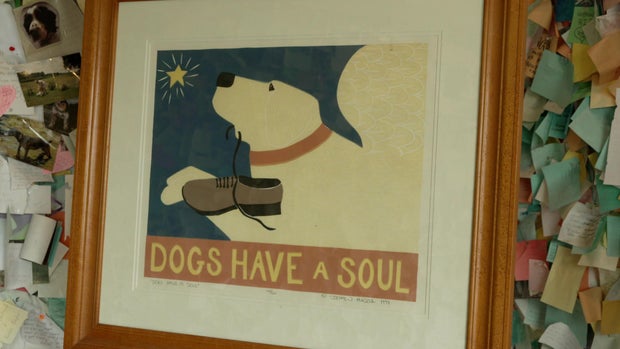 CBS NEWS
For all the humor in his work, Stephen Huneck struggled with depression. Here's the sad part of this story.
Afraid he would have to close Dog Mountain and his gallery as a result of the Great Recession, in January 2010, Huneck died by suicide. Three years later, his wife, Gwen, took her own life.
Teichner asked Ohlidal, "You have a place of joy. You have a place of love. But you also have the suicides of Stephen and Gwen. Now, how do you square that with the wonder of the place?"
"I don't think they are to be squared," she replied. "It's only a piece of a story, and the story of what they have left behind, this gift, is where most other people and myself are greatly impacted by."
The Hunecks' dream lives on. Amanda McDermott, creative director of Dog Mountain (and the person who cares for the current Sally), said, "One of the things that the Hunecks kind of realized is, every little child that's ever fallen in love with the Sally books, when they get to come to Dog Mountain and actually meet the Sally, it's one of those things that they feel is so special."
Three times a year, Dog Mountain has a party. Hundreds of dogs (and their people) showed up in October. It was a free-to-all, free-for-all.
But in spite of all the playful chaos, I managed a quiet moment, to slip into the chapel and find a place to leave my message, to tell the dogs I've lost that I love them still, and hope that, wherever they are, they know.