A single winning ticket for Friday's $1.35 billion Mega Millions jackpot drawing was sold in Maine
By Tina Burnside and Aya Elamroussi, CNN
CNN — One ticket sold in Maine beat the eerie odds of Friday the 13th and its buyer is set to claim the Mega Millions jackpot of about $1.35 billion, the lottery said.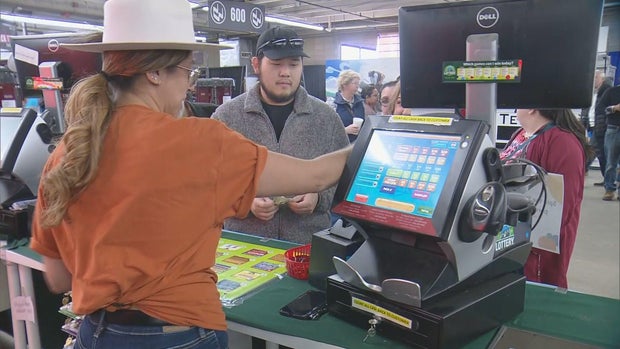 CBS
Friday night's winning numbers were 30-43-45-46-61 with a Mega Ball of 14.
The ticket was sold at a gas station in the town of Lebanon, according to the Maine Lottery.
"We did it!! Winning ticket sold at Hometown Gas & Grill in Lebanon Maine," the Maine Lottery said in a Facebook post early Saturday.
Fred Cotreau, owner of Hometown Gas & Grill, told CNN he thought the 6 a.m. call from the lottery office was a scam at first.
Cotreau does not know who the winner is. He described Lebanon as a small rural community where the winning ticket will be "really good news for somebody."
"It's almost incomprehensible to wrap your head around how much it would change somebody's life, regardless of your status and where you are, to get that kind of pay out," Cotreau said.
Before Friday, Hometown Gas & Grill had only sold a winning ticket worth $1,000, Cotreau said.
A longtime lottery player himself, Cotreau said the jackpot hitting so close to home is "awesome" and he hopes the winner is a local.
Officials said the estimated annuitized jackpot could be worth $1.35 billion while the potential lump sum cash payout is $724.6 million.
"Congratulations to the Maine State Lottery, which has just won its first-ever Mega Millions jackpot," said Pat McDonald, who heads the Ohio lottery and serves as lead director for the Mega Millions Consortium. "It's the fourth billion-dollar jackpot in Mega Millions history."
Friday's jackpot was Mega Millions' second-largest ever, surpassed only by the lottery's record of $1.537 billion won in South Carolina in 2018, the lottery said. The jackpot amount rose over roughly the past three months, eventually exceeding the remarkable billion-dollar figure.
CBS
Before this month's win, there have been six previous jackpots won on Friday the 13th in the US, according to Mega Millions.
Other big winners from Friday's drawing include 14 tickets that snagged $1 million prizes, according to Mega Millions. Four tickets that matched all five white balls were sold in New York, two in California and one each in Florida, Illinois, Kansas, Kentucky, Missouri, North Carolina, Pennsylvania and Texas.
Friday's jackpot win comes just three months after a $502 million jackpot on October 14, when there were two winning tickets from California and Florida.
The next drawing for an estimated jackpot of $20 million is slated for Tuesday night, the lottery said. Mega Millions is played in 45 states, along with the District of Columbia and the US Virgin Islands.
CNN's Isabel Rosales, Jaide Garcia, Samantha Beech and Kara Devlin contributed to this report.