Amber Alert issued in Westminster for 13-year-old girl, possibly kidnapped by 45-year-old man
UPDATES:
Amber Alert: Missing 13-year-old girl found safe, suspect wanted
BY CBSCOLORADO.COM STAFF
An Amber Alert was issued in Westminster for 13-year-old Alexis Bradford, thought to be with 45-year-old Bradford Eblen.
Alexis Bradford (l), Bradford Eblen (r) (Credit: Colorado Bureau of Investigation)
Alexis has blonde hair and blue eyes, is white, 5′ 5" and about 100 pounds. Eblen is 5'11" and about 250 pounds.Police think they might be in a possibly stolen black, four-door 2018 Ford Focus with Colorado license plate AQY-Q22 with dark tinted windows, black wheels and a Lyft sticker in the lower right portion of the front windshield.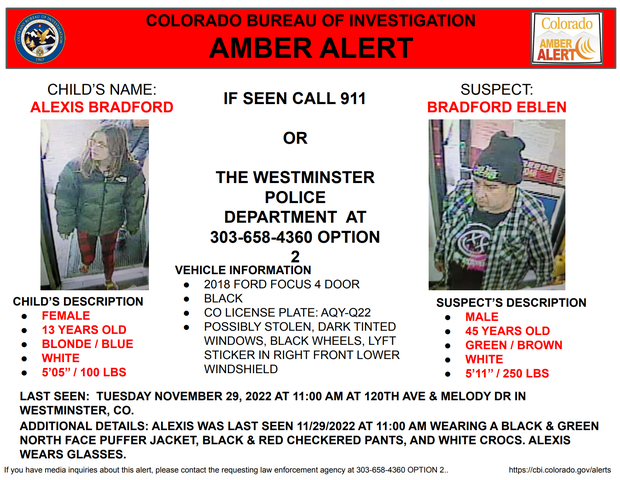 COLORADO BUREAU OF INVESTIGATION
Alexis was last seen around 11 a.m. near 120th Avenue and Melody Drive wearing a black and green North Face puffer jacket, black and red checkered pants and white Crocs. She also wears glasses, according to the Colorado Bureau of Investigation.
"It was reported an adult male and his 13-year-old sister, Alexis, accepted a ride from an unknown male to go shopping," Westminster police said in a statement. "While the brother went inside to use the restroom, the suspect left with juvenile female in the car. Given the circumstances, police are concerned for her safety."
If Alexis or Eblen are seen, officials ask that you call 911 or the Westminster Police Department at 303-658-4360, option 2.
Eblen has a lengthy criminal history in Colorado dating back to at least the 1990s, including burglary, felony theft, trespassing and drug possession, court records show. News reports also show at least one arrest in Utah, where he's accused of dining and dashing at least eight times in a two-month stretch.
READ MORE:
Amber Alert issued for 7-year-old girl last seen in Jacksonville
Arkansas Amber Alert: 14-year-old girl disappeared while walking to babysitting job
Amber alert issued for abducted 5-year old from Overton
UPDATES: Amber Alert discontinued for Joanna Luna; San Antonio teen still missing