Suspect caught in shooting that left 1 officer dead, 1 hurt
HERMANN, Mo. — The Missouri State Highway Patrol issued a Blue Alert out of Hermann, Missouri, Sunday night after they said a man shot two Hermann police officers.
The shooting happened about 9:30 p.m. Sunday at a convenience store in Hermann, a town of 2,100 residents about 80 miles (130 kilometers) west of St. Louis. Detective Sgt. Mason Griffith of the Hermann Police Department died, and Officer Adam Sullentrup, 31, was hospitalized in stable condition, authorities said.
The Missouri State Highway Patrol said the shooting happened after the officers went into the convenience store to arrest 35-year-old Kenneth Lee Simpson of St. Louis County on multiple outstanding warrants. Missouri Highway Patrol Sgt. Mike Mitchell said the officers were shot in an altercation inside the store. Authorities wouldn't say if either officer returned fire.
Simpson left the store, and authorities weren't initially sure where he went. By early Monday, police surrounded a home along Highway 19 not far from the shooting site. TV video at midday showed a police robot being used to pull off the front screen door, then a drone was sent in.
The patrol confirmed Monday afternoon that Simpson was taken into custody after a police tactical team fired tear gas into a house, the St. Louis Post-Dispatch reported.
Robert Koerber, who was Hermann's mayor when Griffith was hired seven years ago, told the St. Louis Post-Dispatch that Griffith was a natural as a police officer, someone people trusted.
Hermann Police Department Detective Sgt. Mason Griffith died of his injuries at a hospital after being shot at a convenience store in the small town just before 9:30 p.m., the Missouri Highway Patrol announced early Monday.
Update: Both injured Hermann officers were transported to area hospitals. Unfortunately, we are saddened to announce the passing of Detective Sergeant Mason Griffith, who succumbed to his injuries. The second officer is in serious but stable condition. pic.twitter.com/oOZtbwz56j

— MSHP Troop F (@MSHPTrooperF) March 13, 2023



Hermann is a city about 80 miles west of St. Louis near the center of the Missouri Rhineland and south of the Missouri River.
The second officer shot, who has not been identified, remained hospitalized in serious condition Monday, troopers said.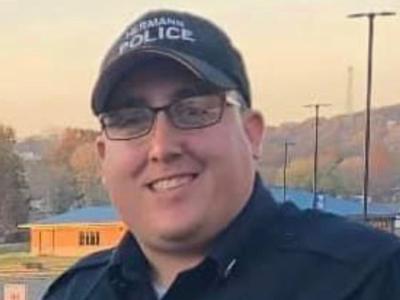 The deceased officer was identified as Hermann Police Department Detective Sergeant Mason Griffith.
"He was one of my favorite officers because he had such an easy and effective style," Koerber said. "He seemed to take a personal interest in people. He was interested in whatever your problem was."
Online Missouri court records show Simpson has a long history of criminal charges involving drugs, weapons offenses, assault and property damage. A St. Louis County judge issued a warrant for Simpson's arrest in August when he failed to show up in court in a drug possession case.
Hermann is town known for its annual German festivals is the county seat of Gasconade County. The local school district canceled classes Monday as a precaution.
Blue Alert issued for shooting suspect
The Missouri State Highway Patrol issued an alert seeking Kenneth Lee Simpson, described as a 35-year-old white male with red hair and hazel eyes, 5-feet-10-inches tall, weighing 180 pounds, and last seen wearing a black baseball hat, black long sleeve shirt, black or dark pants and tan boots.
The alert said the department was looking for 35-year-old Kenneth Lee Simpson. They said he shot two police officers at a gas station on Missouri Highway 19 and fled the scene.
The alert said he may have run off or driven away in a black, 2014 Jeep Wrangler with Missouri license plates RF5A0P.
A Blue Alert is issued during the search of a suspect responsible for killing or seriously injuring a law enforcement officer.
Anyone who sees Simpson or the Jeep Wrangler should call 911.
On Monday morning, Missouri Gov. Mike Parson expressed condolences for the officers and their families.
"Hermann Police Department Detective Sergeant Mason Griffith will never be forgotten, and Missouri will always be grateful," Parson tweeted. "Teresa and I are praying for Mason's family, friends, and fellow law enforcement officers."
Cpl. Kyle Green of the Missouri Highway Patrol told the Saint Louis Post-Dispatch early Monday that he had no developments to report on the gunman.
Where were the police officers shot?
Both officers were shot at a convenience store on South Highway 19, police said.
Authorities have not released details describing what led to the shooting or said if officers returned fire. Hermann police Chief Marlon Walker could not be reached for comment by USA TODAY.
About three hours after the shooting, the outlet reported, a manhunt for the suspect was focused near a house in Hermann along Highway 19, not far from the store where the shooting happened.
Officers were asking for spotlights to see between two homes. The scene was described as a standoff of sorts, as police surrounded the home and were yelling at the gunman to come outside.
This breaking news story will be updated when more information becomes available.