Body found in search for missing four-year-old Athena Brownfield after caregiver charged with murder
Ivon Adams is accused of beating Athena to death on Christmas Day in Oklahoma
By Graeme Massie
A child's body has been recovered as part of the search for missing four-year-old Athena Brownfield in Oklahoma.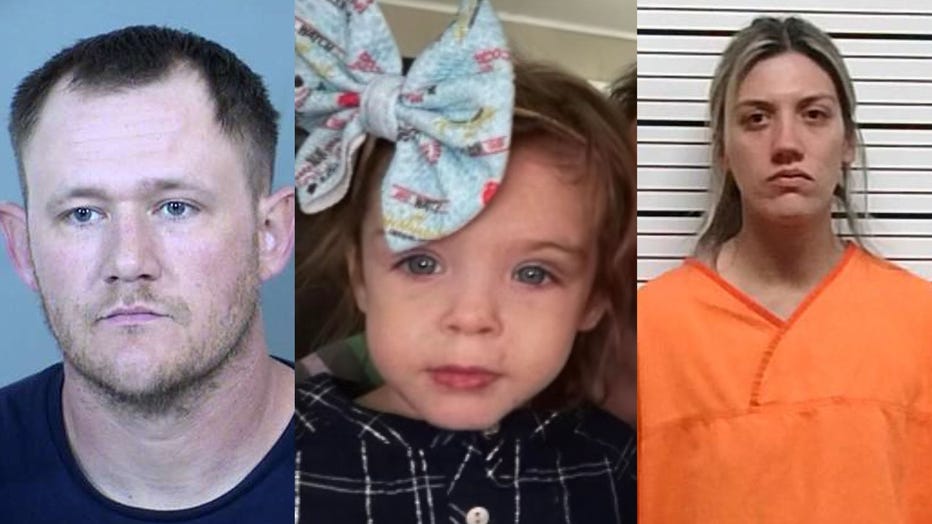 Ivon Adams, Athena Brownfield, and Alysia Adams.
While the body has not been officially identified as Athena, the discovery came on the same day that authorities alleged she had been beaten to death on Christmas Day by a caregiver in court documents.
The youngster was reported missing on 10 January after a postal worker found her five-year-old sister alone outside the family home in Cyril, Oklahoma.
PHOTO: OKLAHOMA STATE BUREAU OF INVESTIGATION
The postal worker notified the city's police department and an investigation was launched.
Now Athena's caregiver, Ivon Adams, has been arrested in Arizona and charged with first-degree murder, according to the Oklahoma State Bureau of Investigation (OSBI).
Authorities said earlier this week that the search for Athena had become a "recovery operation" and they have searched an area of Caddo County for her remains.
On Tuesday afternoon, the OSBI issued a statement announcing that remains had been found in rural Grady County.
"The remains will be transported to the Medical Examiner's Office in Oklahoma City for positive identification," the agency said. "This is an active homicide investigation and until the remains are positively identified, the OSBI will not be commenting further."
Court documents charging Mr Adams in the case state that the suspect's wife, Alysia Adams, told investigators that he allegedly beat Athena at around midnight on 25 December at their home.
OKLAHOMA STATE BUREAU OF INVESTIGATION
The documents allege that Mr Adams then hit the youngster in the chest at least three more times.
Ms Adams told investigators that her husband left the home with Athena, and later returned and told her he had buried her near their old home in Rush Springs and placed a broken branch over the burial site.
The remains found on Tuesday were located near Rush Springs, authorities said.
Ivon Adams was arrested in Arizona on 12 January and is being held in Maricopa County Jail on a $1m bond awaiting extradition back to Oklahoma.
OSBI officials have said that Athena and her sister lived with the couple and are related to Alysia Adams.
Ms Adams, 31, has been charged with two counts of child neglect and remains in jail in Oklahoma's Caddo County.
READ MORE:
Ana Walshe's final chilling note to husband revealed: 'Courage, love, perseverance…'
DA Releases New Details Amid Search for Ana Walshe