Bride killed and groom injured when speeding DUI driver slams into golf cart after wedding party
A bride was killed and her groom was seriously injured in South Carolina when a woman driving under the influence over twice the speed limit slammed into the back of a golf cart the newlyweds were leaving their wedding reception in, authorities said.
Samantha Miller, 34, of Charlotte, North Carolina, died in the crash Friday night just hours after having gotten married, Folly Beach Public Safety Director Andrew Gilreath said, according to The Associated Press.
Three other people in the golf cart, including the groom, were injured, said Gilreath, who said the golf cart had lights and was legal to drive at night.
READ MORE: Family provides update on groom injured in SC golf cart crash that killed new bride
The groom, Aric Hutchinson, was taken to a hospital with serious injuries, including a brain injury and broken bones, his mother, Annette Hutchinson, said on a GoFundMe page set up to raise money to help cover the cost of her son's medical fees and Miller's burial.
"I was handed Aric's wedding ring in a plastic bag at the hospital, five hours after Sam placed it on his finger and they read each other their vows. Aric has lost the love of his life," Annette Hutchinson wrote on the fundraising page.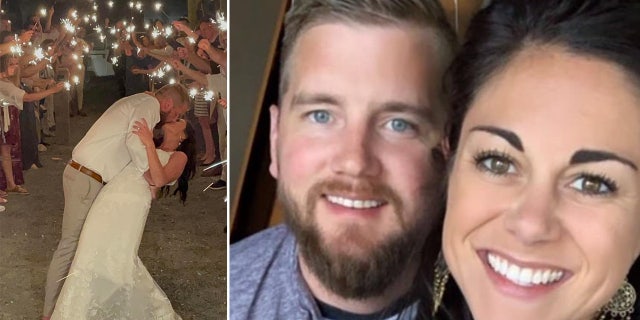 She said her son, who has undergone reconstructive surgery, faces a "long recovery." As of early Tuesday, more than $385,300 had been donated to the GoFundMe page to help support the bride's and the groom's families.
Annette Hutchinson did not immediately respond to a request for comment.
Data retrieved from the rental car the suspect, Jamie Lee Komoroski, 25, was driving indicated she had been driving at 65 mph and only briefly hit the brakes before it smashed into the golf cart at around 10 p.m. on Folly Beach, investigators said, according to the AP.
Komoroski was charged with one count of reckless homicide and three counts of felony DUI resulting in great bodily harm, according to online court records. It was not immediately clear whether she has an attorney.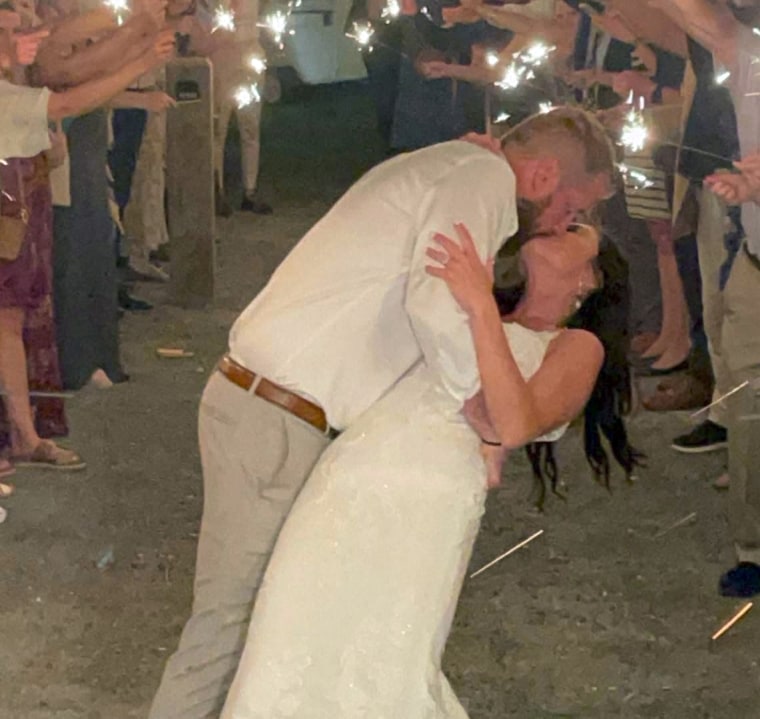 Tributes have poured in for Miller.
"Words cannot express how devastated we are by her loss," her employer, XenTegra, an IT services and consulting company based in Huntersville, North Carolina, said in a statement.
Miller had been employed with the company since 2020 and worked in the marketing department, the company said.
"She carried a light about her, one that shined so brightly upon everyone with whom she interacted. Simply put, Samantha brought an abundance of joy and laughter to the workplace," it said.
"We will forever remember Samantha's smile, her laughter, and her dedication to her work, friends, and family."
READ MORE: Family provides update on groom injured in SC golf cart crash that killed new bride