Former Memphis Police officer goes viral on TikTok after speaking out on Tyre Nichols case
By Kayla Solomon
MEMPHIS, Tenn. — As the Tyre Nichols death investigation continues, people are still wondering why the beating escalated in the first place.
Brandon Williams grew up in the same area he patrolled here in East Memphis.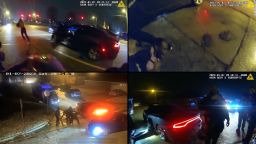 Tyre Nichols' death is just latest instance of video contradicting police accounts
Although he now lives in Dallas and is no longer an officer, he turned to Tik Tok to voice his feelings on the Tyre Nichols case.
"I was a former Memphis Police officer from 2016 to 2021," he said in the now-viral video.
It's been a little over a year since Brandon Williams patrolled the streets as a Memphis Police officer.
"One thing I bragged about with Memphis being a majority Black department, which is rare in a lot of major cities, but with Memphis being a majority Black department, I felt that that connection with us being a majority-minority apartment and having a, you know, a high population of Latino officers as well helped us better connect with the city," Williams said.
The Memphis special police unit accused in Tyre Nichols' death gets scrapped
Now, his former department is under a microscope as people dissect the training and the conduct by five officers shown in body cam video beating Tyre Nichols, eventually leading to his death.
The five, now former, officers – Tadarrius Bean, Demetrius Haley, Emmitt Martin, Desmond Mills Jr, and Justin Smith.
Williams said two of these officers were his friends and colleagues and there was one specific thing he saw in the video that was not taught in the academy.
"There is no way, form or fashion that you take a police boot and you strike a man's face multiple times when he's on the ground. No form, no way, no fashion, there's no way that that's excusable," he said in his TikTok.
In fact, Williams said they're taught to focus on something called the force continuum, where officers apply the same amount of force as they're given when at a scene.
Tyre Nichols was a photographer. See the world through his lens
And, he admits in this case that was not done.
"I also know that there's a responsibility and a duty and a diligence you have to have so that these situations don't have. So, I would say was a slew of emotions. But the biggest one, honestly, it was painful. It was painful to watch. It was painful to hear. And, it was painful because it was the same emotions as if you already knew the ending of that story, but you had to put eyes on what happened."
From top left: Emmitt Martin III, Desmond Mills, Demetrius Haley. From bottom left: Justin Smith and Tadarrius Bean.
Williams's TikTok video has more than 600,000 views and he said he'll continue answering questions as the investigation continues.
READ MORE: 
Timeline of Tyre Nichols' arrest and fatal beating
What we know about Tyre Nichols' death and the officers charged with his murder
Video shows Tyre Nichols calling for his mother, beaten by officers now charged in his death