Health Concerns Grow as More Toxic Chemicals Revealed on Derailed Ohio Train than First Made Public
The fiery derailment of a train carrying toxic chemicals along the Ohio-Pennsylvania line last week spewed more harmful pollutants into the air, surface soils and water table than originally reported, fresh data made available Monday suggests.
AP Photo/Gene J. Puskar
About 50 cars on a Norfolk Southern Railroad train derailed on Feb. 3 while traveling from Illinois to Pennsylvania through the small town of East Palestine, Ohio.
No one was injured in the derailment investigators said was caused by a broken axle, as Breitbart News reported.
More than 2,000 residents were evacuated due to health concerns over the chemical leak but have since been allowed to return.
State health officials were initially concerned about the presence of vinyl chloride, a highly volatile colorless gas produced for commercial uses which spilled in the accident.
Other toxins like hydrogen chloride were emitted in large plumes of smoke during a controlled release and burn, prompting officials to issue mandatory evacuation orders in a one-mile radius of the crash site.
Another of the substances released was phosgene, a gas deployed as a chemical weapon across First World War battlefields.
A list of the cars involved in the derailment and the products they were carrying since released by Norfolk Southern reveals several more toxic chemicals than first made apparent following the crash, ABC reports.
Among the substances were ethylene glycol monobutyl ether, ethylhexyl acrylate and isobutylene were also in the rail cars that were derailed, the list shows.
Contact with ethylhexyl acrylate, a carcinogen, can cause burning and irritation of the skin and eyes, and inhalation can irritate the nose and throat, causing shortness of breath and coughing, according to the Centers for Disease Control and Prevention.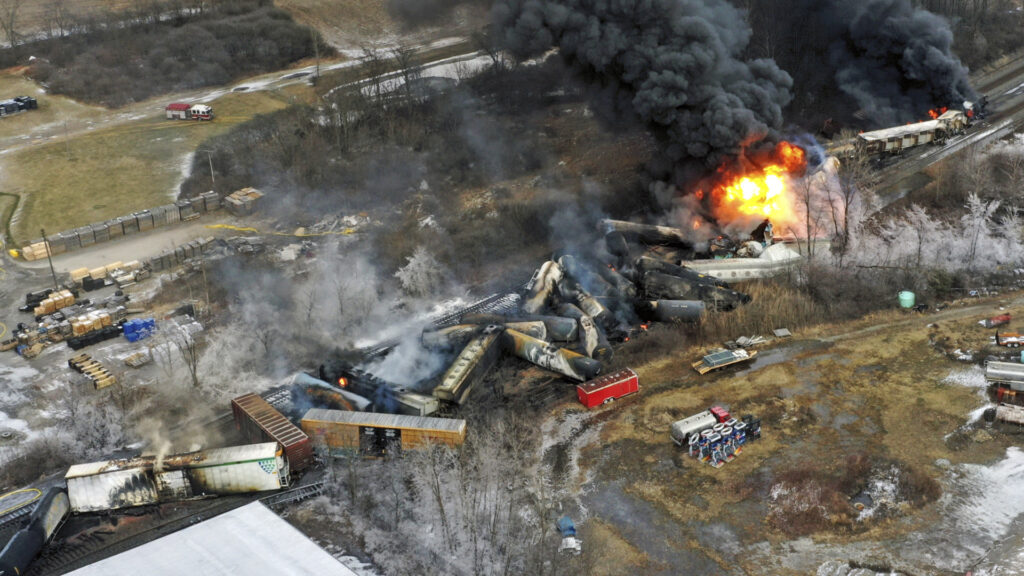 This photo taken with a drone shows portions of a Norfolk Southern freight train that derailed Friday night in East Palestine, Ohio still on fire at mid-day Saturday, Feb. 4, 2023. (AP Photo/Gene J. Puskar)
The U.S. Environmental Protection Agency (EPA) said Monday evening it has not yet detected any concerning levels of toxins in the air quality that can be attributed to the crash since the controlled burn was complete.
There are six EPA staffers and 16 contractors on the ground to assist with air monitoring actions, according to the agency.
EPA's top priority is the health and safety of all communities. Since the initial train derailment in East Palestine, Ohio, we have had 6 staff and 16 contractors on the ground to assist with air monitoring actions.

— EPA Great Lakes (@EPAGreatLakes) February 14, 2023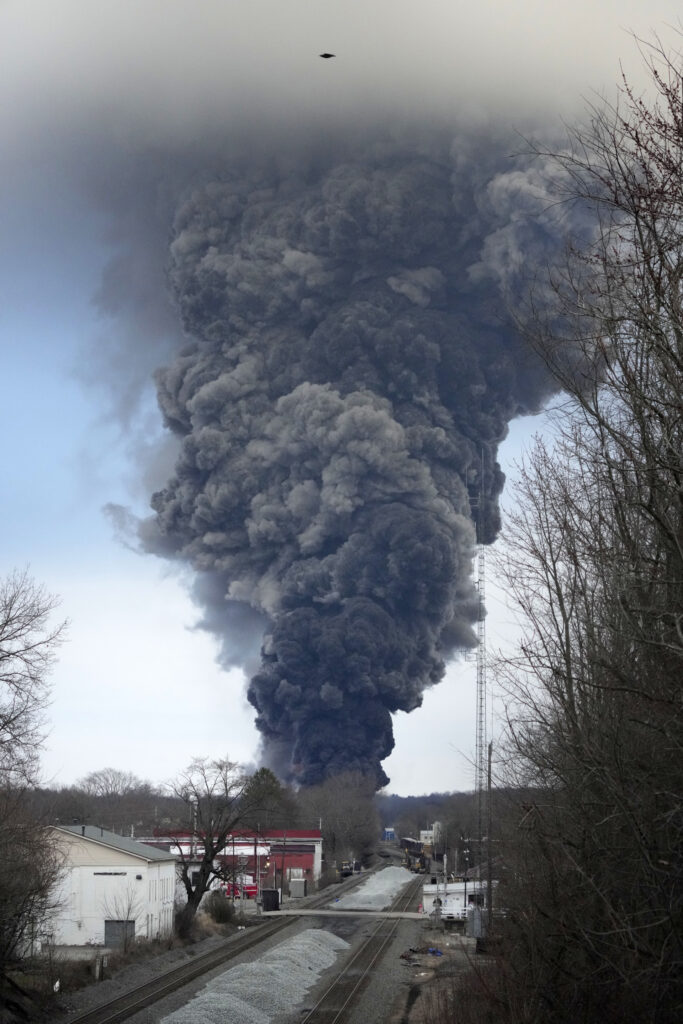 A black plume rises over East Palestine, Ohio, as a result of a controlled detonation of a portion of the derailed Norfolk Southern trains Monday, Feb. 6, 2023. (AP Photo/Gene J. Puskar)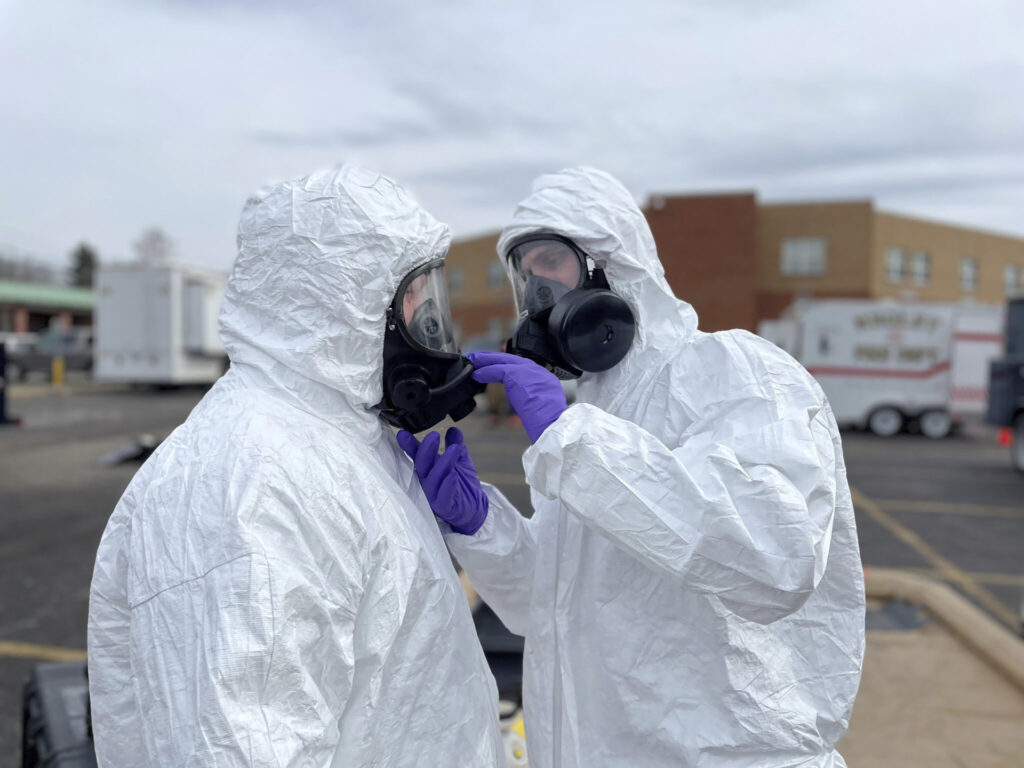 This photo provided by the Ohio National Guard, ONG 52nd Civil Support Team members prepare to enter an incident area to assess toxic hazards with a lightweight inflatable decontamination system (LIDS) in East Palestine, Ohio, Tuesday, Feb. 7, 2023. (Ohio National Guard via AP)
"Residents may still smell odors from the site," the EPA said, suggesting that those experiencing any symptoms call their medical provider.
One resident in the town of North Lima, around ten miles from the train derailment, reported that her six chickens died in the days after the fire.
"My video camera footage shows my chickens were perfectly fine before they started this burn, and as soon as they started the burn, my chickens slowed down and they died," Amanda Breshears told local TV station WKBN27.
It was not the only report of sick animals. Taylor Holzer, a registered fox keeper who lives outside the evacuation perimeter, told WKBN all of his foxes were sick and one had died.
Dead fish were also observed floating in local streams with activists now calling for a fuller, more public admission of the exact nature of the polluting cargo.
This is why people don't trust government.
You cannot tell people that there has been and continues to be hazardous pollutants contaminating the environment while at the same time saying "all is well."

People aren't stupid. @GovMikeDeWine @EPA https://t.co/eSfa9JPKzH

— Erin Brockovich (@ErinBrockovich) February 13, 2023
A federal lawsuit has now been launched to force Norfolk Southern to initiate health testing for residents in both states.
Undetermined damages are also being sought.
READ MORE:
Controlled release of toxic chemical from train that derailed in Ohio starts with boom and black smoke
Ohio: Train derailment sparks massive fire; rescue ops continue
7 injured at a Missouri theme park after a train ride derails