She was 'everything you'd want your daughter or friend to be.' Here's what we know about the Michigan State University shooting victims
CNN — Alexandria Verner was kind, positive and "everything you'd want your daughter or friend to be," a family friend said.
"Her kindness was on display every single second you were around her," Clawson Public Schools Superintendent Billy Shellenbarger told CNN. He is friends with the Verner family and has known Alexandria, or Alex, as he called her, since she was in kindergarten.
Verner was one of three Michigan State University students killed in a mass shooting on campus Monday night, university police said Tuesday.
The Michigan State University Department of Police and Public Safety identified the three students killed Monday night as junior Arielle Anderson, sophomore Brian Fraser and Verner, who was also a junior.
Anderson and Fraser hailed from the same town of Grosse Pointe, Michigan, leaving their hometown with a double loss.
Five other students remain in the hospital in critical condition, the release said.
"We cannot begin to fathom the immeasurable amount of pain that our campus community is feeling," the police release said.
These are the stories of the victims.
Alexandria Verner
Alexandria Verner
Clawson Public Schools
Verner touched a lot of people in the town of Clawson, Michigan, Shellenbarger said, which he described as a small, 2-mile by 2-mile community.
"To lose her on this planet, let alone our small community, it's tough," he said. "And it's going to take a while to recover, but to have known her for the duration of time that we all have, once again, is a gift to all of us," he said.
Verner's family is "being about as strong as a human being can be in the face of this tragedy," Shellenbarger said, adding that he spoke with them Tuesday.
'Reliving Oxford all over again.' Some MSU students and parents endure second mass shooting in 15 months
Shellenbarger was the principal at Clawson High School while Verner was a student there. She graduated in 2020.
Verner was a fantastic three-sport athlete in volleyball, basketball and softball, as well as an excellent student who was active in many leadership groups at the school, Shellenbarger said.
Shellenbarger sent a letter to families on Tuesday informing the community of her death and offering resources for students.
BREAKING: Clawson Public Schools has identified 1 of the 3 MSU students shot and killed last night on campus as CHS 2020 graduate Alexandria Verner.
Statement from school attached. CHS is my alma mater. MSU is my alma mater too. I'm absolutely gutted. pic.twitter.com/F9ICuDudCR

— Ruta Ulcinaite FOX17 (@RutaUlcinaite) February 14, 2023
"Alex was and is incredibly loved by everyone. She was a tremendous student, athlete, leader and exemplified kindness every day of her life!" he wrote in the letter. "Her parents, Ted and Nancy, and sister Charlotte and brother TJ are equally grieving but are certainly already feeling the uplifting support of this tremendous community."
"If you knew her, you loved her and we will forever remember the lasting impact she has had on all of us," he wrote.
Brian Fraser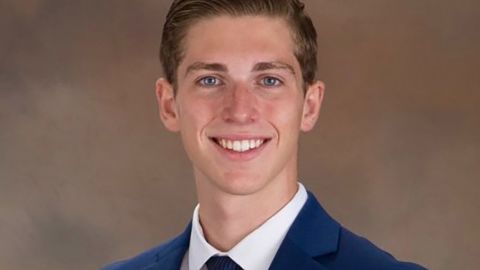 Brian Fraser
From Phi Delta Theta
Fraser served as the president of the Michigan Beta Chapter of Phi Delta Theta, the fraternity said in a statement.
He was a leader and a great friend to his brothers, the Greek community and the people he interacted with on campus, the fraternity said.
"Phi Delta Theta sends its deepest condolences to the Fraser family, the Michigan Beta Chapter, and all those who loved Brian as they mourn their loss," the statement reads.
Fraser was a sophomore who hailed from Grosse Pointe, which is in the Detroit area, university police said.
He graduated in 2021 from Grosse Pointe South High School, according to district superintendent Jon Dean.
Arielle Anderson
Arielle Anderson
Family photograph
Anderson, a junior at Michigan State, was also from Grosse Point, university police said.
She graduated in 2021 from Grosse Pointe North High School, according to Dean.
"How is it possible that this happened in the first place, an act of senseless violence that has no place in our society and in particular no place in school?" Dean said. "But then, it touched our community not once, but twice."
Five others critically injured
Four of the five injured students from the shooting required surgery and some immediate intervention, Dr. Denny Martin, Interim President and Chief Medical Officer at Sparrow Hospital, said Tuesday.
"Without going into the specifics of their injuries, I will say that it took a team of numerous anesthesiologist(s), trauma surgeons, general surgeons, cardiothoracic surgery and a neurosurgery team to handle the full extent of the injuries," he told CNN's Kate Bolduan.
One student who was injured "did not require immediate surgical intervention" and they were taken directly to the ICU, he said.
Martin said it's too early to give a long-term prognosis on their conditions.
"They're all under the care of trauma and critical care teams here," Martin said. "Some are more critical than others, but again, it's quite early…in their recovery from this event."
CNN's Michelle Watson, Amanda Watts, Sara Smart and Jillian Sykes contributed to this report.
READ MORE:
3 killed, 5 wounded at Michigan State campus shooting; suspect dead
Michigan State releases description of suspect in reported shootings
Shots fired at Michigan State University; multiple injuries reported
What we know about the victims in Michigan State University shooting