9 injured in mass shooting near beach in Hollywood, Florida; 1 person detained: police
MIAMI – Hollywood police have responded to reports of multiple people shot Monday afternoon.
CBS News Miami has learned 9 people were transported to area hospitals, 5 were taken into custody and 1 person is possibly still at large in the 1200 block of N. Broadwalk or near the Margaritaville Hollywood Beach Resort.
At least 3 of those shooting victims are minors, according to reports from the scene.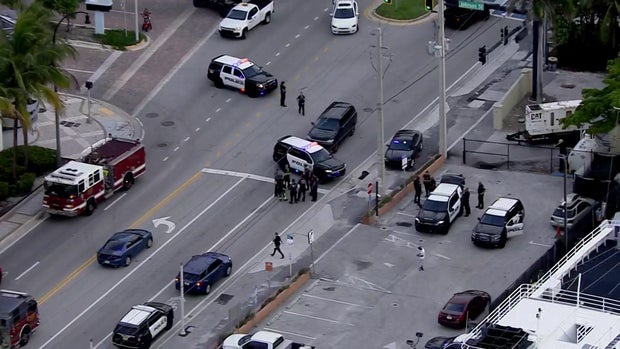 Hollywood police responded to reports of a mass shooting at the Broadwalk on Monday afternoon. CBS NEWS MIAMI
At 6:41 p.m., an area live cam showed people running away frantically from the scene.
An online video showed the moment gunfire erupted on the popular hotspot. The crowd frantically scattered for cover and away from danger when gunshots started to ring out near the Margaritaville resort.
Other videos from the scene showed emergency responders treating several victims as they lay along the sand.
Several of those victims were transported to Memorial Health.
Hollywood Mayor Josh Levy issued the following statement:
"Thank you to the good Samaritans, paramedics, police and emergency room doctors and nurses for their immediate response to aid the victims of today's shooting."
Chopper 4 images showed several police cruisers, unmarked police vehicles, as well as, at least one crime scene van and several fire-rescue trucks in the area.
A live stream showed a crowded boardwalk in Hollywood Beach, Florida, when the shooting started
Seven people were shot and video showed first responders helping to treat the wounded
At least one roadway had been closed by authorities and CBS News Miami has learned a large perimeter had been set up.
Hollywood police are urging people to avoid the Hollywood Beach area from Johnson to Garfield Street and the Hollywood Beach Broadwalk while the investigation continues.
CBS News Miami will have team coverage from the scene and will bring you the full report at 11 p.m.
Police said they have set up a reunification area at Johnson St. and N. Ocean bus loop.
This is a developing story and will be updated as soon as more details become available.