Idaho murders suspect felt 'no emotion' and 'little remorse' as a teen
MOSCOW, Idaho – A criminology doctoral student charged with stabbing four University of Idaho students to death had written years ago of having suicidal thoughts, not being able to feel emotions and observing his own life as if it were a video game, saying he could do "whatever I want with little remorse".
Bryan Kohberger arrives for a status hearing in Moscow, Idaho, on Jan 12, 2023. PHOTO: REUTERS
The new revelations about the suspect, Bryan Kohberger, come from posts he made on an online forum in which he discussed his mental health struggles, as well as from interviews with those who knew him and messages he sent to friends that were obtained by The New York Times.
They paint a portrait of an anxious, isolated and depressed teenager who turned to heroin use before eventually getting clean and becoming fascinated with studying criminal psychology, saying then that he hoped to one day provide counselling for high-profile criminals.
"I feel like an organic sack of meat with no self worth," he wrote in 2011, when he was 16, adding later, in the same post: "As I hug my family, I look into their faces, I see nothing. It is like I am looking at a video game, but less."
Now, Kohberger, 28, is facing murder charges, accused of sneaking into a home shared by students just off the university campus in Moscow, Idaho, and stabbing four of them to death, in the middle of the night.
At the time of the killings, Kohberger was in the first semester of his doctoral programme at Washington State University, a 15-minute drive from the crime scene.
He has maintained his innocence through his lawyer, and on Thursday waived his right to a speedy preliminary hearing. A judge set a June date for the hearing, when prosecutors will outline evidence in an attempt to prove they have probable cause to try him on murder charges.
The police have disclosed some of the evidence that led them to arrest Kohberger at his parents' home in the Pocono Mountains of Pennsylvania, saying they relied on DNA from a knife sheath left on a bed with two of the victims, cell phone records that suggest his phone was in the area a dozen times before the murders occurred and surveillance footage of a white Hyundai, like the one Kohberger drove.
But the authorities have not outlined any motive for the killings, leaving families of the victims and acquaintances of the accused killer searching for answers.
"It's wild," said Mr Jack Baylis, a Pennsylvania friend of Kohberger's who is among those trying to understand how Kohberger came to be charged with such a heinous killing. "Bryan himself would've been fascinated by it."
'Visual snow'
Bryan Kohberger messaged one of his victims repeatedly before the murders, a source said.AP
In online posts by Kohberger dating from when he was a teenager, he berates himself and describes feeling disconnected from society, unable to find meaning in life.
He describes an array of mental health challenges, including anxiety, depression, depersonalisation, lack of emotion and the "constant thought of suicide".
The words were posted on a forum website called Tapatalk, previously known as Yuku, where Kohberger commiserated with other users while suffering from a little-understood neurological condition called visual snow, in which a person's vision is obscured by scattering dots, much like the static seen on an analog television.
Kohberger did not use his name on the website, but the posts included a reference to his birthday. In addition, the username on the account, "Exarr", matches an e-mail address for Bryan Kohberger that appeared in a 2009 leak of accounts from an online payment company; that account listed his location as Effort, Pennsylvania, the place where Kohberger grew up.
Some of the posts also contained details that friends said matched their recollections of his behaviour and struggles at the time.
Friends have previously described Kohberger as having an intellectual bent, but said he occasionally turned cruel and angry. At Washington State, his peers said he rankled some people with a habit of over-explaining, and sounded particularly condescending when he spoke to his female classmates.
The online posts from his teenage years provide a deeper insight into what appeared to be a dark period of his life.
Heroin use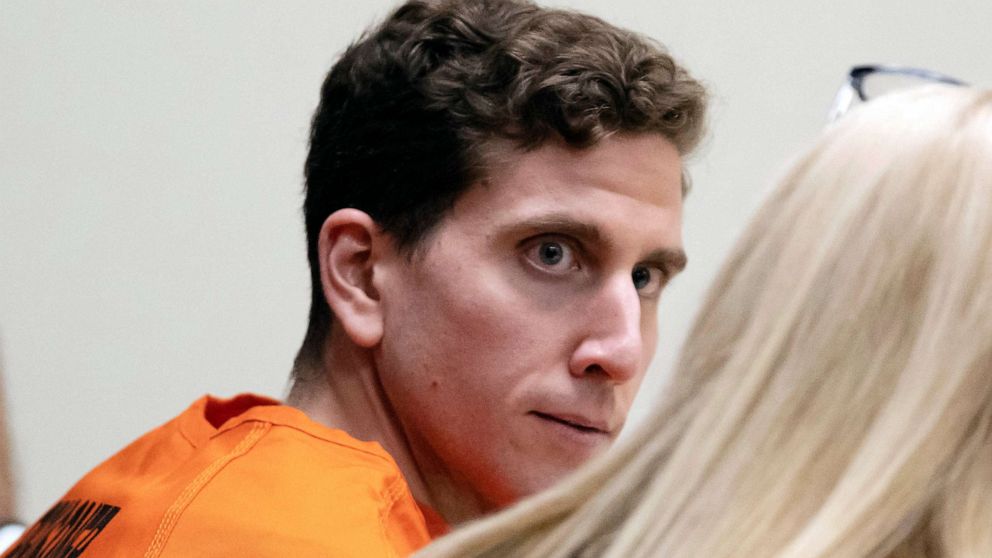 Bryan Kohberger who is accused of killing four University of Idaho students in November 2022, looks toward his attorney, public defender Anne Taylor, right, during a hearing in Latah County District Court, Jan. 5, 2023, in Moscow, Idaho.
Ted S. Warren/AP
On the forum website, Kohberger wrote that he saw a "sickly, tired, useless and stupid man" when he looked at himself in the mirror, and felt that he did not deserve to live.
He also lamented treating his father "like dirt" though he considered him a good man.
"Nothing I do is enjoyable," Kohberger wrote. "I am blank, I have no opinion, I have no emotion, I have nothing. Can you relate?"
Kohberger said his absence of emotion began about the same time as his visual snow symptoms, in September 2009, and one friend recalled him constantly talking about his fuzzy vision.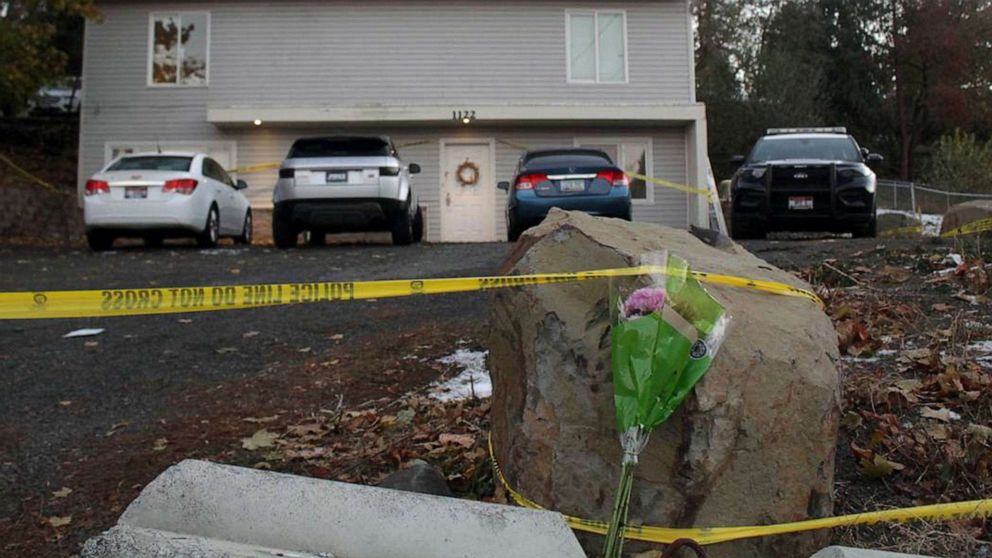 Four University of Idaho students were found dead, Nov. 13, 2022.
Idaho Statesman/TNS via Getty Images, FILE
He graduated from high school in 2013 but had also begun to use heroin around that time, friends said.
Mr Rich Pasqua, who graduated from high school a few years before Kohberger, said they used heroin together in 2013 and 2014, at a time when they both worked at a pizza shop called New York Pizza Girl, in Effort, Pennsylvania.
Mr Pasqua said his wife, who was in Kohberger's year, remembered that Kohberger had been heavier when he was in high school and was bullied over his weight. (Kohberger wrote in the online forum in 2011 of having lost half his body weight.)
And Mr Pasqua recalled teasing him on one occasion as well, telling Kohberger to walk to the private community's gates in the snow to get some heroin from him, only to not be there when he showed up.
Eventually, Mr Pasqua said, Kohberger's father would pick up the phone when he called, once saying that his son was "on a top-secret mission", which Mr Pasqua realised meant he was in rehab.
'Weird sense of meaning'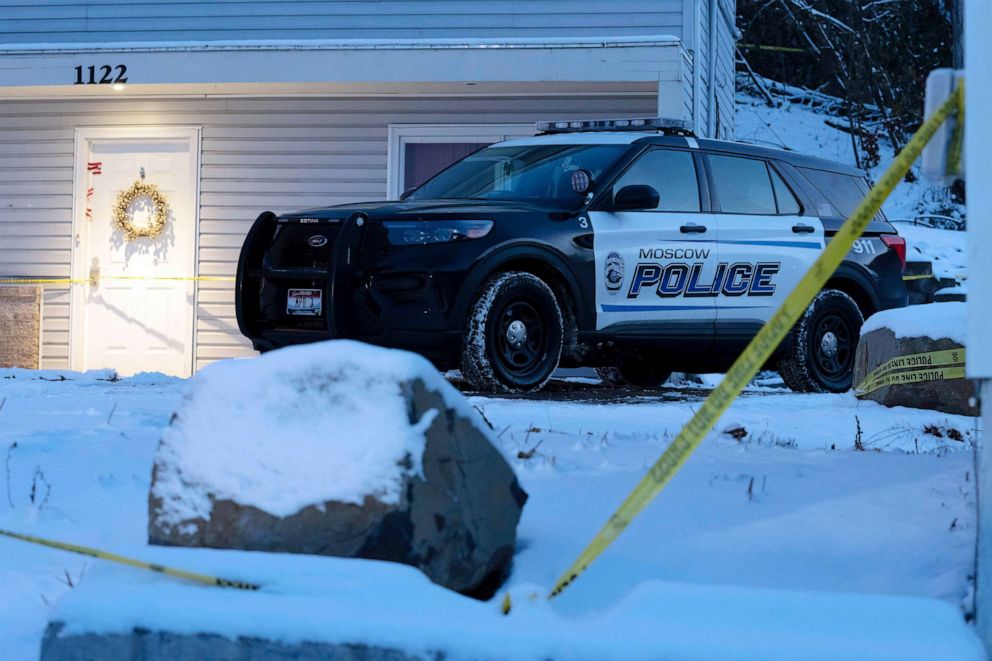 In this Nov. 29, 2022, file photo, a Moscow police officer stands guard in his vehicle at the home where four University of Idaho students were found dead on Nov. 13, 2022 in Moscow, Idaho.
Ted S. Warren/AP, FILE
Years later, Kohberger appeared to be doing much better, studying psychology at DeSales University in eastern Pennsylvania and telling one friend that his drug problems were in the past.
"I only used when I was in a deep suicidal state," Kohberger wrote in May 2018 to Mr Baylis, with whom he had been friends since eighth grade. "I have since really learned a lot. Not a person alive could convince me to use it."
Kohberger followed up later that day, telling Mr Baylis he had been off drugs for two years and telling him to not mention his drug use again, according to screenshots of their conversation on Facebook Messenger.
He told Mr Baylis at one point that he thought he had been depressed since he was 5 years old, for so long that he "developed a weird sense of meaning."
The University of Idaho victims – Ms Madison Mogen, 21; Ms Kaylee Goncalves, 21; Ms Xana Kernodle, 20; and Mr Ethan Chapin, 20 – were killed after spending a typical Saturday night around town, with two of them going to a party and two others going to a bar before returning home in the early morning hours.
Investigators believe all four were killed shortly after 4am. NYTIMES
READ MORE:
Idaho murders suspect Bryan Kohberger wrote about 'delusions of grandeur' in online forum
Idaho murders: 5 key pieces of evidence against Bryan Kohberger
Masked killer's chilling words, DNA details and new timeline: Key revelations in the Bryan Kohberger affidavit
Family of 8, Including 5 Children, Found Shot to Death in Utah Home, Police Say
Bryan Kohberger Is Keen to Know What's in Sealed Affidavits — Prosecutor
Grad student from Washington state charged with murders of four Idaho students
Idaho murder suspect: Who is Bryan Christopher Kohberger?
Idaho police release new detail about house where students were murdered
Idaho murders: FBI profiler says suspect could go to victims' funerals to take 'pleasure' in crimes