Latest Idaho killing details haunt suspect's school as new semester begins
PULLMAN, Wash. — The spring semester started here Monday in a town unsettled and traumatized by the latest information in the killings of four University of Idaho students, days after the public learned that the suspect had been living in their midst for weeks.
A sign for the apartment complex in Pullman, Wash., that housed the suspect in the killing of four University of Idaho students across the state border. (David Ryder/Getty Images)
Fear and grief had rippled through Pullman after the fatal stabbings in nearby Moscow, Idaho, but few at Washington State University had imagined the man who would be charged with the brutal crimes was in town. Now, despite the arrest of 28-year-old Bryan Kohberger, the fear has heightened not abated, some in Pullman said, thanks to the information revealed in authorities' charging document Thursday, just five days before classes resumed.
One woman said she was having trouble sleeping; another kept replaying the daily walks that took her past the suspect's apartment. Professors were in trauma workshops, and one of Kohberger's former students said the school appeared to be removing his email history.
"It's kind of like your feeling of safety is shattered," said Kim Sheets, a graduate student in anthropology who lives in the apartment complex where Kohberger had resided. "I've never felt unsafe here before," she said, adding, "I'm more cautious now."
Kohberger, who was enrolled in WSU's criminal justice doctoral program, was arrested Dec. 30 in Albrightsville, Pa., in the Pocono Mountains, where his family lives, and extradited to Idaho. He was charged in the Nov. 13 killings of Madison Mogen, 21; Kaylee Goncalves, 21; Xana Kernodle, 20; and Ethan Chapin, 20, at their off-campus home in Moscow, where the killings terrified students and have left the University of Idaho campus grieving.
A public defender in Pennsylvania previously said Kohberger, who agreed to be extradited to Idaho, believed he would be exonerated.
Police had shared little about the progress of the investigation in the wake of the early-morning attack, leading some victims' families to publicly worry whether the case had gone cold. But the affidavit unsealed Thursday detailed how authorities said they used DNA, a witness account, cellphone records and surveillance footage to charge Kohberger with four counts of murder and a burglary count.
It was those details, along with the knowledge that Kohberger had stayed in Pullman after the killings until winter break, that many students and faculty members were still grappling with this weekend.
The university's criminal justice faculty spent last week in crisis and trauma training, said an academic who spoke on the condition of anonymity because they were not authorized to speak publicly. The faculty is reeling from the news that one of its students stands accused of the killings, the person said.
"I really can't say anything," the academic said. "They are crushed over there."
One professor declined to comment, and 12 did not respond to inquiries. The university's spokesman, Phil Weiler, did not respond to multiple emails including a list of questions.
Other signs of the city's unease were easy to find. One graduate student had arrived in Pullman a few days ago to move in for the semester, only to be told by his landlords that they were backing out: Unnerved by the killings, they had changed their mind about renting the apartment.
Even with a suspect in custody, the student and his roommate — who were moving into the Steptoe apartment complex where Kohberger had lived — said on Saturday they felt uneasy. Neither wanted to be identified by name because of safety concerns.
"This is supposed to be a safe town. Nothing ever happens," his roommate said. "People are more cautious now. Everyone is double-locking their doors."
Sheets, who also lives in the complex, said it was difficult to see images of her home plastered on TV news and the address published in the affidavit. She keeps thinking about how she walked her dog by Kohberger's apartment almost daily, saw his white Hyundai Elantra in the parking lot and worked in the same building on campus as he did.
Maricel Wallace, 36, said she and her husband used to let their children, ages 6 and 10, visit the playground outside Kohberger's apartment unsupervised. After the attacks in Idaho, Wallace's husband bought security sensors for their windows and began double-locking their door.
"I can't sleep. I have nightmares," Wallace said. "I thought it was a very safe community. … It's hard. It's really hard."
Bryan Kohberger leaves an extradition hearing at the Monroe County Courthouse in Stroudsburg, Pa., on Jan. 3. (Matt Rourke/Pool/AP)
In addition to bulwarking security, many are bunkering from reporters who have descended on a normally sleepy community. A Washington Post reporter found the street outside the victims' house in Moscow, about 11 miles from Kohberger's Pullman apartment, still lined with news crews seeking answers on Saturday.
More than half a dozen people affiliated with WSU told The Post they could not talk or referred a reporter to Weiler. Some who were working or living at the university-owned Steptoe apartment complex said the school instructed them not to speak to journalists.
Emails from Kohberger have been removed from the university system, said a student who had Kohberger as a teaching assistant for an undergraduate criminal law class last semester.
"He's still listed as a contact, but all our emails from him are gone," the student said in a text message Saturday.
WSU also removed its online student directory for the criminal justice program, saying the action was meant to protect the graduate students' privacy.
Meanwhile, a sweeping gag order that prohibits the police, prosecutors and defense lawyers from commenting publicly remains in place.
The house where four University of Idaho students were found dead. (Angela Palermo/Idaho Statesman /AP)
In a public letter last week, WSU-Pullman Chancellor Elizabeth S. Chilton told community members they could choose whether to speak to reporters and said they could forward inquiries to the school's marketing director. She also said students could request to have their email addresses changed and remove their contact information from the student directory.
The announcement of the arrest of Kohberger, who is no longer enrolled at the school, "has shocked our communities," Chilton wrote in the letter.
"I am hopeful that the coming days and weeks will provide all of us with additional answers and information about the nature of this incident," she wrote.
Kohberger, booked in Idaho's Latah County Jail, is scheduled to appear in court on Thursday. If he eventually pleads guilty or is found guilty, he could face life in prison or the death penalty in Idaho.
The affidavit offered the most detailed glimpse yet of the evidence investigators say they gathered. Authorities say they matched DNA from a knife sheath found beside Mogen's body and obtained cell records showing Kohberger's phone had been near the victims' neighborhood at least a dozen times in the months before the killings.
Police also said they spoke with a surviving roommate who they think saw the killer, and video surveillance showed a white Elantra speeding from the house at 4:20 a.m.
"It's extremely significant," retired New York Police Department sergeant Joseph Giacalone said of the evidence. "Unlike what you see on television, this is a textbook case."
Giacalone, an adjunct professor at New York's John Jay College of Criminal Justice, called the authorities' strategy to withhold developments from the public "good police work," allowing investigators to compile evidence while not tipping off the suspect.
Giacalone, who has followed the case, said investigators may reveal more in subsequent filings and hearings about what they found in Kohberger's home after they arrested him. For instance, his laptop could reveal more about how he spent his time during his first semester at Washington State.
In high school, Kohberger was known as shy and socially awkward, classmate Roula Theodoropoulos, 29, said. She recalled him arriving alone to post-graduation parties at her house and talking only to people he already knew. In conversations in his car, Theodoropoulos said, Kohberger used to tell her that he was depressed.
"He was really smart, and the way that he described his sadness was really deep — something that I couldn't fathom at 19 years old," Theodoropoulos said.
In Pullman, the agitation and grief lingering on and off campus appeared unlikely to go away soon. Nephi Duff, who lives in the Steptoe apartments, recalled never seeing Kohberger despite living in the building next door.
"[I was] surprised that there was somebody like that so close," Duff said. "It sucks. I've got a 3-year-old daughter, and there's somebody who potentially killed four people next door."
Kornfield, Salcedo and McDaniel reported from Washington. Marisa Iati contributed to this report.
Idaho police release new detail about house where students were murdered
Idaho police say sixth person on lease at house where four college students were murdered
The sixth person was not present at the time of the quadruple homicide, Idaho police believe
MOSCOW, Idaho – A sixth person was on the lease at the off-campus residence where four University of Idaho students were murdered more than two weeks ago, but detectives said they do not believe that individual was present during the quadruple homicide, the Moscow Police Department revealed Thursday evening for the first time.
Three of the roommates – Xana Kernodle, 20, Madison Mogen, 21, and Kaylee Goncalves, 21 – were stabbed to death between 3:00 and 4:00 a.m. on Nov. 13. Kernodle's boyfriend, 20-year-old Ethan Chapin, who did not live there and was staying the night, was also killed.
Two other roommates who were inside the home were uninjured. Authorities said in the early days of the investigation that Chapin was a roommate, but clarified five days after the murders that he was only visiting.
"Detectives are aware of a sixth person listed on the lease at the residence but do not believe that individual was present during the incident," the Moscow Police Department said in a news release.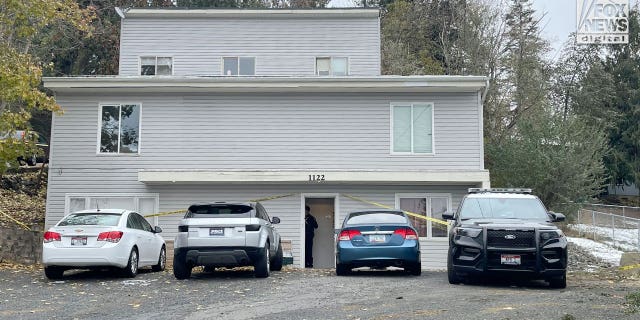 Police search a home in in Moscow, Idaho on Monday, November 14, the day after four University of Idaho students were murdered.  (Derek Shook for Fox News Digital)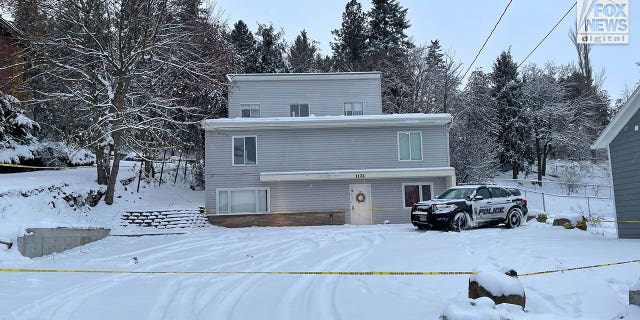 The house where four University of Idaho students were killed, pictured here about to weeks after the murders.  (Stephanie Pagones/Fox News Digital)
Authorities did not immediately respond to questions from Fox News Digital on Thursday evening.
Team Idaho Property Management Supervisor Merida McClanahan previously told Fox News Digital that the residence is a three-story, six-bed, three-bath, single-family home that is frequently rented out to students. There are two bedrooms and a bathroom on each of the floors.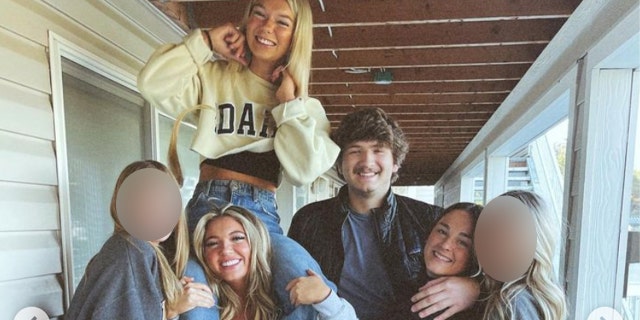 Ethan Chapin, 20, Xana Kernodle, 20, Madison Mogen, 21, and Kaylee Goncalves, 21, along with the women's two other roommates in Kaylee Goncalves' final Instagram post, shared the day before the slayings. (@kayleegoncalves/Instagram)
A neighbor, third-year law student Jeremy Reagan, described the residence as a party house.
"There were parties that were kind of loud," Reagan previously told Fox News.
"As I would take my dog in and out to go to the bathroom, I would just be walking by, I would look up and I would see people in the windows almost every night, probably four or five nights a week. There were a lot of people that went into and out of that house pretty frequently."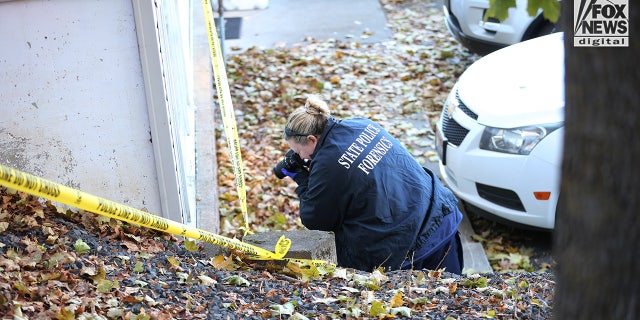 State police forensics look for clues in Moscow, Idaho on Monday, November 21, 2022.  (Derek Shook for Fox News Digital)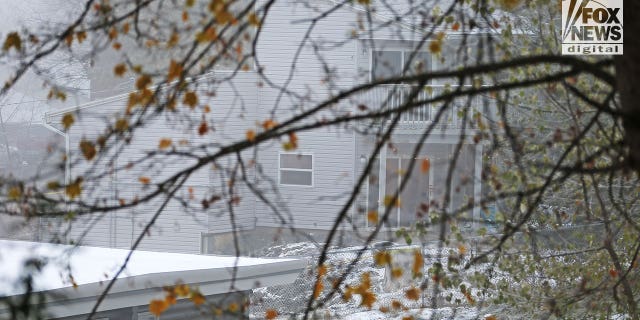 General views of the Moscow, Idaho home taken on Wednesday, November 16, 2002 where four students were murdered. (Credit: Derek Shook for Fox News Digital)
The house is a short walk away from the Sigma Chi house, where Kernodle and Chapin spent the evening before returning home shortly before 2:00 a.m.
Mogen and Goncalves went out to a local bar called the Corner Club before also returning home at approximately 1:56 a.m.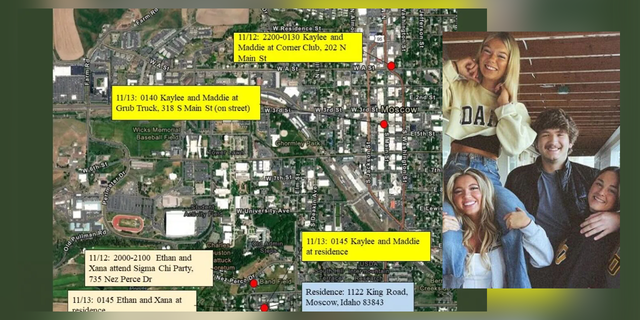 Police have named the four victims of an apparent quadruple homicide at the University of Idaho as Madison Mogen, Ethan Chapin, Xana Kernodle and Kaylee GonCalves.  (Moscow City Police Department/Instagram)
Police also said that Idaho State Police Forensic Services have already returned the first lab results to detectives. Authorities have not publicly released the results.
After a series of conflicting statements, the Moscow Police Department said Thursday morning that they "remain consistent in our belief that this was a targeted attack," but are unsure whether the "target was the residence or if it was the occupants."
Idaho State Police Communications Director Aaron Snell said this week that the "collection of evidence at the house is coming to a conclusion," but he was unsure of when the crime scene would be released.
Fox News' Audrey Conklin and Ashley Soriano contributed to this report.