Indiana woman convicted on rape, murder charges after threesome fantasy turns deadly
The perpetrator and two victims began to engage in consensual sex that turned violent when her boyfriend entered the room
By Audrey Conklin
An Indiana jury has convicted a woman on rape and murder charges after she met a couple on a dating app, hosted a threesome in her home that turned deadly, and then ordered pizza while a victim's body lay upstairs, according to authorities.
The Vanderburgh County jury on Wednesday found Heidi Kathleen Carter, 37, guilty on six counts, including two counts of rape;. three counts of criminal confinement; and one count of aiding, inducing or causing murder for killing Tim Ivy, 50, and raping a woman inside her home on Stinson Avenue with her boyfriend, Carey Hammond.
Carter met the female victim on a "lesbian dating app," according to an arrest report, and invited the victim and Ivy, the victim's boyfriend, to the Stinson Avenue home.
The three began to engage in consensual sex that turned violent when Hammond entered the room and became enraged at the sight.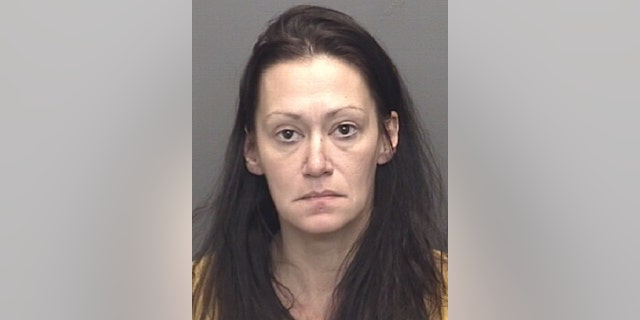 An Indiana jury on Wednesday convicted Heidi Carter on six counts, including aiding rape and aiding murder charges. (Vanderburgh County Sheriff)
"The next thing I know, there's a man bursting through the door with a baseball bat attacking us," the female victim said in court, adding that Hammond "swung [the bat] like a golf club," the Courier & Press reported.
Evansville police initially arrested Carter in October 2021 after they responded to her home for a possible "kindapping and murder." Carter exited the home and was taken into custody when police arrived.
Carter's boyfriend, Carey Hammond, appeared to exit the home and point a firearm toward authorities, who fatally shot him.
Police then located the female victim inside the home with "a serious injury," as well as Ivy, who was deceased and wrapped in a blanket with duct tape, according to the arrest report.
Carter and Hammond had reportedly restrained Ivy with duct tape and the female victim with Velcro, at which point Hammond beat them with a bat and raped the female victim.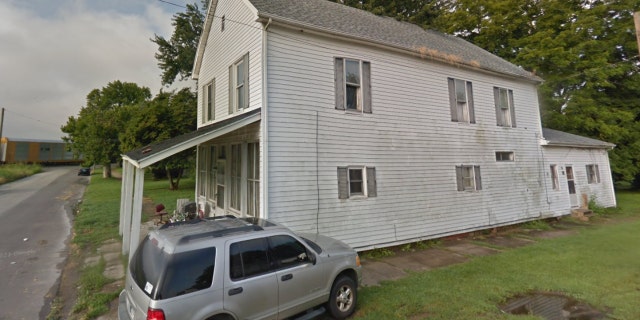 Carter met the female victim on a "lesbian dating app," according to an arrest report, and invited the victim and Ivy, her boyfriend, to the Stinson Avenue home. (Google Maps)
The victim told investigators that Carter was holding a firearm and threatening to kill both Ivy and the female victim and stated that she "knows someone in Indianapolis who knows how to hide a body."
Carter left the home for "a short time," and while she was gone," Hammond strangled Ivy to death with his belt as he tried to escape the duct tape restraints. Hammond wrapped Ivy's body in blankets, and when Carter returned, she offered to help move his body to a different room, witnesses told investigators.
Afterward, Carter and Hammond invited a housekeeper to their Stinson Avenue home to clean it. The housekeeper noticed blood on Carter's shoes and a firearm in her hand. She was told to clean two bedrooms, and then Carter and Hammond ordered pizza.
Upstairs, the housekeeper heard a female voice crying for help. She also "went to sit down on what she thought was a pile of pillows and blankets" and noticed it was a body, the arrest report states. When the housekeeper asked to leave, Hammond and Carter sat her down and told her she could not leave and that she had "better listen" to Hammond. Eventually, she was able to escape and found a state trooper to respond.
Carter admitted to making threats and helping hide Ivy's body. Police also found a black revolver in her possession, but she told investigators that she was only "pretending" to help Hammond to appease him, the arrest report states.