Is Zendaya Pregnant? Twitter Rumor Sparks Pandemonium
Thousands of Zendaya fans have been well and truly 'Krissed' after falling for an online rumor that Zendaya is pregnant with Tom Holland's baby.
A viral trend tricking people on TikTok crossed social media platforms and led to a wave of memes and jokes on Twitter, with many believing the hoax. Zendaya became a trending topic because of the rumor.
On TikTok, people are getting #Krissed as fake stories about Spider-Man: No Way Home co-stars Zendaya and Holland are being shared, before Kris Jenner pops up on screen to troll the watcher and confirm the story was a hoax. The confirmation that the rumors were made up hasn't stopped some people from believing it over on Twitter.
Tweets openly asking, "Wait Zendaya is pregnant?" gained tens of thousands of interactions with Twitter users. @kirawontmiss followed up their tweet by writing, "i need to know who's y'all sources because why everybody on the [timeline] saying this."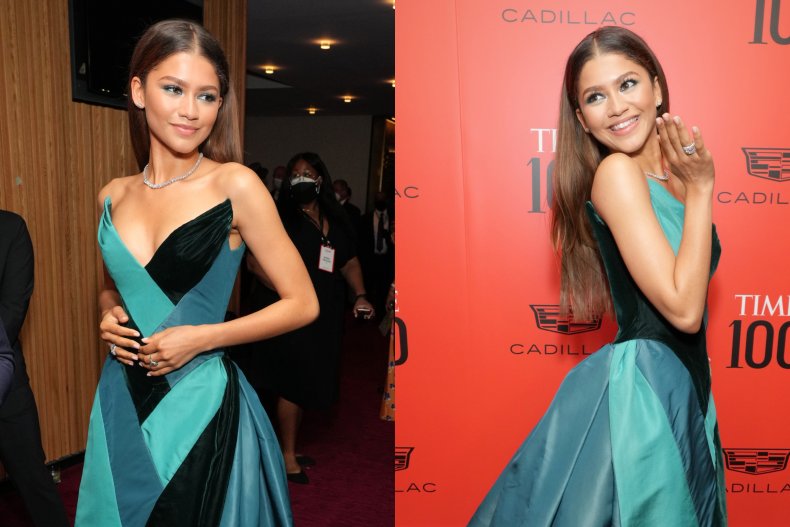 "Somebody screamed 'Zendaya is pregnant' in Walmart and 20 [people] fell to their knees," @ZERONlUM wrote on Twitter. Over 63,000 users liked the comment which also got thousands of comments and retweets too. Continuing the joke, @ihyjuju tweeted separately, "zendaya PREGNANT?? i just fell to my knees in a Walmart."
People reacted to the "news" on Twitter with messages of fake congratulations for the Dune actress Zendaya, with accompanying videos including their real emotions—usually people reacting with devastation or anger.
streets telling me zendaya pregnant? happy for her fr👍🏾👍🏾👍🏾👍🏾👍🏾 pic.twitter.com/MV4sdUNcHD

— ¹⁸ (@jetts4prez) June 15, 2022
"Zendaya only got pregnant to make me jealous tbh," was a theme repeated by several users. @Sammerlammer's tweet went viral when they repeated the statement but included a picture of a man sat in his underwear in a messy bedroom.
"Zendaya only got pregnant to make me jealous" pic.twitter.com/yejgDVbUOh

— sam 🦦💤 (@sammerIammer) June 14, 2022
But how did this rumor, which sped like wildfire, originate?
TikTok was filled with people creating videos with the #Krissed meme. Rumors of Zendaya and Tom Holland either announcing their pregnancy, breaking up, or getting engaged were announced, before the Kardashian matriarch appeared onscreen. She's seen dancing to a sped-up version of "Lady Marmalade."
The videos start out convincingly enough, with clickbait titles and thumbnails before going into Instagram evidence supporting the story. Eventually, Jenner appears onscreen to confirm the viewer has been #Krissed.
Somewhere between being posted on TikTok to being shared on Twitter, the prank became a rumor, which then became fact, then a joke for many.
The TikTok videos mock up Instagram posts by Zendaya's account. Some showed pictures of a sonogram, others of a hand showing an engagement ring. All rumors seem to be completely made up as the last thing Zendaya posted was a red carpet video on June 10.