JayDaYoungan Shot Dead at 24: Police Explain What Happened to Rapper
Rapper JayDaYoungan has died at the age of 24, after a shooting in his hometown of Bogalusa, Louisiana, on Wednesday, July 27.
Two other people were injured in the incident, which took place just before 6 p.m., according to a police.
The rapper—real name Javorius Scott—was signed to Atlantic. Newsweek
What Happened to JayDaYoungan?
The fatal shooting occurred outside a home on the 600 block of Superior Avenue, according to a Facebook post from the Bogalusa Police Department on Wednesday evening.
The statement said that when officers arrived, they "found that one victim had been transported by [privately owned vehicle] to Our Lady of the Angels Emergency Room. Another victim, still on scene, was critically wounded and was treated on scene by [paramedics]" before being taken to the ER.
At about 11 p.m. local time on Wednesday, the police department posted an update confirming the rapper's death.
It said: "We can now identify the victims as Javorius Scott, A.K.A. JayDaYoungan, and close family member Kenyatta Scott Sr. We can also confirm that Javorius Scott has died as a result of his injuries. Kenyatta Scott Sr. has been transported to another facility and we have been told he is in stable condition."
Kenyatta Scott Sr. is thought to be the 24-year-old's father.
Bogalusa detectives "are currently conducting interviews and working leads," the police statement added. Newsweek has contacted the Bogalusa Police Department for further comment.
Who Was JayDaYoungan?
The 24-year-old rapper gained popularity in the mid to late 2010s, best known for his tracks "Elimination," "Opps" and "23 Island." His latest EP, All Is Well
JayDaYoungan also made headlines for a series of legal problems. In June 2021, he was released from prison after serving seven months on charges of possession of a firearm while under indictment for a crime.
In September 2021, the musician was arrested on charges of obstruction of justice and accessory to a second-degree murder that occurred in Louisiana.
Hip-hop magazine XXL reported that he was "somehow involved in a violent drive-by shooting on August 8, 2020 around 7:30 p.m. between local rival gangs."
Fox 8 has identified the gangs as La Familia and Purple City Boys. The shooting resulted in one death and injuries to two people.
In October 2021, JayDaYoungan was arrested and charged with a number of felonies, including the illegal use of a controlled dangerous substance in the presence of minors, child desertion and possession of a controlled and dangerous substance.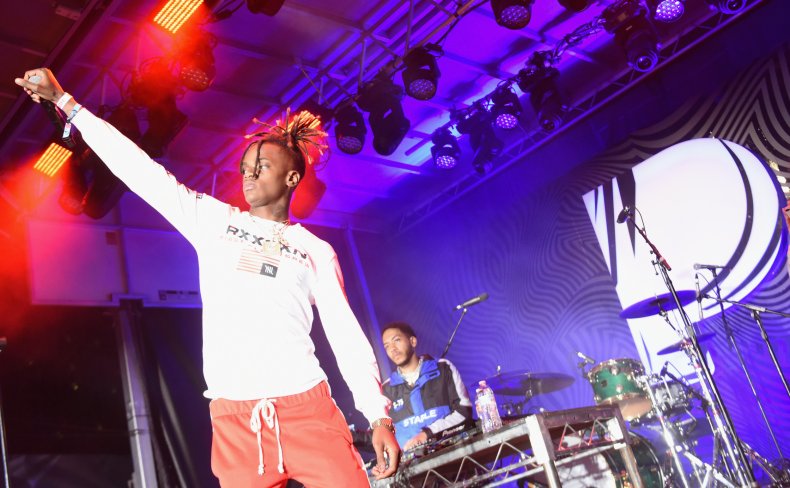 JayDaYoungan performs at Pandora SXSW on March 14, 2018, in Austin, Texas.GETTYIMAGES