Johnny Depp Jumps When He Sees Amber Heard Witness: 'He Saw a Ghost'
Aclip of Johnny Depp seemingly getting spooked in court has gone viral on TikTok.
The short clip sees Depp entering the courtroom then suddenly jump after seeing Amber Heard's next witness on a screen in front of him. It's the latest video from the Depp vs. Heard trial to go viral as various clips and live streams from the Circuit Court of Fairfax County, Virginia have gained millions of views online.
Depp is currently suing his ex-wife Heard for $50 million, claiming loss of earnings after she wrote a 2018 op-ed stating she was the survivor of domestic abuse. Heard didn't mention Depp by name but his legal team argue the insinuation has caused reputational damage to his career. Heard is counter-suing for $100 million.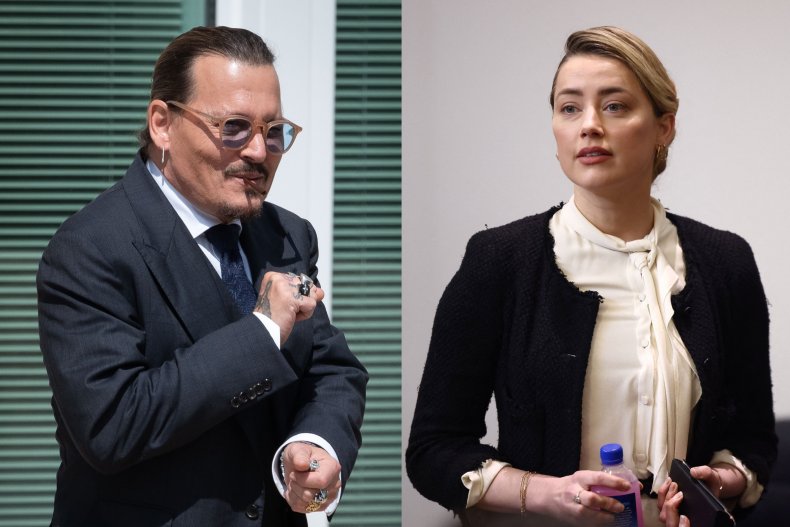 The trial has concluded its sixth week, with closing statements scheduled to be made on Friday May 27.
The latest clip to go viral from the courtroom was posted by TikTok user @ritoxek. Using the popular soundtrack "Sneaky Snitch" by Kevin MacLeod, Depp can be seen smiling as he enters the room. He waves at people before going to sit in his chair, but he jumps when he sees Amber Heard's ex-girlfriend, Tasya van Ree on a monitor in front of him.
@ritoxek wrote the caption, "He saw a ghost maybe" alongside the short video. The clip has been viewed 9.4 million times and has received 1.2 million likes, as well as thousands of comments and shares.
The comments section to the video is filled with people making reference to Depp's character from Pirates of the Caribbean, Captain Jack Sparrow.
"That was captain Jack jump," wrote @Patsy1107, while @disasterbi93 quoted a line by Jack Sparrow, "What… is that doing there?"
Others used the video as a mechanism to voice their support for Depp, as many have done online since the start of the trial. "That jump! That tells [us he] is afraid all of them, justice for Johnny," wrote @ki_cha2020. @2allulah made a bold but popular prediction by writing, "bro watch this case get turned into a movie one day."
This incident is the latest in a string of viral moments from the current trial. In recent days Heard also went viral for storming out of the courtroom with a video caption reading: "It was at this moment she knew she lost the case."
Depp's lawyer Camille Vasquez has become an overnight sensation online for her cross-examination of Heard. Viewers have praised her performance in court and she went viral for casting "dirty looks" at Heard and her repeated objections. Her manner with Depp has even led people to ask whether they are dating. Multiple sources have confirmed they are not.
The Depp vs. Heard case will resume on Monday 23, 2022 and Newsweek will continue to bring you the latest breaking news from Virginia through the live blog.
READ MORE:
'Ms. Heard Hit Me, Is That Better?': Depp Pokes At Heard Lawyer While Taking The Stand Second Time
Viral Video: Amber Heard Ignores Judge And Rushes Out Of Courtroom After Disastrous Testimony, Redirect
Amber Heard's mom's shocking messages to Johnny Depp go viral amid trial