Johnny Depp reacts to sensation claim in courtroom
A woman in the public gallery has yelled out a sensational claim during the final week of Johnny Depp and Amber Heard's defamation trial.
Chantelle Francis
Cameras have missed what may be one of the most bizarre moments in the Amber Heard and Johnny Depp defamation trial – a woman in the public gallery claiming Depp is the father of her baby.
After Judge Penney Azcarate announced a morning break in the Virginia courtroom on Monday (local time), a woman stood up and made the sensational claim about the Pirates of the Caribbean actor.
She later admitted it was a "joke".
Law & Crime journalist Angenette Levy was standing across the aisle from the woman when it all happened.
"All of a sudden this woman … she stands up in the back of the courtroom with her baby and she says 'Johnny I love you, our souls are connected'," Levy reported from outside the courtroom after the incident.
"And he kind of turned and waved as he does sometimes, and everybody waved and you saw one of the deputies come towards her and she held up the baby and said: 'This baby is yours'.
"Everybody was like 'woah, OK' and the deputy is like 'you're out of here'."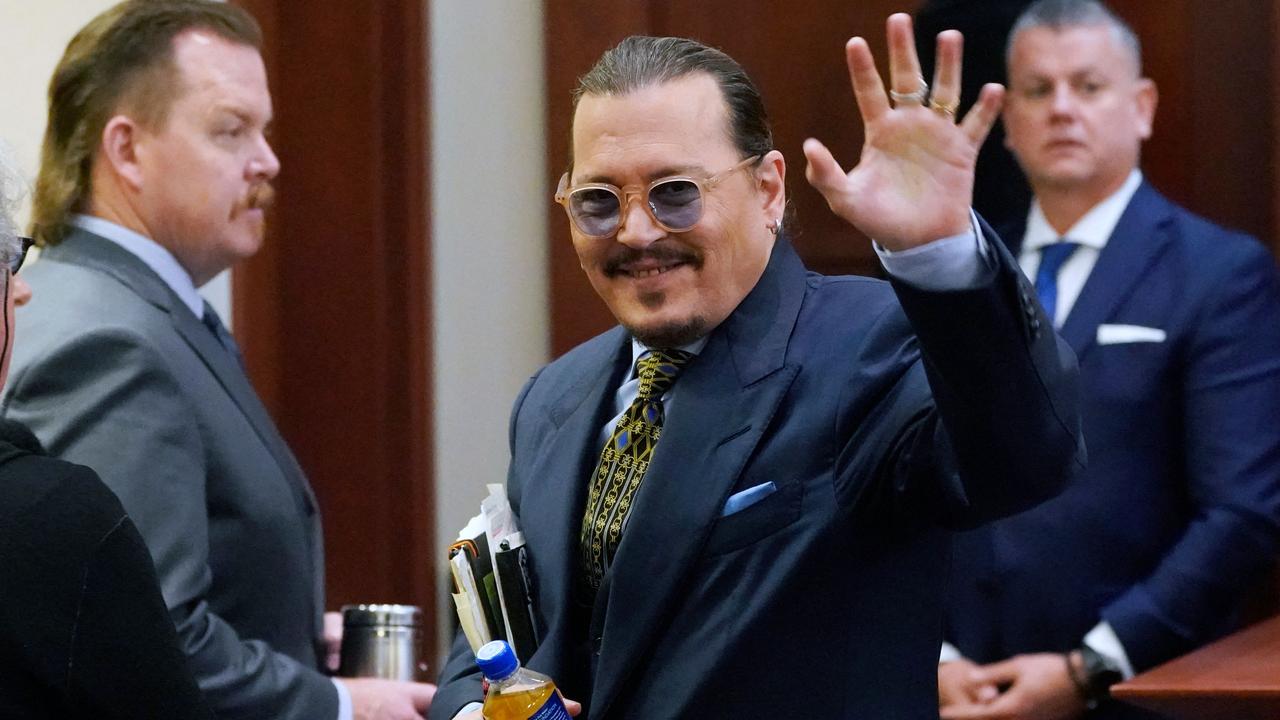 Johnny Depp is known to gesture to the gallery as he leaves the courtroom for a break. Picture: Steve Helber / POOL / AFP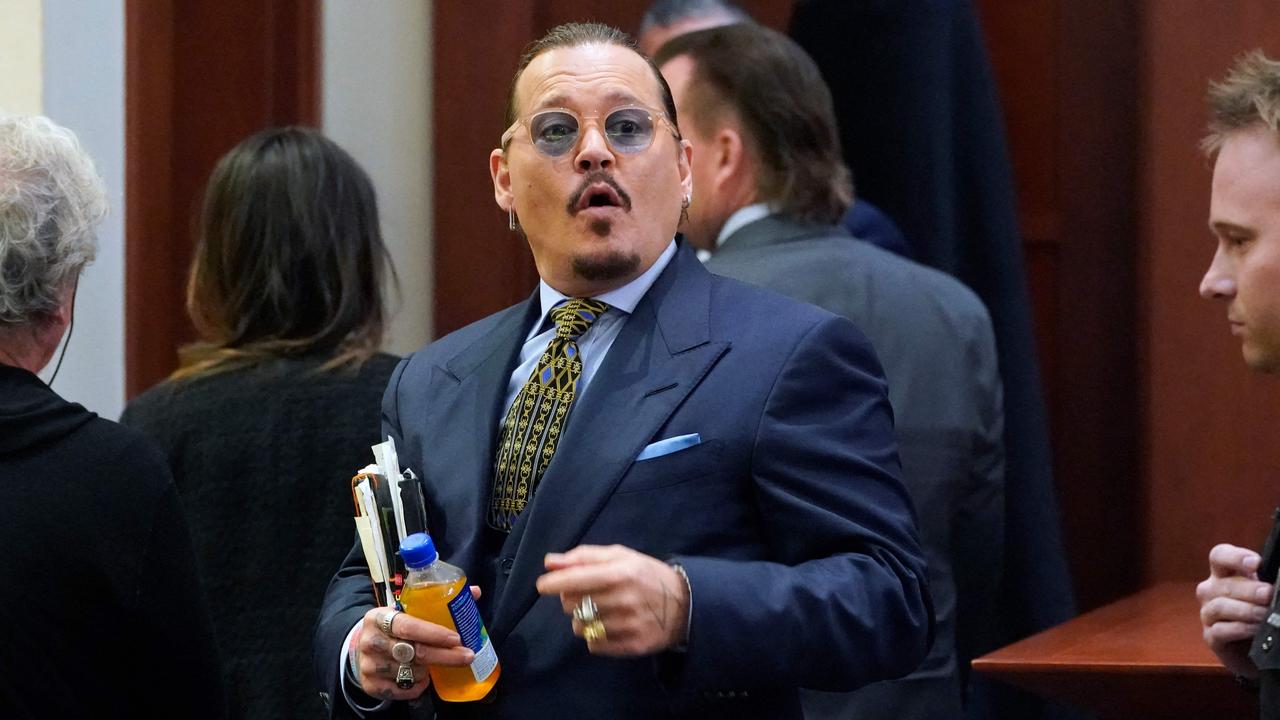 A woman yelled out that the baby in her arms was his. Picture: Steve Helber / POOL / AFP
The woman was removed from the courtroom and had her access wristband clipped off.
"Obviously even if the judge is not at the bench you can't be doing things like that – yelling out that your souls are connected and that you love somebody," Levy said.
"And then other people started chiming in as well so it was pretty wild."
Levy later wrote on Twitter that the woman told the network that she was joking.
This happened this morning. The women later told our PA that she was joking 👇 https://t.co/0d8IXs3fwb

— Angenette Levy (@Angenette5) May 23, 2022
Law & Crime host Jesse Weber pointed out the woman could have been waiting since 1am with the baby to get into the courtroom – making reference to the fact that fans have been queuing up for hours each day to try and get in on the action.
People waiting in line to get a pass to enter the court during the final week of the defamation trial. Picture: Brendan Smialowski / AFP
Heard, 36, is being sued by ex-husband Depp, 58, for $US50million ($A67m) for implying he abused her in a 2018 Washington Post op-ed.
Although she did not name him, he claims her allegations are false and cost him lucrative movie roles.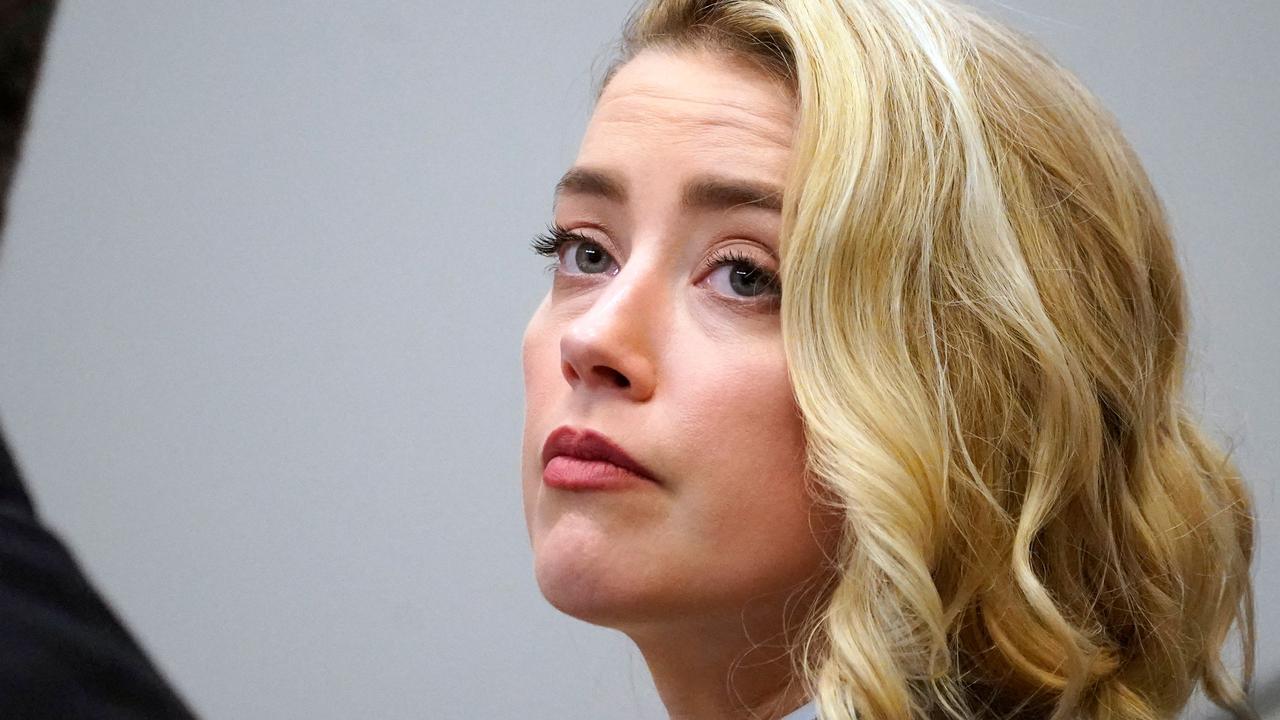 Amber Heard is being sued over an op-ed piece in The Washington Post in 2018 referring to herself as a "public figure representing domestic abuse". Picture: Steve Helber / POOL / AFP
Heard has countersued, asking for $US100 million ($A134m) and claiming she suffered "rampant physical violence and abuse" at his hands.
The highly-publicised trial is in its final week after beginning six weeks ago.
It has been streamed live and watched obsessively around the world, with social media users dividing themselves into "Team Amber" and "Team Johnny".
READ MORE:
The Most Shocking Claims Made During Week 5 Of Johnny Depp & Amber Heard's Defamation Trial: Video
Johnny Depp Jumps When He Sees Amber Heard Witness: 'He Saw a Ghost'
Viral Video: Amber Heard Ignores Judge And Rushes Out Of Courtroom After Disastrous Testimony, Redirect