Julissa Thaler to spend life behind bars for son's murder
Jurors found Thaler guilty of shooting her 6-year-old son up to nine times with a shotgun while in the midst of a custody dispute.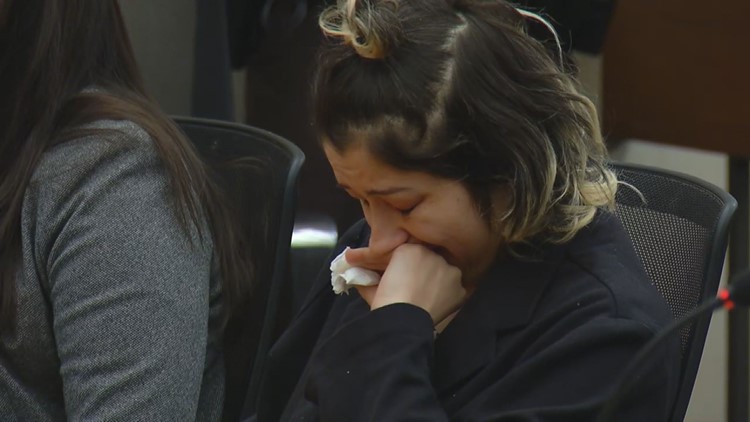 Credit: KARE



Julissa Thaler listens to victim impact statements before she is sentenced to life in prison for the murder of her son.
MINNEAPOLIS — A Spring Park woman will serve the remainder of her life in prison with no chance of parole after being convicted of first and second-degree murder in the shooting death of her young son.
Julissa Thaler was sentenced by Hennepin County District Court Judge Jay Quam Thursday morning for killing 6-year-old Eli Hart the night of May 19, 2022. Minnesota statute calls for a mandatory life sentence for a first-degree murder conviction.



In court Thursday, Thaler sat with her defense team as victim impact statements were read by Eli's stepmother and his aunt, who fostered the boy when he was removed from his mother's home by social services. Both spoke of how the world knows Eli as a murder victim, but insisted he is so much more."You could see the love and bonding shared every second they were together," Eli's stepmother Josephine told the court while describing the relationship between the boy and his father Tory Hart. "Nothing will ever be the same. The pain will never go away."When given a chance to speak, Thaler uttered one profane sentence. "I'm innocent, fu** you all, you're garbage."


It took less than two hours of deliberation for a Hennepin County jury to find Thaler guilty on both murder counts Feb. 8.Thaler was involved in a custody dispute with Eli's father Tory Hart. Following Eli's death Hart sued Dakota County Social Services, alleging that employees returned his son to Thaler despite concerns of alleged drug use and deteriorating mental health.
"On behalf of Eli's family, Tory Hart would like to thank the jury, the court, the Hennepin County Attorney's Office and justice partners for their good work," read a statement released after the verdict. "This is a tragic and heartbreaking event that could have been avoided if Eli had never been returned to a dangerous home."
The defendant told Judge Jay Quam that she would not take the stand to testify on advice from her attorneys, and the defense rested its case without calling a single witness. In closing arguments defense attorney Bryan Leary conceded that Thaler "aided and assisted" in Eli's murder, but added, "she's not charged with a crime that they've proved."