Manhunt under way for suspect as baby among nine shot on Florida beach boardwalk
Second suspect is being sought following the Memorial Day mass shooting on a beach boardwalk in Hollywood, Florida
A manhunt is under way to track down a second suspect wanted in connection to a mass shooting that left nine victims – including four children – injured on a beach boardwalk in Hollywood, 20 miles north of Miami.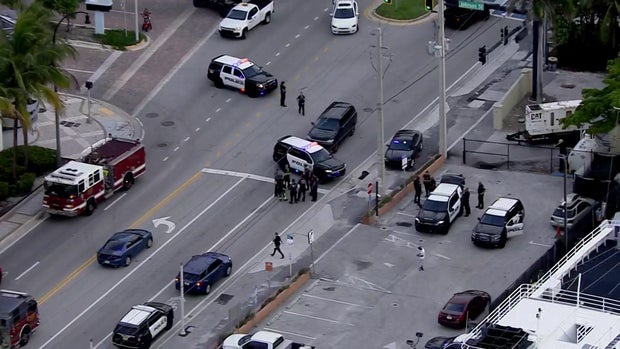 Hollywood police responded to reports of a mass shooting at the Broadwalk on Monday afternoon. CBS NEWS MIAMI
The shooting unfolded at about 6.15pm local time near the beach boardwalk in Hollywood, Florida, on Monday as families and friends gathered to enjoy the Memorial Day holiday.
Police said a fight is believed to have broken out between two groups on the seafront, which then escalated into gunfire.
A live stream showed a crowded boardwalk in Hollywood Beach, Florida, when the shooting started
Seven people were shot and video showed first responders helping to treat the wounded
At least nine people were injured in the mass shooting, including a one-year-old baby and a 17-year-old.
Hollywood Police Department spokesperson Deanna Bettineschi said one victim was in surgery late on Monday while the others were stable.
One person of interest has been detained following the incident and a second suspect is now on the run from authorities.
He is described as a Black man with dreadlocks who was wearing a black short-sleeve shirt and camo shorts.
Chilling video take on the boardwalk shows terrified crowds fleeing the busy boardwalk as the gunfire erupted near a convenience store, a Ben & Jerry's ice cream store and a Subway sandwich shop.
Police ask for witnesses to sent footage of shooting
The Hollywood Police Department is asking any witnesses who may have taken videos or photos during the shooting to send them as they continue investigating the shooting that left nine people injured.
Hollywood Police Department Public Information Manager Deanna Bettineschi said people with videos or photos of the incident can send them to: pdvideorequest@hollywoodfl.org.