New Evidence Revealed in Dramatic Start to Murdaugh Murder Trial
The trial of Alex Murdaugh, a former lawyer charged with murdering his wife and son, began with fireworks as prosecutors revealed new evidence, including a raincoat with gunshot residue.
By Nicholas Bogel-Burroughs and Jacey Fortin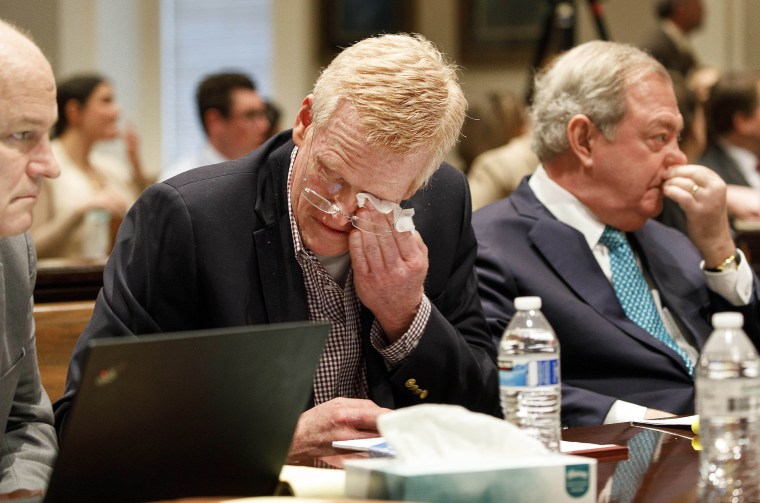 Alex Murdaugh becomes emotional after seeing his family in the courtroom as opening statements begin in his double murder trial at the Colleton County Courthouse in Walterboro, S.C, Wednesday, Jan. 25, 2023.Grace Beahm Alford / The State via AP
WALTERBORO, S.C. — A prosecutor painted a damning portrait on Wednesday of the evidence against Alex Murdaugh, the South Carolina legal scion who has been charged with murdering his wife and son, saying in court that Mr. Murdaugh had texted and called his dead wife after committing the brutal killings and driven to his mother's house, all in an effort to build an alibi.
But to Mr. Murdaugh's lawyer, Dick Harpootlian, the viciousness of the killings was just one of many reasons Mr. Murdaugh, 54, whom he described as a loving father and husband, could not be responsible. "He didn't kill — butcher — his son and his wife," Mr. Harpootlian told the jury in his opening statement. "And you need to put from your mind any suggestion that he did."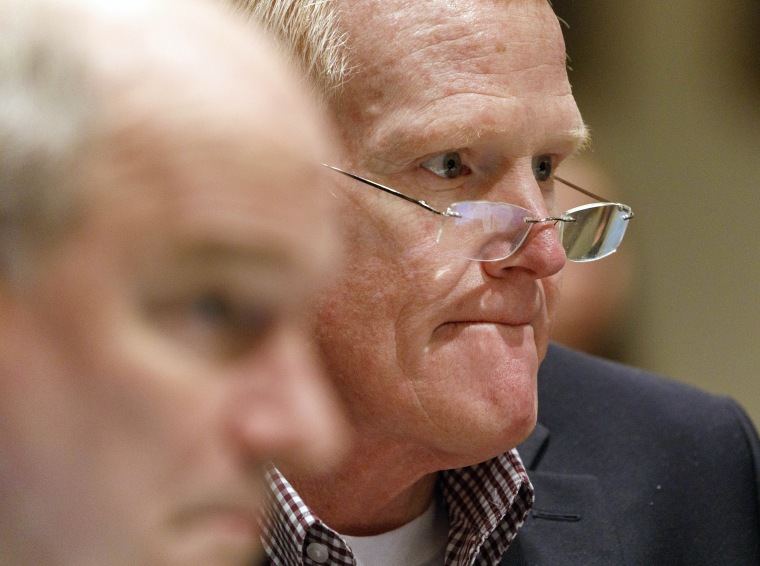 Alex Murdaugh listens during opening statements in his double murder trial at the Colleton County Courthouse in Walterboro, S.C, Wednesday, Jan. 25, 2023. Grace Beahm Alford / The State via AP
The competing arguments opened one of the state's most-anticipated murder trials in a generation, and each side pulled back the curtain on a mountain of evidence that jurors will have to pick through as they weigh whether a man whose father, grandfather and great-grandfather all served as prosecutors should be sent to prison. The trial is taking place in the Colleton County Courthouse in Walterboro, S.C., in a courtroom where a portrait of Mr. Murdaugh's grandfather had hung until it was ordered to be taken down for the trial.
The case, which features not only a grisly murder but also the dramatic downfall of a local legal dynasty, has captured attention across the country. Podcasts, documentaries and near-endless online forums have cataloged every detail as Mr. Murdaugh's life unraveled in the wake of the murders, which prosecutors say he carried out to prevent the disclosure of his own financial crimes.
Creighton Waters, the lead prosecutor, said in his opening statement that the state would be relying heavily on forensic and other physical evidence to prove that Mr. Murdaugh carried out the killings, which took place on the family's vast, rural hunting estate, about 65 miles west of Charleston.
Prosecutors say there was no absence of motive: Mr. Murdaugh had stolen millions of dollars from his clients and law firm over the past decade, they have said, and efforts to learn more about his finances were threatening to expose his misdeeds. Mr. Murdaugh, they argue, carried out the killings in a desperate, failed effort to gain the public's sympathy and stop his embezzlement from coming to light.
Creighton Waters, a prosecutor, showed the murder indictments during his opening statement.Credit…Pool photo by Joshua Boucher
"Listen to that gathering storm that all came to a head," Mr. Waters told the jury. "The evidence is going to be such that you are going to reach the inescapable conclusion that Alex murdered Maggie and Paul, that he was the storm, that the storm was coming for them, and the storm arrived on June 7, 2021."
In the prosecution's account, Mr. Murdaugh fatally shot his younger son, Paul Murdaugh, 22, in the doorway of a dog kennel's feed room and then turned a different gun on his wife, Maggie Murdaugh, 52, finishing the job with an execution-style shot to the back of her head.
Among the evidence, Mr. Waters said, are bullet casings found elsewhere on the property that match those found around Ms. Murdaugh's body, suggesting she was killed with "a family weapon." He said that Mr. Murdaugh could not account for two of three rifles that he had purchased in recent years, and that empty boxes of ammunition were found on the property that were of the same brand and type as those fired into the victims.
Mr. Waters also said that the police investigation had turned up a raincoat that was covered in gunshot residue at Mr. Murdaugh's mother's home, where he had visited on the night of the killings.
Perhaps most important, Mr. Waters said, is newly disclosed cellphone evidence. He said that less than five minutes before prosecutors believe the killings took place, Paul Murdaugh recorded a video of a dog to send to a friend, and that his father's voice could be heard in the background — even though Mr. Murdaugh has said in the past that he was not at the dog kennels that night, but instead was napping inside.
Five minutes later, Mr. Waters said, at 8:49 p.m., both Maggie and Paul Murdaugh's phones were locked and neither ever responded to any texts or calls ever again.
Within minutes of the killings taking place, prosecutors said, Alex Murdaugh called his wife twice, getting no answer, and then texted her to tell her he was going to check on his mother, who lived about 20 minutes away. He left the family property shortly after 9 p.m. and spent about 20 minutes with his mother, who prosecutors said has late-stage Alzheimer's disease and was with a caretaker.
In the prosecutors' telling, it was a callous and calculated effort to cover his tracks, as were five additional phone calls to various people that he made as he drove to and from his mother's house. Mr. Waters asked the jurors to consider the possibility that Mr. Murdaugh drove away from his home even as his wife and son lay dead on the ground, in an attempt to "manufacture an alibi."
Just after 10 p.m., Mr. Murdaugh returned to the house, where his lawyers say he came upon the crime scene for the first time and called 911. But prosecutors say he quickly tried to send the police down the wrong track by suggesting that the perpetrator must have targeted his son because of a fatal boat crash two years earlier. At the time of his death, Paul Murdaugh was facing charges that he had drunkenly crashed a boat, killing one of his passengers.
In 2019, Paul Murdaugh was indicted but pleaded not guilty to charges related to the death of Mallory Beach.Credit…Michael M. DeWitt, Jr./Augusta Chronicle, via Usa Today Network
The boat crash was connected to the crime, prosecutors allege, but not in the way that Alex Murdaugh suggested. They say that litigation over the passenger's death had threatened to force Mr. Murdaugh to share details of his finances, potentially revealing his embezzlement. On the day of the murders, he had also been confronted by his law firm over a missing payment.
Mr. Waters said Mr. Murdaugh gave three video-recorded statements to the police, which would be played at trial, and he urged jurors to watch them closely.
"Watch his expressions," Mr. Waters said. "Listen to what he's saying. Listen to what he's not saying. Does this seem right, or does something seem a little off?"
To Mr. Harpootlian, the lead lawyer for Mr. Murdaugh, the prosecution's theories are no more than speculation that ignore key facts. He said that two videos that Paul Murdaugh recorded shortly before the murders show the family having a relaxed evening, including the father and son laughing over some recently planted trees. He said Mr. Murdaugh had no reason — let alone enough time — to commit the murders and drive to his mother's.
"The cellphone records would indicate he would have had less than 10 minutes to kill them, get up to the house, get in the car and crank it up," Mr. Harpootlian said. "He'd be covered in blood."
Mr. Harpootlian also said that the white T-shirt Mr. Murdaugh was wearing that night had no blood on it, asking jurors: "Where are the bloody clothes?"
He and prosecutors have disagreed, in pretrial proceedings, about whether or not tests uncovered microscopic blood spatter on the T-shirt. Judge Clifton Newman, who is overseeing the trial, has yet to rule on whether prosecutors can call a witness who concluded that there was spatter on the shirt, one of several key evidentiary issues that are still looming over the trial.
The starkly different descriptions of Mr. Murdaugh's actions that night and what the evidence shows could put even more importance on how jurors interpret the physical evidence and the two sides' conflicting analysis of it.
Among the 12 jurors — eight women and four men — are a school aide, a project manager, a letter carrier and a medical center employee, all of whose identities are being kept secret because of the attention the trial has received.
The trial, which is expected to last three weeks, has transformed the small city of Walterboro, with food trucks lined up next to the courthouse to serve the influx of lawyers and journalists and with locals gawking at the conclusion of proceedings each day as Mr. Murdaugh is led out of the back of the courthouse in handcuffs.
READ MORE:
GoFundMe for husband of nurse accused of murdering their children surpasses $900,000
Husband of Mass. mom accused of strangling 3 young children details 'shock and pain'