New Mexico gunman that killed 3 in 'purely random' shooting identified as 18-year-old Farmington High School student
There's no initial evidence that teen gunman Beau Wilson, who was fatally shot by police, knew the victims.
By Erin McLaughlin, Katie Wall and David K. Li
A New Mexico teen was identified by police on Tuesday as the gunman, who killed three senior citizens in a "purely random" attack, before responding officers fatally shot him.
Beau Wilson, 18, was killed by Farmington police who confronted him shortly after 11 a.m. MT on Monday, Deputy Police Chief Kyle Dowdy told reporters.
Wilson was a student at Farmington High School, which was set to hold graduation ceremonies Tuesday.
The three slain women were identified by police as Shirley Voita, 79, Melody Ivie, 73, and Gwendolyn Schofield, 97. Schofield was Ivie's mother.
"Shirley, Melody and Gwendolyn were valued members of our community and their untimely deaths have left a void that will never be filled," Deputy Chief Baric Crum said.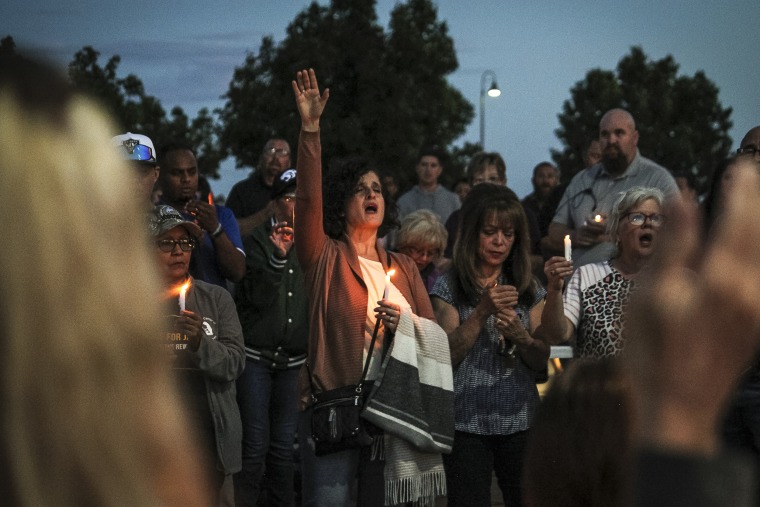 Community members sing during a prayer vigil at Hills Church, on Monday in Farmington, N.M.Susan Montoya Bryan / AP
All of the victims appeared to be well known and liked in the tight-knit community in the Four Corners region of New Mexico.
"I knew Shirley Voita, just a saint," former state Rep. James Strickler told NBC News on Tuesday. "We go to the same Catholic church. She went to mass that morning with my wife and she was caught up in this. "
Ivie was a well-respected preschool teacher, according to the one-time lawmaker.
"So it's a very small town. Everybody knows everybody," Strickler added.
A doorbell camera captured what police believe were Wilson's first shots, fired at 10:56 a.m., a minute before Farmington police officers were dispatched to the neighborhood near Ute Street and Dustin Avenue, according to Dowdy.
The officers arrived at 11:02 a.m. to find Wilson opening fire, before the gunman was brought down at 11:06 a.m., police said.
"The suspect was shot and almost simultaneously as well, an officer was shot," Dowdy said.dy said.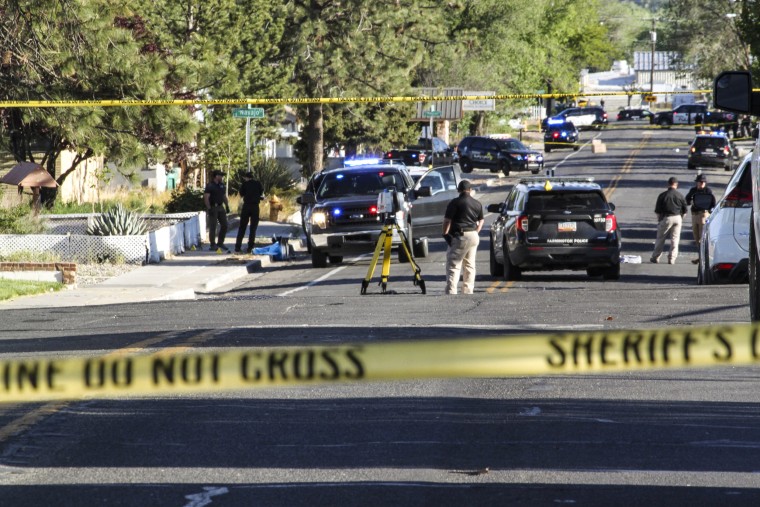 Investigators work along a residential street following a deadly shooting on Monday in Farmington, N.M. Susan Montoya Bryan / AP
The gunman appeared to fire at victims at random, as at least six houses and three cars were hit by gunfire, police said.
And so far police have not been able to make any connection between Wilson the three slain victims.
"It appears to be purely random and had no specific targets or motives that we can identify at this time," Dowdy said.
Two members of law enforcement, officers from the Farmington department and one from the state police, were injured but have been released from the hospital, according to Mayor Nate Duckett.
San Juan County Sheriff Shane Ferrari said his agency has been tasked with investigating the response of the police officer who fired 16 shots.
The teenager used at least three weapons, including what chief Steve Hebbe called an AR-style rifle.
A representative of Farmington Municipal Schools declined to say whether Wilson was a senior who would have walked across the graduation stage.
The Farmington High School commencement was still set to go forward as scheduled early Tuesday evening despite Monday's tragedy, the school's spokesperson said.
"Farmington Municipal Schools (FMS) shares the sadness of the Farmington community over the tragic incident that occurred yesterday," the school system said in statement. "We want to honor and remember the lives of those who were lost, as they were cherished members of our city."