Northwest DC shooting: What we know about the suspect, victims
A person police believe was the suspect in a shooting in Northwest D.C. that injured four people has been found dead.
D.C. police Chief Robert Contee said they believe the suspect killed himself, as officers were entering the fifth floor apartment where he was staying. Contee did not identify the suspect and said police are waiting to inform the next of kin.
However, earlier Friday, D.C., police identified Raymond Spencer, 23, of Fairfax, Virginia, as a person of interest. Contee said they are no longer looking for Spencer.
Among the items police found in the suspect's apartment were several firearms, including long guns, multiple rounds of ammunition and handguns. He also confirmed the presence of a tripod.
"This was a sniper-type setup," Contee said, adding that police believe there are other suspects.
Northwest DC shooting suspect ID'ed as MPD provides new details on chaotic scene
Crime scene investigators Saturday worked inside the fifth-floor Northeast apartment DC police say a shooter opened fire Friday afternoon, wounding four people.
Below the apartment at the nearby Edmund Burke School, crews cleaned a walkway's shattered glass.
"We know that over a hundred rounds were fired from a long gun," MPD told 7News.
A police source tells me this is the 5th floor window at the AVA Van Ness Apartments from which a shooter with a "sniper-type set up" fired more than 100 rounds yesterday afternoon, injuring four people. You can see shattered glass at the Edmund Burke School across an alley. pic.twitter.com/xbNqJ8Gwdj

— Tom Roussey (@tomroussey7news) April 23, 2022
MPD also told 7News Saturday that 23-year-old Raymond Spencer of Fairfax, Va. — the man they named a person of interest on Friday — is the deceased suspect they believe executed the shootings.
Police found guns when they entered Spencer's apartment Friday night and Saturday they were still searching for bullet holes.
"The velocity on a round from a long gun, it has the capacity to travel for an extended distance," MPD said.
Vince Cain tells 7News he used to help coach sports at nearby Burke School, which he says is filled with great kids he now worries for.
"I crossed that walkway hundreds of times, and it never crossed my mind that anything like that could happen," Cain said. "Even if they're not shot, they're thinking of it."
The apartment police say the shooter opened fire from is framed by the middle window in this pic of the Edmund Burke School walkway. Nearby residents say this was so scary and horrible, but at the same time it is so fortunate no one was killed. pic.twitter.com/Br9CzbK9vj

— Tom Roussey (@tomroussey7news) April 23, 2022
A resident of the AVA Van Ness apartment building spoke to 7News but asked not to be identified. He says this was the last straw as he'd recently had a friend carjacked nearby by teenagers.
"People are frustrated, I guess angry at whatever they're angry at. And then they got access to these weapons," the resident said. "It's difficult. It's difficult to the point that we want to move."
He said he'd never seen Spencer at the complex before. The shots police believe Spencer fired injured four people and left the entire area near Van Ness and Connecticut in chaos. Nearby residents say it's miraculous no one was killed.
Police say it's still unclear why Spencer was in the apartment building and what his motive was.
What we know about the victims
Four people were wounded, including a man in his 50s, a woman in her mid 30s and a 12-year-old girl. Assistant Police Chief Stuart Emerman said at a news conference Friday night that they were stable. The two adults had critical injuries and the girl had minor injuries.
Emerman also identified a fourth victim, Patricia Termini, who was grazed on her shoulder. She was treated at the scene and did not go to the hospital.
Termini told NBC Washington that she was picking up a student at the Edmund Burke School when she heard a burst of gunfire and ducked for cover in her car.
We just spoke with Patricia Termini, one of the victims in the Van Ness shooting. She was grazed in the shoulder by a bullet. She says she was picking up a student at the Edmund Burke School when she heard a burst of gunfire and ducked for cover in her car @nbcwashington pic.twitter.com/ThoGBzJhXA

— Aimee Cho (@AimeeCho4) April 23, 2022
A police spokesperson told WTOP one of the victims was found outside the Edmund Burke School, which is was put on lockdown. Emerman said they beginning to reunify them with parents at the family reunification site that has been set up at the Cleveland Park Library at 3310 Connecticut Ave.
D.C. police told people in the Cleveland Park and Van Ness areas to shelter in place earlier. Emerman said police are working to clear buildings safely, and they would prefer for people to stay inside and avoid the area.
The University of the District of Columbia said earlier Friday that its campus police and law enforcement are investigating r
eports that the suspect in the active shooting investigation may still be in the immediate area.
After the report of a shooting at about 3:20 p.m. on the 2900 block of Van Ness street, police went  through several apartment buildings in the area, and led people out at a run, with some officers aiming weapons at the surrounding buildings as they go.
Emerman said Friday night that police were still doing a sweep of the some of the buildings.
A huge law enforcement presence is in the area, including the FBI and the Bureau of Alcohol, Tobacco, Firearms and Explosives.
The University of the District of Columbia, whose campus is about 1,000 feet away, issued a shelter in place order.
Jen DiGiacinto, a parent of a student at Burke, said she got a text from her son at about 3:30 p.m. saying a shooting was going on. She said her son told her, "Whoever was shooting hit the glass bridge" connecting the school's two buildings, adding that he believes some students may have been hit by glass.
Alach Bailey told WTOP he was walking down the alleyway behind the Edmund Burke School toward Tenleytown when he "saw all the kids panicking and the parents panicking. And I realized it was a pretty big situation."
A Howard law student said she "heard so many shots let out" while she was driving onto Van Ness Street from the school, "and the entire street stopped." We saw parents with their kids running, people with their groceries running."
"We didn't know where the gunshots were," she said; "that's how close they were."
Anderson Hall said that he was on the ninth floor of his home about to take a nap when he heard several shots.
"I ducked for cover," and then Hall said different law enforcement units came. He also said he saw people crying and screaming as they were brought out.
Current street closures include Connecticut Avenue Northwest between Porter and Yuma streets; Tilden Street between Reno Road and 29th Street Northwest, and Van Ness Street at Connecticut Avenue Northwest.
Earlier, the closures led to very heavy traffic on numerous streets near the Cleveland Park neighborhood and even on Wisconsin Avenue between Cathedral Heights and Tenleytown. Delays have since eased.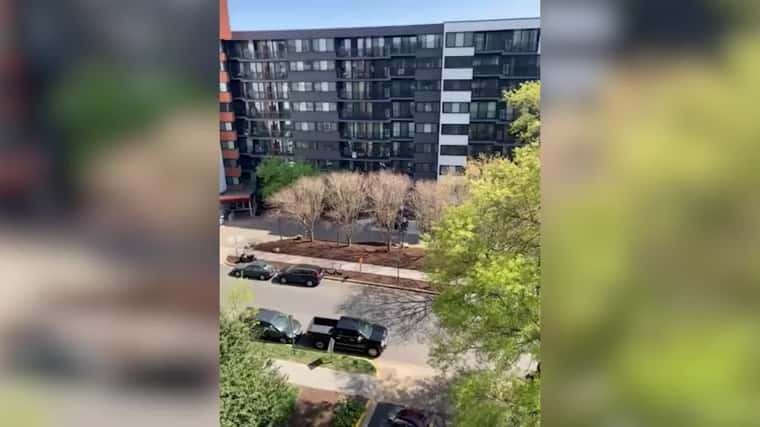 See a map of where the shooting happened below:
See live coverage from WTOP's news partners at NBC Washington below.