Police reveal new details on how alleged Monterey Park gunman carried out deadly mass shooting
The Los Angeles County Sheriff Office identified the suspect as 72-year-old Huu Can Tran
By Lawrence Richard | Fox News
Democratic California Gov. Gavin Newsom took aim at the Second Amendment during an interview with CBS News.
Authorities in California have provided an update on the weapons used in the Monterey Park mass shooting, where a shooter fired into a crowd of people at a dance studio during Lunar New Year celebrations Saturday night, leaving 12 dead and several others wounded.
During a press conference on Wednesday evening, Los Angeles County Sheriff Robert Luna said two weapons that were recovered near the Star Dance Ballroom Studio in Monterey Park, California included a Cobray Company semi-automatic 9mm MAC-10 and a Norinco 7.62 x 25mm pistol.
The MAC-10 weapon was the primary weapon used to carry out the shooting, as 72-year-old suspect Huu Can Tran is believed to have stood at the door and fired off 42 rounds, killing 11 people.
The weapon also had a modification to its trigger, although it is not clear if the weapon was modified to be fully automatic. It is being tested by the Bureau of Alcohol, Tobacco, Firearms and Explosives, Luna said.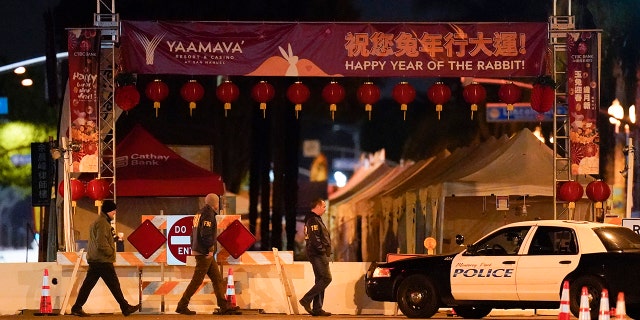 FBI agents walk near a scene where a shooting took place in Monterey Park, Calif., Sunday, Jan. 22, 2023. (AP Photo/Jae C. Hong)
A photo of the weapon shown during the press conference appeared to show a silencer or suppressor attached to its barrel. The attachment seemed to have a cloth or another material wrapped around the barrel.
A MAC-10 is typically illegal to own in California, which has some of the most restrictive gun laws in the U.S., especially on "assault weapons." However, a Californian is allowed to legally possess a weapon that is later outlawed.
Luna did not specify when the weapon was obtained or whether its ownership was illegal.
The sheriff also said the weapon had a 30-round magazine and that the shooter swapped magazines at some point during his assault. Large capacity magazines, defined by California law as anything carrying more than 10 rounds, are illegal in the state.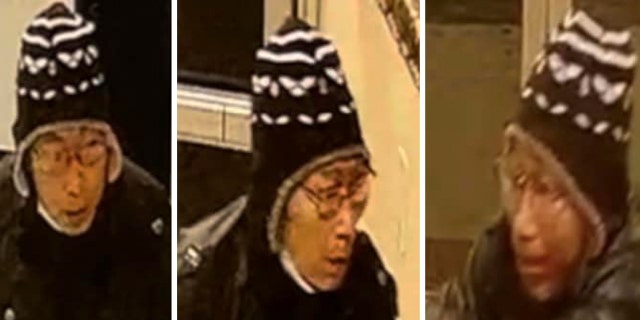 This combination image created using photos provided by the Los Angeles County Sheriff's Department shows a male suspect allegedly involved in a shooting on Saturday, Jan. 21, 2023, in Monterey Park, Calif.  (Los Angeles County Sheriff's Department via AP)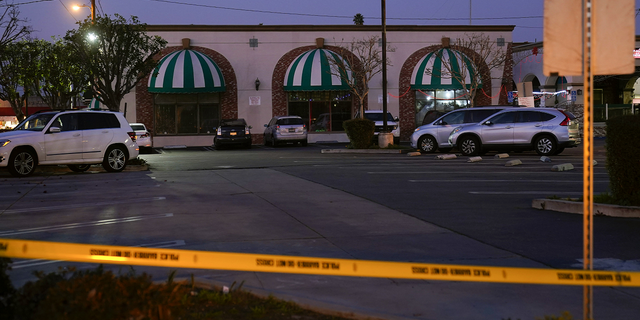 Police tape cordons off the Star Ballroom Dance Studio in Monterey Park, California, on Sunday, Jan. 22. (AP/Jae C. Hong)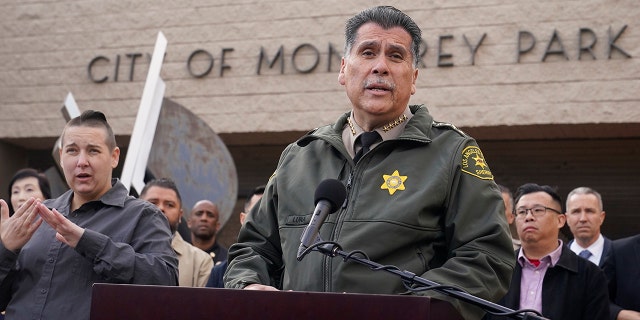 Los Angeles County Sheriff Robert Luna, at podium, briefs the media outside the Civic Center in Monterey Park, Calif., Sunday, Jan. 22, 2023.  (AP Photo/Damian Dovarganes)
A magazine swap on the weapon can happen within seconds, a firearm expert in the state of California informed Fox News Digital.
A resident can, similar to an outlawed weapon, legally keep in their possession any large-capacity magazine if it was obtained before Jan. 1, 2000, Reuters reported.
After his assault, police said the shooter fled the ballroom and used the Norinco, which was properly registered, to take his own life.
Capt. Andrew Meyer from Los Angeles County Sheriff's Department Homicide Bureau said police have video from inside the dance studio but that its graphic contents would not be released at this time.
Investigators also obtained a warrant for the suspect's home, where they found a Savage Arms .308 caliber bolt action rifle and hundreds of rounds of ammunition.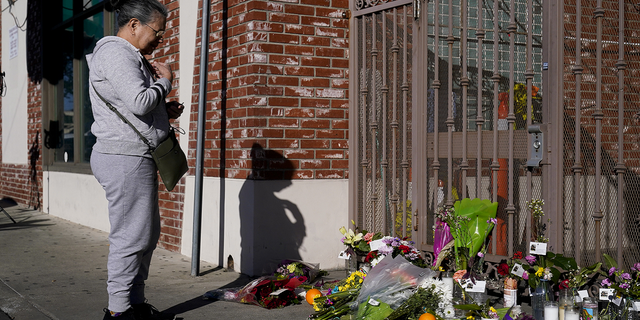 Yolanda Gallegos, 72, prays for victims killed in a shooting outside Star Dance Studio in Monterey Park, California, on Monday, Jan. 23. (AP/Jae C. Hong)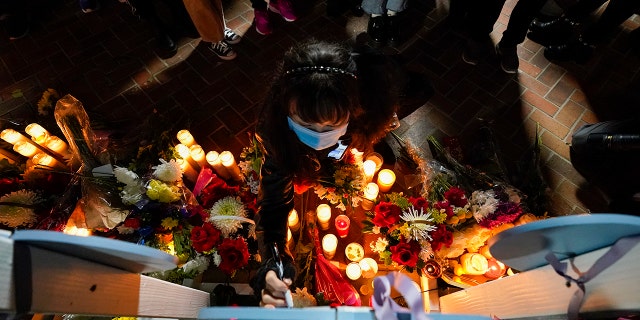 A woman writes a message on a wooden heart that displays the name of a victim at a vigil outside Monterey Park City Hall, blocks from the Star Ballroom Dance Studio, late Tuesday, Jan. 24, 2023, in Monterey Park, Calif.  (AP Photo/Ashley Landis)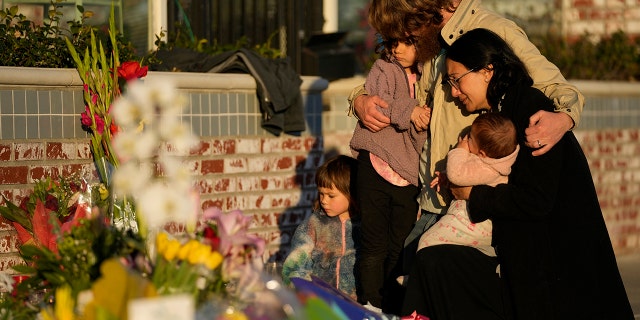 A family gathers at a memorial outside the Star Ballroom Dance Studio on Tuesday, Jan. 24, 2023, in Monterey Park, Calif. A gunman killed multiple people at the ballroom dance studio late Saturday amid Lunar New Years celebrations in the predominantly Asian American community.  (AP Photo/Ashley Landis)
The rifle is considered a hunting sports rifle and is legal in the state. The abundance of ammunition is also legal to own and is common across California.
During the press conference, Luna said the suspected gunman had not been to the Star Ballroom in the past five years and that any connection to the victims was not immediately clear.
The suspect was arrested in 1997 for illegal possession of a firearm, Luna said. He is Vietnamese and previously lived in China and Hong Kong. A motorcycle was also placed at the scene by the presumed shooter at some point before the shooting. Police believe this may have been staged as a getaway vehicle.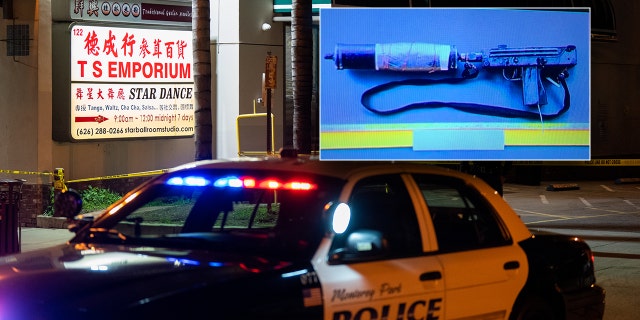 A police car is seen near the scene of a deadly shooting on January 22, 2023, in Monterey Park, Calif.  (Qian Weizhong/VCG via Getty Images)
The victims that were killed Saturday night have been identified as Valentino Alvero, 68, Hong Jian, 62, Yu Kao, 72, Lilian Li, 63, Ming Wei Ma, 72, My Nhan, 65, Diana Tom, 72, Muoi Ung, 67, Chia Yau, 76, Wen Yu, 64, and Xiujuan Yu, 57.
The U.S. Constitution recognizes Americans have a fundamental right to own firearms and the U.S. Supreme Court has repeatedly upheld this right.