"Run Free in Heaven": Sports World Devastated as $72,000,000 Worth Most Expensive Race Horse Suffers Saddening Fate Due to Old Age
Equestrianism as a sport is nothing without the thoroughbreds that take an equestrian to their glory. When it comes to Kentucky Derby, the 3-year-old geldings prepare months in advance just to win at the most prestigious horseracing event in the US. And their glory is ever remembered.
Fusaichi Pegasus is one such candidate, whose glory, especially at the 2000 Kentucky Derby, will always be remembered. His contribution will echo more than ever, now that he has passed away and the whole of the sports world is remembering the thoroughbred for his indelible mark.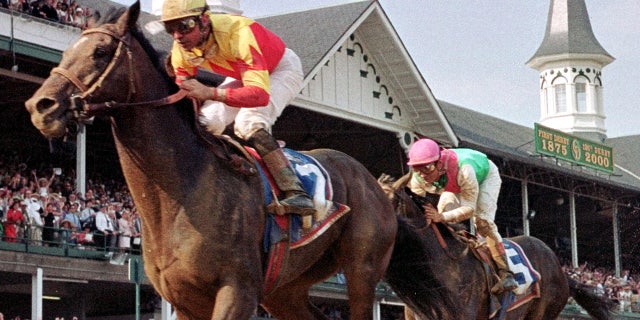 Jockey Kent Desormeaux crosses the finish line aboard Fusaichi Pegasus, left, to win the 126th Kentucky Derby ahead of Aptitude, right, and jockey Alex O. Solis May 6, 2000 at Churchill Downs in Louisville, Kentucky. (MICHELLE WILKINS/AFP via Getty Images)
Fusaichi Pegasus was born in 1997 and as a 3-year-old, he won the Kentucky Derby with equestrian Kent Desormeaux. He subsequently set a world record at an auction for being sold for US $72 million. He was recently euthanized at the age of 26, and it left a void in the world of horseracing.
A Facebook post by Coolmore America goes, "Fusaichi Pegasus 1997 – 2023". They continue, "It is with great sadness that we announce the death of Kentucky Derby winner Fusaichi Pegasus who was…" sharing a link about his biography. Arthur Hancock, Bob, and Janice McNair bred the horse at Stonerside Farm before being sold to Fusao Sekiguchi for $4 million, the highest price for a Kentucky Derby winner.
Fusaichi Pegasus won the Kentucky Derby in 2000, beating Aptitude and Impeachment at 2nd and 3rd rank respectively. He finished the 1.25-mile distance in 2:01.12, the seventh fastest at the time. By the time he passed away recently, it became the 10th fastest ever.
He got his name as a combination of his master's name 'Fusao' and the Japanese word 'ichi' meaning number 1. The 2nd word in his name is a mythological winged-horses, thereby depicting his speed as if he could fly. Since 2020, Fusaichi Pegasus was removed from any and every duty and was living in Ashford as a retiree.
As he passes away recently, the world took notice of him and some of them said:
"Run free in heaven. You were a champion. I am so glad you got to retire and be a horse again", wrote someone who was happy that the horse was humanized in his very last days.
"I met him in 2016. Such a beautiful beast. Thank you for keeping him in your care", wrote another person who was simply happy that the horse was horse was being taken care of in his last days.
"Great Derby winner! Thank you for giving him the good life at Ashford Stud. He's in heaven now running with all the great ones", wrote a fan who shared his bittersweet feeling about Fusaichi Pegasus's passing, but at the same time running all the other great thoroughbreds before him in heaven.
"I heard he was one of the meanest horses to grace the sport. RIP old buddy", wrote someone whose use of the term 'mean' was in the highest of compliments. He simply conveyed that Fusaichi Pegasus was ruthless in competitions.
"So terribly sad! He will be greatly missed, but always loved and remembered!" wrote someone who had nothing but warm wishes for the great gelding.
Fusaichi Pegasus was cared for by the highest of standards till his last breath, but the age caught up to him. He will always be remembered as a horse who set a record at an auction for $72 million. There is a statue of him in Hokkaido, Japan.