Salon worker identified as 'innocent bystander' in fatal Holyoke Mall shooting; suspect to face charges
HOLYOKE, Mass. — A suspect is set to face charges Monday in the death of an innocent bystander who was shot during a confrontation between two others at a salon in a Massachusetts shopping mall.
Police were called Saturday night to the Holyoke Mall for a reported shooting in the Touch of Beauty Hair & Nail Salon.
On Saturday, at approximately 7:00 p.m., the Holyoke Police Department was receiving multiple emergency phone calls about an active-shooter event at the Holyoke Mall, according to Hampden County DA Spokesperson James Leydon. The phone calls revealed that the shooting was at the Touch of Beauty Hair & Nail Salon in the mall.
The victim was attending to the shooting suspect, Kenneth Santana-Rodriguez, 23, of Springfield, when another person, who is known to Santana-Rodriguez, entered the salon, police said.
A confrontation between Santana-Rodriguez and the other person began and escalated to the shooting, police said.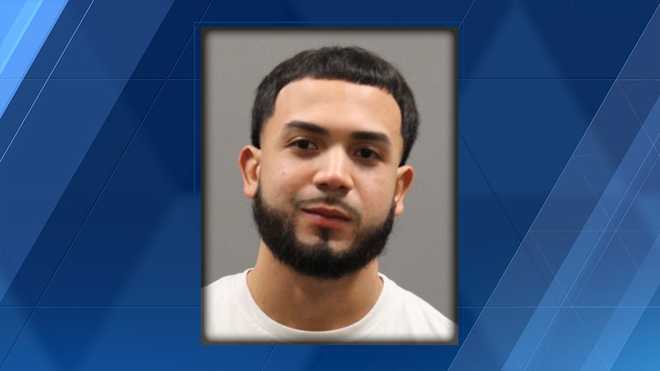 Hearst Owned
Kenneth Santana-Rodriguez is accused in a fatal shooting at a Massachusetts mall.
"The victim was an innocent bystander to a confrontation between two other people," the DA's office said.
Santana-Rodriguez was charged with murder and assault and battery with a dangerous weapon and is scheduled to appear in Holyoke District Court.
The victim's identity was not released.
READ MORE:
UPDATES: Wyoming Wrong-Way Crash Kills 5, Including 2 High School Students, After College Visit