'Superhuman' police response to bank shooting saved lives, Louisville officer says
The response by Louisville Metro Police Department officers during the shooting at Old National Bank Monday undoubtedly saved lives, police said while they released body camera footage Tuesday.
Louisville Metro Police Department
"It's easy to tell an officer that you have to run towards gunfire. It's another thing to actually do it," said Deputy Chief Paul Humphrey. "Their job is to go towards that danger."
Body camera footage released during the news conference Tuesday afternoon showed the response of the first two officers, Nickolas Wilt, who was sworn in as an officer March 31, and his training officer, Cory Galloway, who has been on the force since 2018. They ran toward the bank building even after their vehicle was fired on as they arrived.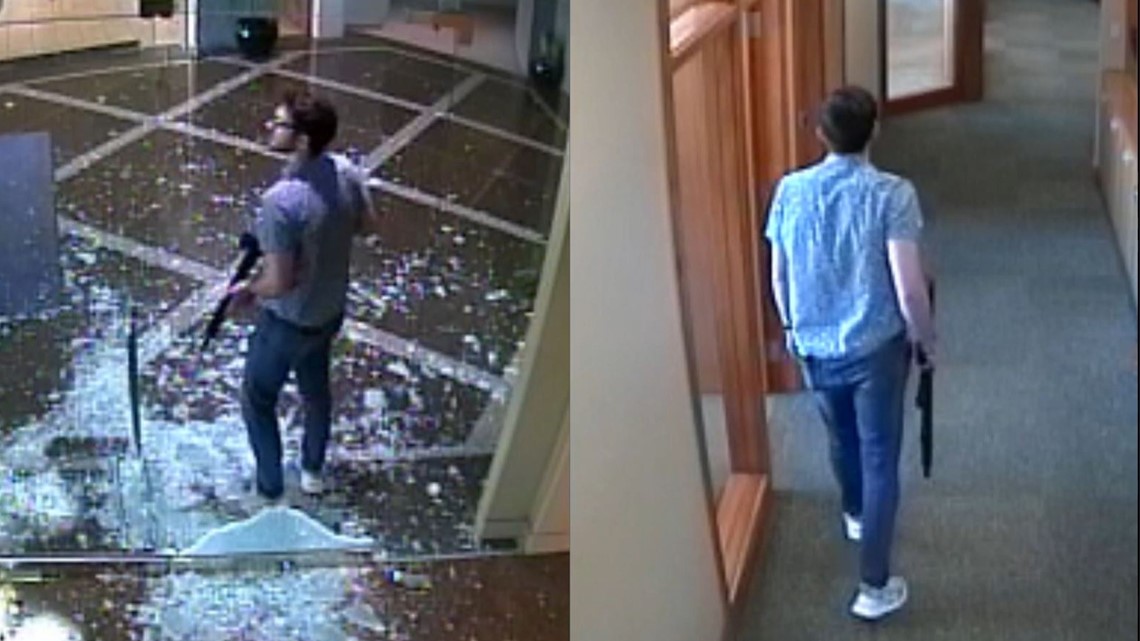 Credit: Louisville Metro Police
Security images show the shooter carrying a rifle in a hallway prior to the shooting (right) and waiting for police in the lobby after the shooting (left).
Both Galloway and Wilt were shot, police said. Galloway suffered non-life-threatening injuries, but Wilt has been in the hospital in critical condition since the incident occurred.
Humphrey said as officers assess an active-shooter situation, they must consider first whether there are victims or hostages. Next, they look at whether there are bystanders in the area and then assess officer safety.
He said the suspect "has the ultimate control" in such a situation.
"Tragically, lives were lost, but countless lives were saved," Humphrey said of the officers' response. He called their actions "superhuman."
Five shooting victims have died, and several other people were treated at a hospital, including Wilt. The shooter, Connor Sturgeon, 25, also died after being shot by police.
Humphrey said officers took medical supplies into the building and began rendering aid to victims.
"It is 100 percent certainty that officers' medical treatment saved lives that day," he said.
Humphrey also said officers jumped in to help paramedics as they tried to get victims to the hospital. He said police officials learned shortly before Tuesday afternoon's press conference that an LMPD lieutenant jumped in the driver's seat of an ambulance to drive when short-staffed EMS personnel were needed in the back of the vehicle.
"They needed people in the back of the EMS wagon with them and a lieutenant from metro police got in and drove the EMS wagon so the EMS workers could treat one of the victims on the way to the hospital," he said. "That's what we do, right?"
Humphrey said police will improvise when needed to try to protect people as much as possible.
"The most heroic things at the peak of our career that we do, are shrouded in other people's tragedy," he said.