'The dragon's head started to glow': Disneyland fire sends crowds running
Spectacular conflagration prompts evacuation of Tom Sawyer Island at California resort but no injuries reported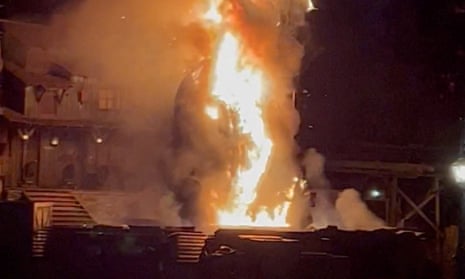 A fire burns at Disneyland's Tom Sawyer Island attraction in Anaheim, California. Photograph: Tim Turensek/Reuters
A 45ft-tall Disneyland dragon caught fire late on Saturday during a show in Anaheim, California, causing those in attendance to flee, local media and officials said. No injuries or deaths were reported.
"The dragon's head started to glow, and I see fire and kind of smoke coming out," Elaine Gilmer, who was at the event, told ABC News.
Video showed the dragon engulfed in flames. Cast members were evacuated from Tom Sawyer Island, where the "Fantasmic" show was staged.
The Anaheim fire department said no injuries were reported. The cause of the fire was being investigated. The extent of the fire damage was not immediately known.
ABC News cited videos showing guests watching and recording while a loudspeaker informed them that the "performance cannot continue due to unforeseen circumstances".
The response to the incident went relatively smoothly, ABC said.
Tom Sawyer Island has been part of Disneyland since 1956, allowing fans to enter the world of one of the main characters of Mark Twain's book, KABC reported.