The Most Shocking Moments From Amber Heard's Testimony During Johnny Depp Defamation Trial
On May 4, Amber Heard took the stand in Johnny Depp's ongoing defamation trial. During her testimony, the actress discussed how their romance first began and alleged abusive behavior in private.
Watch:

 5 SHOCKING Moments From Johnny Depp & Amber Heard Trial
Content warning: This story discusses sexual assault and abuse.
Amber Heard is ready to have her voice heard.
On May 4, the actress took the stand and began testifying in a Virginia courtroom as part of Johnny Depp's $50 million defamation lawsuit against her. Heard is also countersuing Depp seeking $100 million in damages. Before discussing her relationship with the Pirates of the Caribbean star, Heard was asked to share why she was in court.
"I am here because my ex-husband is suing me for an op-ed I wrote," she said. "I struggle to find the words on how painful this is. This is horrible for me to sit here for weeks and relive everything here with people that I knew—some well, some not."
Heard added, "This is the most painful and difficult thing I've ever gone through for sure." Back in 2018, Heard wrote an essay for the Washington Post in which she described herself as a "public figure representing domestic abuse." Although the article never mentioned Depp by name, his attorneys previously said in court documents that Heard's op-ed was all part of an "elaborate hoax."
Depp's lawyers argued that Heard ruined the actor's reputation by "choosing to lie about him for her own personal benefit."
For those who missed Heard's testimony, keep reading to see some of the highlights.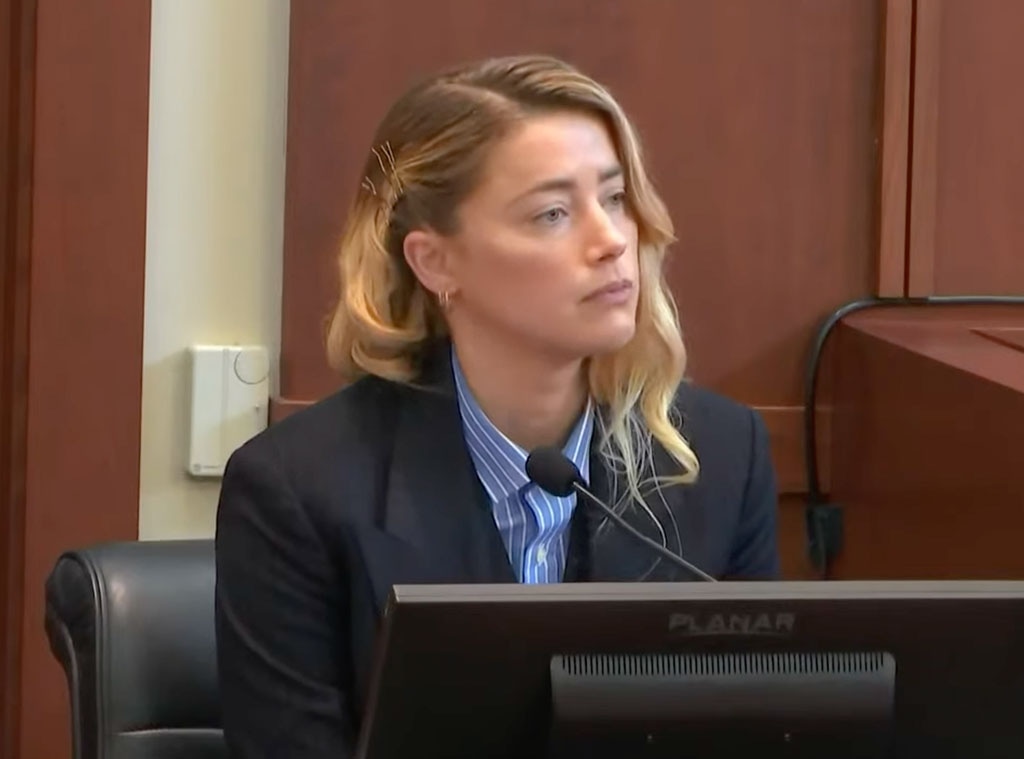 Amber Heard Recalls Filming The Rum Diary With Johnny Depp
While making The Rum Diary in Puerto Rico, Heard recalled a kissing scene with Depp where tongue was involved. "It didn't feel like a normal scene anymore," she said. "It felt more real." Heard said that they were both in relationships at the time of filming. At the same time, she testified that there was a chemistry both parties couldn't deny. "We just had this friendship flirtatious thing," she said. "I felt this other thing that went beyond the pale of my job for sure. Johnny clearly felt that way about me. He indicated that in many ways."
After filming ended, Heard said they went their separate ways and she didn't hear from him for a "long time."
Amber Heard and Johnny Depp Take Their Relationship to the Next Level
In the fall of 2011, the actors participated in a Los Angeles press day for The Rum Diary. After a full day of interviews, Heard testified that Depp invited her to have a drink with him and the director. When she arrived, Depp said the director was unable to make it.
"The reconnection was instant," Heard said. "It felt like there was an electricity to the room." When she got up to leave, Heard testified that Depp grabbed both sides of her face "and he kissed me and I kissed him back." According to Heard, "for the rest of the press tour, it was on."
Johnny Depp Impresses Amber Heard's Parents 
While testifying in court, Heard said that Depp spoiled her parents with generous presents. "They really seemed to get along really well," Heard said. "Johnny just showered my dad and my dad is a working man and he was just floored with all these amazing gifts."
"They were definitely taken by him," Heard added. "He did anything to make them feel special and they did."
Johnny Depp's Critiques Amber Heard's Outfits
According to Heard, Depp became very critical of her fashion choices when she went to auditions or events. After dressing up for a charity function, Heard recalled Depp's response left her feeling less than gorgeous.
"I wore a dress to an event and I felt beautiful in it," she said before recalling Depp's reaction. When she asked whether he had seen the dress, Depp replied: "'I think the whole world saw it kid. That's how they'll remember you. That's how the world will remember you.'"
Amber added, "My dress was low cut, I get it, but I felt really embarrassed and horrible that I wore it. I started to believe him. But it didn't stop with that. It was clothing in general."
Amber Heard Recalls the First Time Johnny Depp Allegedly Hit Her
During her testimony, Heard recalled a moment when she was sitting on the couch with Depp and asked a question about his famous arm tattoo, "Wino Forever." What came next, Heard alleged, was a violent interaction that the actress "will never forget."
"He slapped me across the face and I laughed," she said. "I laughed because I didn't know what else to do. I thought this must be a joke because I didn't know what was going on. I just stared at him thinking that he was going to start laughing too."
But according to Heard, Depp proceeded to slap her again. "As a woman," she testified, "I had never been hit like that." Heard later said that Depp got down on his knees and apologized for his actions while crying.
Amber Heard Shares Her First Meeting With Johnny Depp's Kids
After more than a year and a half of dating Depp, Heard said she had the opportunity to meet Lily-Rose Depp and Jack Depp, who Depp shares with ex Vanessa Paradis. "I was dying to meet them," Heard told the court, "and dying to get to know these kids."
While specific details about their meeting were not brought up, the moment happened during the summer 2013 premiere of the Long Ranger at the Disneyland Resort in Anaheim, Calif. Heard later testified that she "quickly developed a bond" with them.
Amber Heard Explains Why She Stayed With Johnny Depp
During her testimony, Heard painted two pictures of Depp: One side being a loving, supportive partner while another was unpredictable and scary. "He was the love of my life but he was also this other thing and this other thing was an awful, awful thing that would come out and take over," she said. "You couldn't see the Johnny I loved underneath it."
Heard said that nobody around the actor "was honest with him" about his alleged drug abuse. But when he tried to get sober, Heard said that she was hopeful things would change.
"He'd get clean and get sober and become this thing that made me feel so loved," she said. "I just felt like he knew me and I recognized something in him…that I just got him."