Three people dead, four injured following crash in Co Tyrone
Multiple casualties as minibus 'in collision with lorry' near Aughnacloy, local councillor says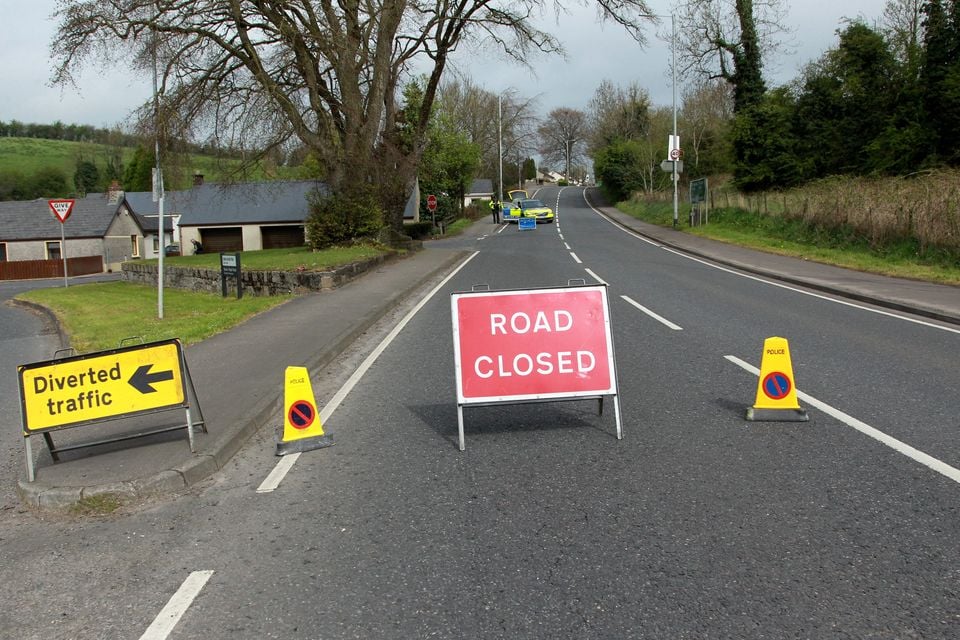 The crash happened on the A5 Tullyvar Road near Aughnacloy just before 7.20am this morning. Credit: Presseye
Kurtis Reid, Mark Bain and Adrian Rutherford
Three people have died after a horror crash early this morning in Co Tyrone, police have confirmed.
Four other casualties have been taken to hospital.
The accident happened on the A5 Tullyvar Road near Aughnacloy just before 7.20am this morning.
Six ambulances and other emergency services were called to the scene.
Sergeant Harrison from the Collision Investigation Unit said: "Officers are in attendance at the scene and an investigation has commenced. The road remains closed at this stage.
"Four casualties have been taken to hospital. An update will follow in due course."
A local councillor said it was their understanding that a private hire minibus travelling to Strabane was in a collision with a lorry travelling towards Aughnacloy.
Former First Minister Dame Arlene Foster said "an enormous tragedy was unfolding".
The area where the crash happened is about a mile outside Aughnacloy on the road that heads to Ballygawley. The accident happened close to bend in the road, not far from Tullyvar Waste Disposal site.
Emergency services remain at the scene.
The road has been closed in both directions between the Annaghilla Road roundabout, Ballygawley and Favour Royal Road, Aughnacloy.
The PSNI has asked motorists to seek an alternative route.
Fr Cathal Devenny, parish priest of Aghaloo and Carnteel, told the Belfast Telegraph: "This sounds like an awful, awful tragedy. One that doesn't bear thinking about or imagining.
"This is something that has shocked the entire community here this morning and the thoughts and prayers of everyone in the community will be with the families of those involved.
"They will all need guidance over the coming days and weeks and comfort from relatives and friends in the community."
Dame Arlene, a former Fermanagh-South Tyrone MLA, said: "An enormous tragedy is unfolding in south Tyrone this morning. My prayers are with all those involved including our emergency services."
Local UUP councillor Meta Graham said she was praying for all those affected by the "terrible tragedy".
She said it was her understanding that a private hire minibus was travelling back from London via Dublin to Strabane when they were in a collision with a lorry travelling towards Aughnacloy.
"The injured have been taken to various hospitals and it is reported that there is more than one fatality," she said.
"There have been many other injuries sustained and I hope that they would all make a full recovery.
"This must be a dreadfully anxious time for those family members and friends waiting on news of their loved ones.
"I would like to thank all the emergency services for their prompt response at what would surely have been a traumatic experience for all involved."
Sinn Fein MLA Conor Murphy, speaking at a news conference to discuss the budget, also extended his sympathies to those affected.
He said: "I want to express my sympathies and thoughts to those involved in the dreadful accident in Tyrone this morning.
"I'd hope that perhaps the reports just aren't as bad as they seem at the outset.
"Clearly it is part of our infrastructure that has seen a very serious amount of accidents over many years and is very clearly in need of developing and improving."
Sinn Fein MLA Colm Gildernew said it had been "a very serious road collision … involving multiple vehicles."
The Fermanagh and South Tyrone MLA added: "My thoughts are with all involved this morning.
"The emergency services are currently working at the scene of this collision to support all those impacted.
"There will be disruption in the local area as a result of this tragedy, and I would urge motorists and residents to cooperate with the emergency services as they deal with this incident."
UUP MLA Tom Elliott said he was "thinking and praying for those involved".
DUP Councillor Mark Robinson, who lives locally, said: "This is devastating. Our hearts go to the families impacted by this worst imaginable news. In a split second families have had their lives turned upside down.
"We will be praying for all at the scene, the families and emergency services. This will be a difficult day for the Clogher Valley."