Videos show desperate parents asking officers to intervene in Uvalde school shooting
'Half of these f***ing parents here, dude, they wanna go in there, without vests, without guns, to get their f***ing kids'
Videos show that desperate parents argued with police officers, urging them to rush Robb Elementary School in Uvalde, Texas following reports of the shooting that took the lives of 19 children and two adults.
Footage from outside school premises show parents telling police to "go protect the kids!" and others suggesting that they "just rush" the school themselves in an effort to get their children to safety.
The footage was livestreamed on Tuesday and has since been shared on social media. It reveals the parents' extreme distress as the shooting was underway.
Gunman Salvador Ramos, 18, was inside the school for up to an hour before being killed by authorities.
"What are you doing – get inside the building!" one person can be heard yelling in the footage. "Go protect the kids!" another said.
Ramos crashed his truck into a ditch outside the school, grabbed his AR-15-style semi-automatic rifle and shot at two people outside a nearby funeral home who ran away uninjured.
Officials say he "encountered" a school district security officer outside the school, though there were conflicting reports from authorities on whether the men exchanged gunfire. After running inside, he fired on two arriving Uvalde police officers who were outside the building, said Texas Department of Public Safety spokesperson Travis Considine. The police officers were injured.
Heavily armed officers reportedly waited for a school employee to bring a key to the classroom where Ramos had barricaded himself.
One of the videos from the scene had been viewed almost 3 million times as of Thursday morning.
*BREAKING* Robb Elementary School shooting. Uvalde Texas. This video shows the chaos outside of the school where parents were trying to find their children.#Uvalde #RobbElementary #SchoolShooting pic.twitter.com/yx97i6Bh9w

— TheFamily'sSoup TV (@FamilysSoupTV) May 25, 2022
Some parents can be seen in the footage attempting to cross police lines. A woman appeared to be pinned to the ground by an officer, prompting a bystander to yell "what the f*** are you doing to her? Let her go!"
Video of Uvalde parents with cops — "y'all keep fighting with us, go fight that mfer!" pic.twitter.com/icDG2J595a

— ✨TheStarsAtNight ✨ (@Star5AtNight) May 26, 2022
"Y'all keep fighting with us, go fight that motherf***er!" one person can be heard yelling at officers in another video.
In footage from the scene, the person livestreaming can be heard saying that it had "already been about an hour and they still can't get the kids all out".
"That's f***ing crazy, bro, they're standing all outside, there's f***ing kids in there still, man," he said.
"You're scared of getting shot? I'll go in without a vest, I will!" one mother told an officer.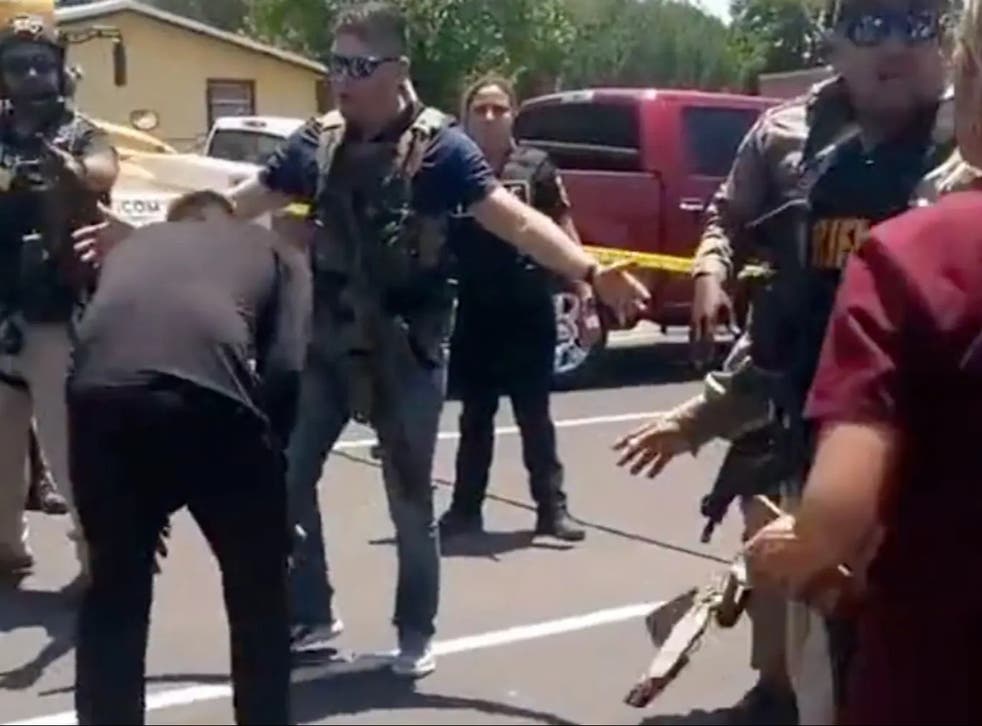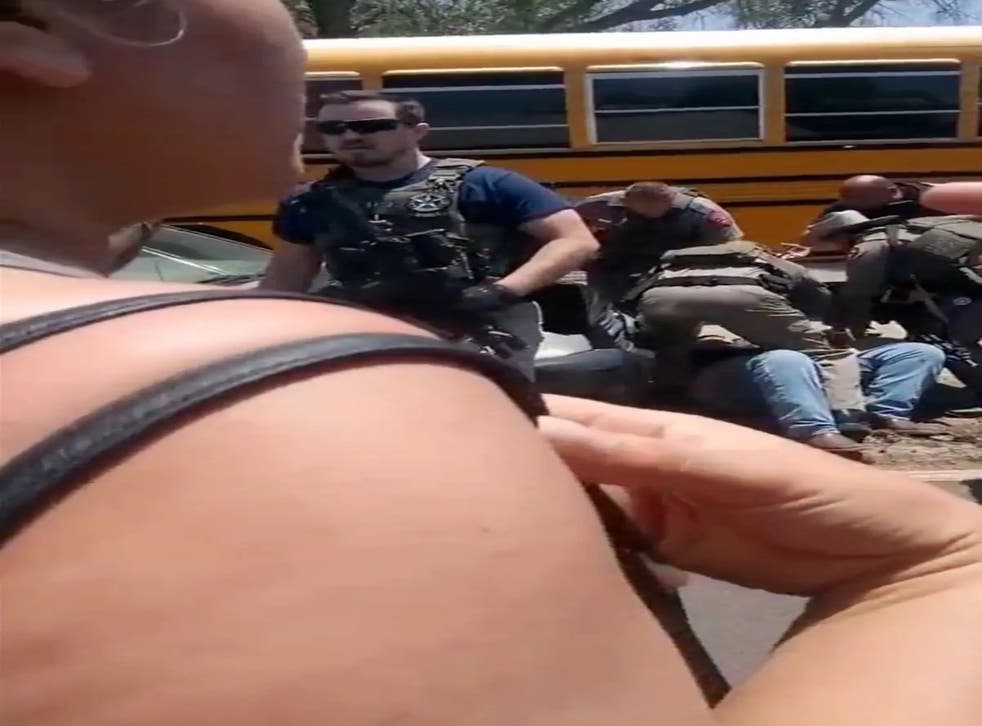 When an officer tells the parents to take a step back, a mother says "you don't understand!" while another yells, "are your kids in there? No!"
"Half of these f***ing parents here, dude, they wanna go in there, without vests, without guns, to get their f***ing kids," the livestreamer said.
"Go in there! Go in there!" nearby women shouted at the officers soon after the attack began, said Juan Carranza, 24, who saw the scene from outside his house, across the street from Robb Elementary School in the close-knit town of Uvalde. Mr Carranza said the officers did not go in.
Javier Cazares, whose fourth-grade daughter, Jacklyn Cazares, was killed in the attack, said he raced to the school when he heard about the shooting, arriving while police were still gathered outside the building.
Upset that police were not moving in, he raised the idea of charging into the school with several other bystanders.
"Let's just rush in because the cops aren't doing anything like they are supposed to," he said. "More could have been done."
"They were unprepared," he added.
After entering the school, Ramos charged into one classroom and began to kill.
He "barricaded himself by locking the door and just started shooting children and teachers that were inside that classroom," Lt Christopher Olivarez of the Department of Public Safety told CNN. "It just shows you the complete evil of the shooter."
All those killed were in the same classroom, he said.
Mr Carranza said the officers should have entered the school sooner.
"There were more of them. There was just one of him," he said.
Texas Department of Public Safety Director Steve McCraw defended the law enforcement response on Wednesday.
"The bottom line is law enforcement was there," he said. "They did engage immediately. They did contain (Ramos) in the classroom."
The Associated Press contributed to this report
READ MORE:
Student who survived Texas school shooting recalls gunman saying: 'You're all gonna die'