Watch video from the Action Cam of a fire under an I-95 overpass in the Tacony section of Philadelphia that led to a partial collapse of the highway
PHILADELPHIA (WPVI) — A tanker fire underneath Interstate 95 northbound in Philadelphia has caused part of the highway to collapse.
Video from Chopper 6 showed multiple lanes of the highway were reduced to rubble.
The fire broke out just after 6 a.m. Sunday on Cottman Avenue, right underneath the I-95 overpass.
The scene of the collapse is between Exit 32 for Academy Road and Exit 30 for Cottman Avenue in the Tacony section of the city.
Crews are working to get the fire under control. There has been no word on any injuries.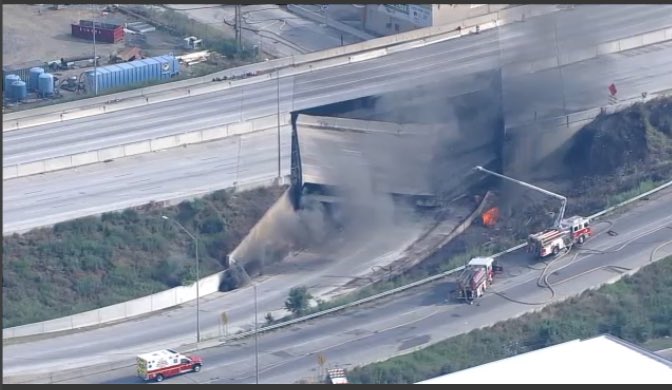 It's not yet known what was inside the tanker truck, or why it caught fire.
95 COLLAPSE.
A tanker truck caught fire underneath the I-95 overpass at Cottman avenue. A piece of the interstate is on the ground. Manhole covers are exploding all around this. AVOID THE AREA @6abc pic.twitter.com/pnFoEXjdN8

— Beccah Hendrickson (@Beccah6abc) June 11, 2023
Manholes have been exploding in the area because of the fire. Everyone is being asked to avoid the scene.
I-95 will remain shut down for an extended period of time.