What we know about the 41-year-old suspect in Shinzo Abe's shooting
A 41-year-old ex-military man has been arrested on suspicion of attempted murder for shooting at former Japanese Prime Minister Shinzo Abe.
By: Express Web Desk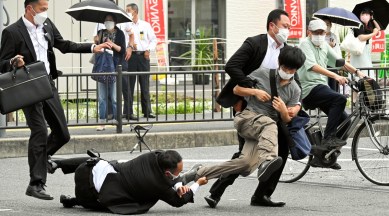 Police arrest a suspect in the shooting of former Japan PM Shinzo Abe. (Twitter@TelegraphWorld)
Former Japan Prime Minister Shinzo Abe was shot at while he was attending an election campaign in western Japan's Nara city on Friday morning. Abe, who is the longest-serving prime minister in the country, was shot at by one of the onlookers who has been taken into custody.
Here's what we know about the suspect so far:
Police have identified the suspect as Tetsuya Yamagami, reported Reuters. He is believed to be a resident of Nara City and has been arrested on suspicion of attempted murder for shooting at Abe, reported Japanese media house NHK quoting police sources.
NHK quoted the suspect as telling police he was dissatisfied with Abe and wanted to kill him. The 41-year-old man is reported to be an ex-military member — a former maritime self-defence force member, reported Fuji TV.
Former Prime Minister Shinzo Abe was injured in an apparent gun attack while taking part in a campaign for the House of Councillors election in Nara City at about 11:30 a.m. on Friday. He suffered cardiopulmonary arrest and has been taken to hospital, according to firefighters. pic.twitter.com/SgKZEvZS9j

— The Japan News (@The_Japan_News) July 8, 2022
A witness to the attack told NHK that the apparent shooter did not attempt to escape after the shooting. He instead laid down the gun and remained on the spot as he was caught by security personnel.
Videos showed a man in a grey T-shirt and beige trousers, presumed to be Yamagami, being tackled by security personnel.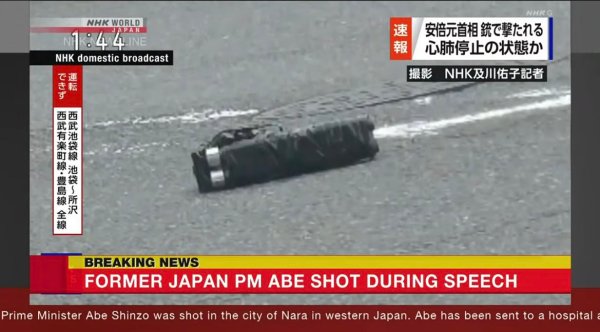 Meanwhile, the head of Japan's hunters' association told NHK that the weapon used in the attack was a self-modified gun. Police had earlier identified the weapon as a shotgun.
However, Sasaki Yohei of Dainihon Ryoyukai told NHK that the sound of the firing does not match that of a shotgun. Witnesses had reported hearing a "dry, popping sound," said the Japanese media report.
Video: Moment When Japan Ex PM Shinzo Abe Shot
Video: Moment When Japan Ex PM Shinzo Abe Shot
Yohei also said that the amount of smoke spread after the shooting is too large for it to be an ordinary gun.
No attempt to escape
An eyewitness told NHK that the shooter did not attempt to flee from the scene. Instead, he put this gun on the ground and stayed put as security personnel apprehended him.
Videos and photographs show the suspect wearing a grey T-shirt and brown trousers, being tackled by security officials.
Earlier reports said that the suspect used a shotgun. However, an expert from the Dainihon Ryoyukai, the Japan hunters' association, told the Japanese media that the sound of the firing did not match that of the gun.
Photographs taken as the suspect was being apprehended show what looks like an improvised, home-made, or double-barrelled shotgun, reports BBC.
Gun violence in Japan
The attack has sent shockwaves throughout Japan and the world. Gun violence is very rare in the country and political violence is also extremely rare, according to BBC Tokyo correspondent Rupert Wingfield-Hayes.
Shootings are uncommon in the island nation but not unheard of. There were 10 incidents last year, leaving one person dead and four wounded, according to the National Policy Agency, reports Bloomberg. The capital Tokyo had no cases of gun violence last year.
It is not easy to obtain guns in Japan. For civilians, obtaining weapons – mainly rifles and shotguns for sport or hunting – requires an intensive licensing and background check process. Police are usually armed with handguns, says the report.
The total number of guns held by civilians in Japan was estimated at 310,400 in 2019, or 0.25 per 100 people, the lowest level among the G-7 countries, according to GunPolicy.org, reports Bloomberg.
Abe murder suspect quit most recent job after he felt 'tired'
A security officer grabs Tetsuya Yamagami after he allegedly shot former Prime Minister Shinzo Abe in the city of Nara on Friday. | KYODO
OSAKA – The man who allegedly killed former Prime Minister Shinzo Abe on Friday did not seem to be politically active, a source from his former dispatch company has said.
Tetsuya Yamagami was a Maritime Self-Defense Force officer in his 20s. He lived in an apartment in the city of Nara, but quit his job in May for health reasons, according to the person.
"I never felt he had political beliefs," the person said. "I can't connect him to the attack."
Yamagami, who attended a public high school in Nara Prefecture, wrote in his graduation yearbook that he "didn't have a clue" what he wanted to be in the future.
According to government officials, Yamagami served in the MSDF for two years and nine months through 2005 at the Kure base in Hiroshima Prefecture.
In the fall of 2020, he started working at a manufacturing company in the Kansai region, according to an official at the dispatch company in Osaka Prefecture.
There had been no reports of trouble from the manufacturer. But in April this year, Yamagami told the dispatch company that he wanted to quit because he was "tired," and he left the job the following month.