What we know about the Dom Phillips' Cause of Death
Brazilian authorities say they've identified the remains of Dom Phillips, but are still working to confirm the cause of death for the British journalist who went missing in the Amazon with Indigenous advocate Bruno Pereira.
Federal police in the South American country said in a statement Friday that forensic tests confirm that human remains found earlier are those of Phillips, reports The Guardian. Police said they are still determining the cause of death for the journalist, whose disappearance has attracted international attention.
Brazilian authorities on Wednesday found the bodies of two men in a heavily forested area near where Phillips and Pereira had gone missing, according to The Guardian. The statement from police did not mention Pereira, according to the paper.
National Institute of Criminalistics in Brasília identified the remains of Phillips with a dental examination, reports CNN Brasil. Police told the news outlet that they are working to determine the identity of the second body and are waiting on documents from the family of Pereira.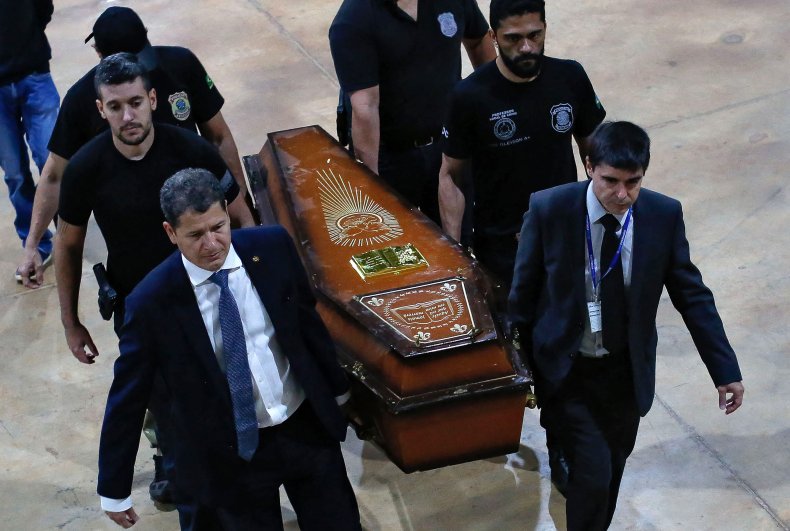 Police had previously said the two men arrested for the murder, who are believed to be involved in illegal fishing, had not acted on orders from an organized criminal organization, reports The Guardian.
However, the Union of Indigenous Organizations of Vale do Javari (UNIVAJA) told CNN Brasil on Friday that they suspect the death of Phillips and Pereira was carried out by an organized group that had made previous incursions on native land. Pereira had been campaigning against illegal fishing in Vale do Javari, according to the news outlet.
Phillips, a freelance journalist who has lived in Brazil for over a decade, had been at work on a book on the preservation of the Amazon. Phillips was reportedly last seen earlier this month in São Rafael.
As authorities continued their search, Phillips' wife, Alessandra Sampaio, posted a tearful video online pleading for police to press on with the search.
"Even if I don't find the love of my life alive," she said. "They need to be found, please. Intensify the search."
With Phillips' remains identified, a government oversight council said it will monitor the investigation of the two men's deaths, reports CNN Brasil.
U.S. State Department spokesman Ned Price expressed condolences to the families of the two men in a tweet on Friday, saying they were "murdered for supporting conservation of the rainforest and native peoples there."
"We call for accountability and justice—we must collectively strengthen efforts to protect environmental defenders and journalists," he said.
Newsweek reached out Brazil's embassy in the U.K. for comment.