What we know so far about the suspect in the University of Idaho student killings
Your chances of being a homicide victim in tiny Moscow, Idaho are typically pretty slim.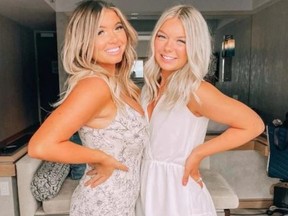 BEST PALS: Kaylee GonCalves and Madison Mogen were murdered alongside two friends in a shocking quadruple murder in Idaho. PHOTO BY MADDIE MORGAN /INSTAGRAM
With just 23,000 inhabitants, until the past week, there hadn't been a murder since 2015 when there were three. Most years it's a big goose egg.
Nestled in the northwest corner of the spud state on the border with Washington, it is 92% Caucasian and very quiet even for a university town. The University of Idaho is the centre of the burg's economic, cultural and social worlds.
Last weekend, it became tragically much, much more.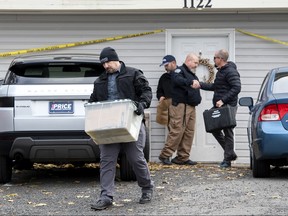 Officers investigate the deaths of four University of Idaho students at an apartment complex south of campus on Monday, Nov. 14, 2022, in Moscow, Idaho. PHOTO BY ZACH WILKINSON /The Moscow-Pullman Daily News via AP
In yet another explosion of violence that seems to be the tragic burden of Americans from the Pacific Northwest to the Gulf of Mexico, four young University of Idaho students were found butchered last Sunday morning.
They have since been identified as Ethan Chapin, 20, of Conway, Wash.; Madison Mogen, 21, of Coeur d'Alene, ID; Xana Kernodle, 20, of Avondale, Ariz; and Kaylee Goncalves, 21, of Rathdrum, ID.
The quartet lived in a house just off campus in Moscow.
Late Saturday it emerged that two of the victims who were killed in their beds had defensive wounds. Two were also driven home by a "private party".
Cops are now calling the quadruple murder "targeted".
So far, there have been no arrests, no persons of interest and no suspects named by cops. Kids on the campus are rightly terrified.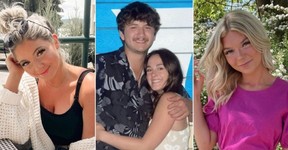 MURDERED: Kaylee Goncalves, Ethan Chapin, Xana Kernodle and Madison Mogen were killed Sunday off campus at the University of Idaho. FACEBOOK/ INSTAGRAM
Of particular interest to detectives are two surviving roommates who they say could be the "key" to solving the gruesome murders. According to investigators, the two women have thus far not been ruled "in or out" as suspects in the stabbings, believed to have been committed with a serrated hunting knife.
"(They are) working and talking with detectives, and they have been cooperative — very cooperative," Idaho State Police spokesman Aaron Snell told ABC News. "Potentially they are witnesses, potentially they are victims,."
Snell added: "(They could be) the key to this whole thing."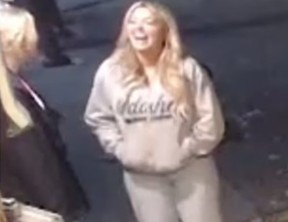 LAST PHOTO? Kaylee GonCalves and Madison Mogen. TWITTER/ GRUBTRUCK
But one expert doesn't believe the two women were involved in the massacre. Former FBI agent Brad Garrett thinks it is likely the survivors know who the killer is.
"It's a small town. The likelihood that they know who that person was in the house, I think, is reasonable," Garrett said, adding that cops appear to have hit a roadblock.
He said: "You really are going to have to do a complete detail of the party that was prior to whatever was going on between 3 and 4 o'clock at the victims' house … Who followed them home? Who has been talking to whom? Who had issues with people? This killer didn't all of a sudden show up at this house — he knew this house."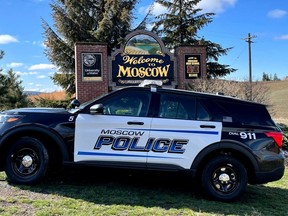 Moscow (Idaho) Police Department vehicle. PHOTO BY MOSCOW POLICE DEPARTMENT /Facebook
Investigators believe the murders were committed between 3 a.m. and 4 a.m. Sunday and the roommates were home in bed. Cops were called just before lunch with a report of an unconscious person.
Oddly, the home featured a coded lock. No code, no entry.
"Every time you go, you have to go around the house because of the number code, so they either knew that or went around and maybe found the slider door open," Xana's father Jeffrey told The UK Sun.
Officers then uncovered a massacre in what's being described as an "isolated, targeted attack." Each of the victims were stabbed more than once but there was no indication of sexual assault.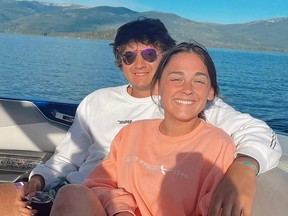 This July 2022 photo provided by Jazzmin Kernodle shows University of Idaho students Xana Kernodle, right, and Ethan Chapin on a boat on Priest Lake, in Idaho. Both students were among four found stabbed to death in an off-campus rental home on Nov. 13, 2022. PHOTO BY JAZZMIN KERNODLE VIA AP
Police are still looking for the murder weapon, a fixed-blade knife.
Detectives have admitted that it's "very unusual" not to have a suspect by this point in the investigation. And the timeline of death also remains fuzzy.
Chapin and Kernodle were at an on-campus party while Goncalves and Mogen — best friends since childhood — were at a downtown bar. Chapin's mother said her son didn't live in the home but was sleeping over with Kernodle, his girlfriend.
Four families are struggling to come to grips with the horror that has befallen them
"I saw her just a week before that and she changed a lot. She had a life. She got to see what it was like to have a boyfriend you live with," Jeffrey Kernodle said.
"And she really turned around. She was really responsible. Helping him out with his studies and stuff. I was really impressed."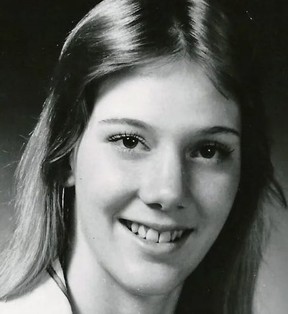 Cheryl Thompson was murdered in 1978. Cops have finally named her killer. OHIO STATE ATTORNEY GENERAL
COPS SOLVE 1978 COLD CASE MURDER
University of Cincinnati student Cheryl Thompson left her home on March 24, 1978, and was never seen alive again.
Now, 44 years later cops announced they know who raped and strangled Thompson and suspect the man was also a serial killer. His name was Ralph Howell. But Howell will not be getting the big adios — he was killed in a car wreck in 1985.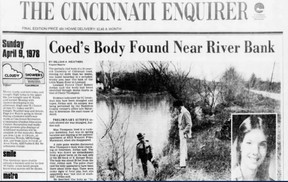 Thompson had gone to a local watering hole the night she disappeared. Her brother reported her missing the next day. Her body was discovered in a conservation area on the banks of the Little Miami River on April 8, 1978.
But using DNA — unavailable in 1978 — investigators now know who killed her.
Detectives believe that Howell — a truck driver for the Cincinnati Enquirer — is responsible for at least three similar murders. Charmaine Stolla, Nancy Ann Theobald and Victoria Hincher were found dead in the late 1970s.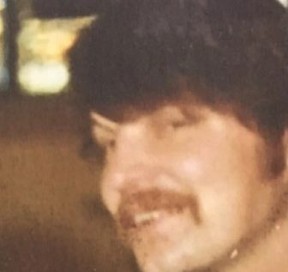 RALPH HOWELL: Serial killer? OHIO STATE ATTORNEY GENERAL
Like Thompson, they had been raped and strangled.
"There is no doubt in our mind that Ralph Howell was a serial killer," Deters said.