Who is Eliza Fletcher's husband? Missing heiress's partner Richard Fletcher's legal issues and marital woes revealed
The 34-year-old woman, who is believed to be kidnapped, has been married to Richard 'Richie' Fletcher sine 2014
By Divya Kishore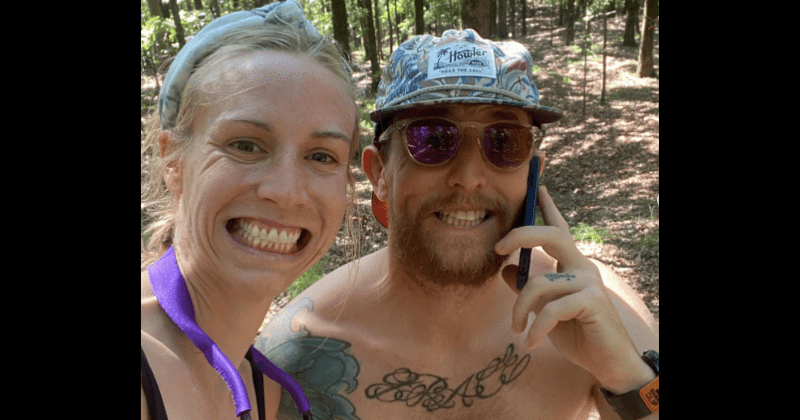 Eliza Fletcher has been married to Richard 'Richie' Fletcher sine 2014 (Instagram/ @lizawfletcher)
MEMPHIS, TENNESSEE: The apparent kidnapping case of a Memphis woman has left everyone shocked. Eliza Fletcher was jogging early Friday morning, September 2, when an unidentified person forced her into a dark-colored GMC Terrain near the University of Memphis. Her family has since then announced a reward of $50,000 for whoever gives information about her.
As per reports, Eliza, who also uses the name "Liza", belongs to a very affluent family. Her grandfather was the late Joseph "Joe" Orgill III, a hardware magnate who was the owner of Orgill Inc. The family of the mother-of-two has released a statement after her reported abduction that read, "We look forward to Eliza's safe return and hope that this award will help police capture those who committed this crime." However, there are no direct words from her husband, Richard "Richie" Fletcher.
Eliza's marriage to Richard was a grand affair
The pair celebrated their exchanging of vows in 2014 in a "truly magical" ceremony. According to Memphis Magazine, "There has been no other wedding like this in Memphis." The article also called Eliza "a 'natural' girl — outdoorsy, athletic, and warm — and the plans for her wedding emanated from her personality and style."
The magazine added that "the wedding ceremony was held at nearby Second Presbyterian Church, which was indeed where the happy couple met; the officiant was Reverend Mitchell Moore. Echoing the naturalistic theme, Liza's elegant wedding gown by Austin Scarlett was painted with pale mauve flowers."
Eliza Fletcher and Richard Fletcher said to be 'very active'
The senior pastor of the church, where the couple said "I do," has called the couple "very active and great leaders in our congregation." Pastor George Robertson told the Commercial Appeal, "She and her husband Ritchie are both very active and great leaders in our congregation. They have two little boys who have come up to me every week and give me a hug. She and her husband are both just inspirations in the sense of their zest for life and love of running and athletics."
"But what's most important at this time is they have a very deep and profound trust in Christ, who they have leaned on throughout their lives and who has made a real significant impact on each of them personally. That is Ritchie's trust right now," Robertson added.
Eliza Fletcher and Richard 'Richie' Fletcher are quite active on social media
Richard's Instagram account is private but Eliza's is not, and her most recent post was from late July that suggested that they were on a trip. She captioned a series of images as "Loving our time up north!!!" Earlier, in January, she shared a family photo and wrote, "Beautiful January day with my family. This afternoon we biked through Shelby Farms. I love spending time with this gang in nature. #moredayslikethis."
Xem bài viết này trên Instagram
As per reports, in 2021, Richard had spoken about "problems in the marriage" on his social account. The message apparently said, "Yesterday marked 7 years married to this beauty! If you were to ask us at year 3 if we would make it to 7 we probably would of said NO! We apparently weren't given the memo that a healthy marriage is not going to come easy. Luckily, we put God/Recovery first, we were both willing to believe in each other, and asked for help."
"We are so thankful for individual counseling, couples counseling, recovery and friends! We can honestly say we wouldn't have it any other way!" he had added.
In March 2022, the preschool teacher also mentioned her marriage with Richard as she noted: "Yesterday marked 8 years married to @fletch_livves. To say it has all been rainbows, prettiness, Hollywood movies, and easy would be a lie. I am grateful for every 2922 day of these 8 years. We have worked hard, showed up, failed, forgiven, and loved. Thank you Richie! Love you! Lets make a beautiful mess of many more years together. ❤️"
Xem bài viết này trên Instagram
Richard Fletcher has faced legal problems in the past
A Daily Mail report said that Richard "has multiple arrests for alcohol related offenses including public drunkenness and driving under the influence."
Meanwhile, in his wife's case, law enforcement officials have just said that the abductor is a male. Releasing Eliza's photos and details, law authorities in a statement urged informers to "call MPD at 901-528-CASH (2274), 901-545- COPS (2677), or TBI at 1-800-TBI-FIND."
READ MORE:
VIDEO: Suspect in Eliza Fletcher's murder cleans car hours after abduction
Eliza Fletcher Body Identified: Cause of Death Unclear
New details in kidnap of teacher Eliza Fletcher in Memphis
Eliza 'Liza' Fletcher Abducted: 5 Fast Facts You Need to Know
Who Is Eliza Fletcher? Memphis Teacher and Mom of Two Abducted and Bundled into SUV During Early Morning Jog